Robinsons Supermarket invites everyone on a Wellness Journey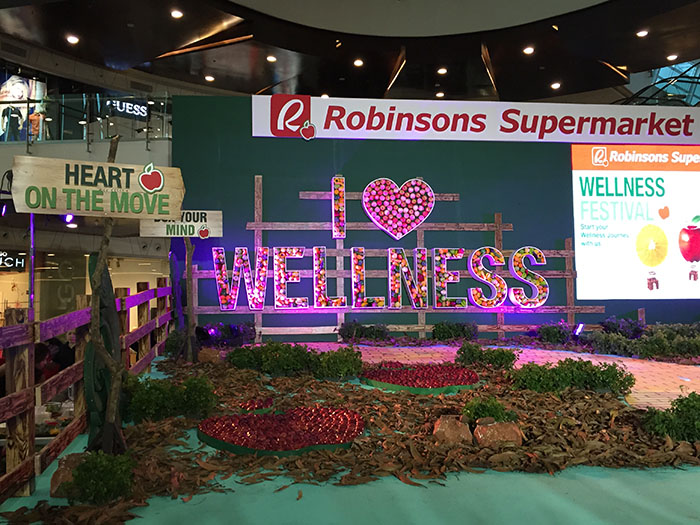 To live a healthy life is a choice and Robinsons Supermarket is encouraging everyone to take the step to a journey of wellness through the Wellness Festival. It is a month-long festivity filled with promos and activities, all geared towards helping people actively choose the healthy lifestyle.
The wellness month that will last the whole month of July gets a head start with a race to wellness fronted by active lifestyle advocates Daniel and Vanessa Matsunaga at Robinsons Magnolia. Booths from known health and wellness brands Nestle, Johnson & Johnson, Unilever, Del Monte, Abbott, Fonterra and Unilab will also be in place to offer exciting activations and freebies for shoppers to enjoy and learn more about wellness.
Robinsons Supermarket fortifies its commitment to wellness by helping more Filipinos make healthier choices by easing access to healthier alternatives and making it as convenient as possible. It invites everyone to embark on a wellness journey as soon as they set foot inside a Robinsons Supermarket, with its unique health and wellness section. This destination area aims to address varied nutrition needs to fit every lifestyle and to help consumers make learned purchases.
Robinsons Supermarket continues to employ the "Shop Smart" tag label that color codes items based on their health benefits, nutritional content, and price discounts. Achieve everyday wellness and choose healthy items in green tags. These are products that meet at least three (3) of the Food and Nutrition Research Institute's eight (8) nutritional attributes, namely: low salt, low calorie, low fat, low in saturated fat, sugar free, low cholesterol, low sodium, source of protein and source of dietary fiber.
Customers are also spoilt for choice as Robinsons Supermarket has its own exclusive line of healthy products called Healthy You, which ranges from nuts, oats, juice, olive oils and many more. Or, they can also check out the supermarket's ready-to-eat station called Healthy Selections where pre-packed healthy meals called Fit Cuisine or the make-your-own salad station can be found.
"We, at Robinsons Supermarket, believe that health and wellness is not a destination but a continuous journey. And we want to be part of that journey in people's lives by being a trusted partner that they can always rely on for all their health and wellness needs," said Robinsons Supermarket General Manager Jody Gadia.
The wellness journey is made more fun with the 8th Wellness Fit & Fun Buddy Run set on July 8 at Bonifacio Global City where 4,500 runners are expected to join in the 5km and 10km categories. This is the only buddy run in the country that seeks to encourage participants to get their partners, friends or relatives into an active lifestyle. For Robinsons Supermarket, wellness is not only about advocating fresh and nutritious food, but also of encouraging its patrons to adopt a healthy lifestyle through regular exercise and taking care of one's personal being.
One's wellness journey will truly be rewarding especially this July with the supermarket's Wellness Festival where exciting activities and freebies will be offered throughout the month. For instance, given a minimum purchase of Php3,000 with Php500 worth of purchase of participating wellness products, customers can enjoy free nutritious items like Healthy You Mixed Nuts. This is just some of the activities or offers in-store for Robinsons Supermarket customers nationwide.
The Wellness Festival is a reminder that choosing the healthy lifestyle starts with you taking the first step. Join the celebration and learn how healthier days can start at Robinsons Supermarket.
Let Robinsons Supermarket be your guide in this journey to wellness and be part of the #ILoveWellness campaign. Like it on Facebook www.facebook.com/RobinsonsSupermarketOfficial or visit its official website at www.robinsons-supermarket.com.ph to learn more about the "I Love Wellness" campaign and for latest updates.
Hits: 68