SURPRISE AND DELIGHT!
Toblerone adds a personalized punch to your birthday gift ideas.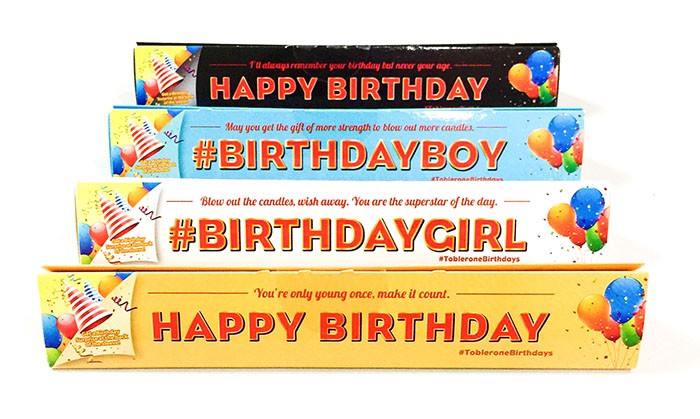 We all know how tricky and quite difficult it can be to find the perfect gift for a loved one, especially during the most celebrated occasion in his or her life–his or her birthday. With today's hectic, fast-paced and high-cost way of life, it can be challenging to find the time, resources, and even ideas for that meaningful and memorable gift.
Now, how do you surprise and delight your loved ones on their birthdays in a special, thoughtful way without having to exert too much effort?
Surely, you've received a Toblerone bar during a special occasion? Toblerone is a ubiquitous part of any gift-giving affair. There's just a unique sense of festivity whenever someone receives a Toblerone bar—those delicious triangles of chocolate, engulfing myriads of honey and almond nougat are enough to make anyone feel special and get engulfed in a mouthwatering chocolate frenzy.
Let them know you care—Toblerone makes birthdays extra remarkable by allowing gift-givers to customize Toblerone packs for birthday celebrants! Surprise and delight your friends on their birthdays with a special personalization kit! The kit contains a do-it-yourself collection of cut-out candles, numbers or letters that you can assemble to form your loved one's name or age. Insert your chosen toppers on top of the sleeve, and see your loved one's surprise as he or she receives her personalized Toblerone bar! It's surely a treat someone would be delighted to receive and remember on that one day of the year where he or she is considered most special.
Toblerone, with its iconic triangular shape is reminiscent of the Swiss Alps, where the confection was created. Four Toblerone flavors are available in the Philippines: the original milk chocolate, dark chocolate, crunchy almond, and white chocolate.
See how many birthdays have been made exciting by these customized Toblerone bars by viewing the hashtag #TobleroneBirthdays.
To know more about Toblerone, visit us on Facebook (www.facebook.com/tobleronepilipinas),
and on Twitter and Instagram (@toblerone_ph).
Hits: 140