Too busy for a healthy lifestyle?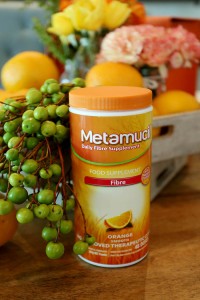 As the body needs regular exercise and a balanced diet, it takes time and commitment to stay healthy.
This is challenging, especially if your job keeps you sedentary throughout the day or if your tight schedule leaves you with no choice but fast food and unhealthy snacks.
While it seems that you need to overhaul your lifestyle in order to be healthy, there are small changes you can make to overcome these challenges.
If exercise isn't currently a part of your life, try tweaks like walking to work instead of riding a vehicle or taking the stairs instead of the elevator. Ten minutes of push-ups, squats and lunges a day can also help. What's important is that you stay on track and do it on a daily basis.
And instead of skipping meals then binge on snacks later on, eat five small meals divided throughout the day. Eat more fruits and vegetables or swap out processed white bread and pasta for the whole wheat variety to increase your fiber intake.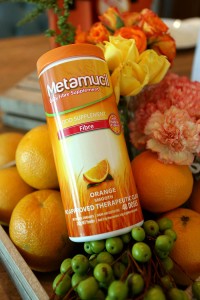 As recommended by the Philippine Food and Nutrition Research Institute, Filipino adults are recommended to consume 20 to 25 grams of dietary fiber daily. 1  If you find it difficult to include fiber-rich food in your daily diet, you can consider taking dietary fiber supplements  like Metamucil®, the World's #1 Selling Fiber Supplement2 made with 100% natural psyllium fiber, to help you meet your fiber goals.
Psyllium is a great source of fiber from the husk of the seeds of the plant Plantago Ovata, providing four health benefits: helps promote digestive health, helps lower cholesterol to promote heart health*, helps maintain healthy blood sugar levels as part of a healthy diet, and helps you feel less hungry between meals. 3,4 
Metamucil® comes in two flavors Orange Smooth and Wild Berry. To enjoy Metamucil, simply add 5.8 grams of Metamucil (approximately 1 1/2 teaspoons) to at least 250 ml of liquid. Stir briskly and drink promptly. Drink plenty of water.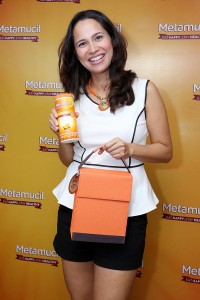 Share the good news that finally Metamucil, the World's #1 Selling Fiber Supplement, is now here in the Philippines! Be one of the first to try. It is now available in leading drugstores nationwide.
Mahalagang Paalala: Ang Metamucil ay hindi gamot at hindi dapat gamiting panggamot sa anumang uri ng sakit.
*Diets low in saturated fat and cholesterol that include 7 grams of soluble fiber per day from Psyllium husk may reduce the risk of heart disease by reducing cholesterol.
1 Food and Nutrition Research Institute. FNRI Digest: Recommended Energy and Nutrient Intakes for Filipinos.Retrieved from: http://www.fnri.dost.gov.ph/index.php?option=com_content&task=view&id=1122. Assessed May 18, 2015.
2 IMS Health OTC Global Analysis Data. Based on 2013 Ex-Manufacture Sales of Fibers Laxatives Category.
3 A. Moreyra. "Expert Views: The Health Benefits of Dietary Fibre" in GI Health & Wellness. Issue 4. Febuary 2011.
4 McRorie, J. W. (2015) Evidence-Based Approach to Fiber Supplements and Clinically Meaningful Health
  Benefits, Part I. Nutrition Today, Vol 50 (2).
Hits: 48