Refreshing tastes of Manila, Cebu, and Davao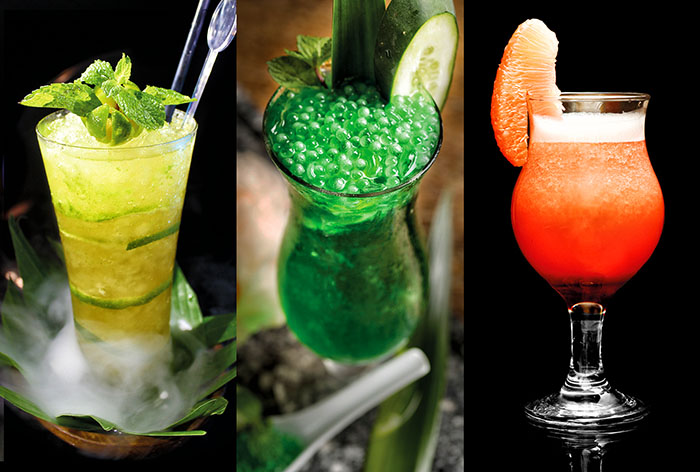 REFRESHING DRINKS, to beat the summer heat. Experience a tropical summer with Marco Polo hotels in the Philippines' signature drinks, giving you a feel of Luzon, Visayas, and Mindanao, in one summer.
Plunge into the refreshing fusion named after Marco Polo Ortigas Manila's locale, The Sapphire Road. With a mixture of brandy, Calamansi, mint leaves, Palawan honey, and beer, The Sapphire Road is strained into a very long "Drink Glass" filled with crushed ice and Calamansi spiral. To top the experience, it is served in a local-inspired Coconut bowl, banana leaves, and dry ice.
Have a sweet taste of Cebu, and grab Marco Polo Plaza  Cebu's Oasis in the Sky. This excitingly refreshing tropical drink is a mixture of aromatic Pandan, with white rum, cucumber syrup, peach schnapps and topped with Pandan Molecular Pearls. But wait, there's twist. Take it as it is, or balance off the kick with a pinch of sweet artisan cotton candy.
Bringing in Davao's famous sweet pomelo is a rejuvenating drink mixed with passion fruit, soda, and grenadine. This Marco Polo Davao's signature drink has an alcoholic version, tagged as Davao Punch with a Kick, and is served with vodka.
These fresh and self-indulgent signature drinks can be enjoyed only this summer, April and May, at Marco Polo Hotels in Manila, Cebu, and Davao. Each hotel will be serving other sister hotels' drink during the time period, as well as respective drinks.
Hits: 251