Festive Temptations at Marco Polo Ortigas Manila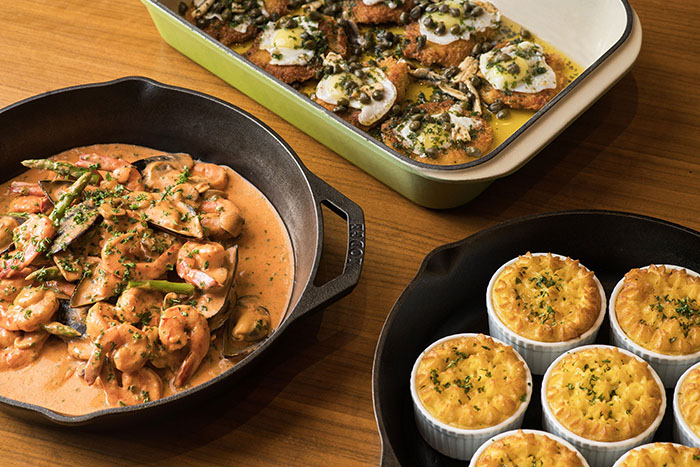 Relish in premium delights all day with the finest new dishes of Cucina, treating its guests to a richer culinary indulgence of meaty and sea-rich flavors.
Cucina's new set of featured dishes brings in a tempting feast to all gourmet enthusiasts. Indulge in an exquisite dining experience with the savory classic Breaded Medallions of Pork Tenderloin, seasoned with notes of earthly Quail Eggs. Savor the tasty flavors of the sea as fresh-caught Mussels and Prawns with Asparagus and Mushrooms, complemented with the satisfyingly rich and creamy verdant taste of Tomato and Tarragon Cream. Infuse your gastronomic desires to an all-time Filipino treat with the tender and succulent Slow Braised Oxtail.
Enjoy these fine new dishes at Cucina, which offers a versatile dining experience together, with a well-curated spread of international cuisine that are heavy on flavours and is made from superior ingredients. From the Seafood Station, Asian Noodles and Pasta, Carving, Cheeses, Cold Cuts, Desserts, and more, Cucina promises to be a one-stop-shop for all the finest flavors that diners' palates are looking for.
From the usual symphony of taste, Cucina is consistently seen in bringing something new to the table with these new buffet signature dishes, bringing incredible flavour and tenderness, prepared to perfection.
Cucina is located at the 24th level of Marco Polo Ortigas Manila. For more information, contact (632) 720 7777 or book online via www.marcopolohotels.com or email: manila@marcopolohotels.com.  Visit facebook.com/MarcoPoloOrtigasManila or follow @MarcoPoloManila on Twitter or Instagram.
Hits: 49