Get your Japanese Donburi or "Rice Bowl Dish" fix with Tokyo Tokyo's Beef Gyudon!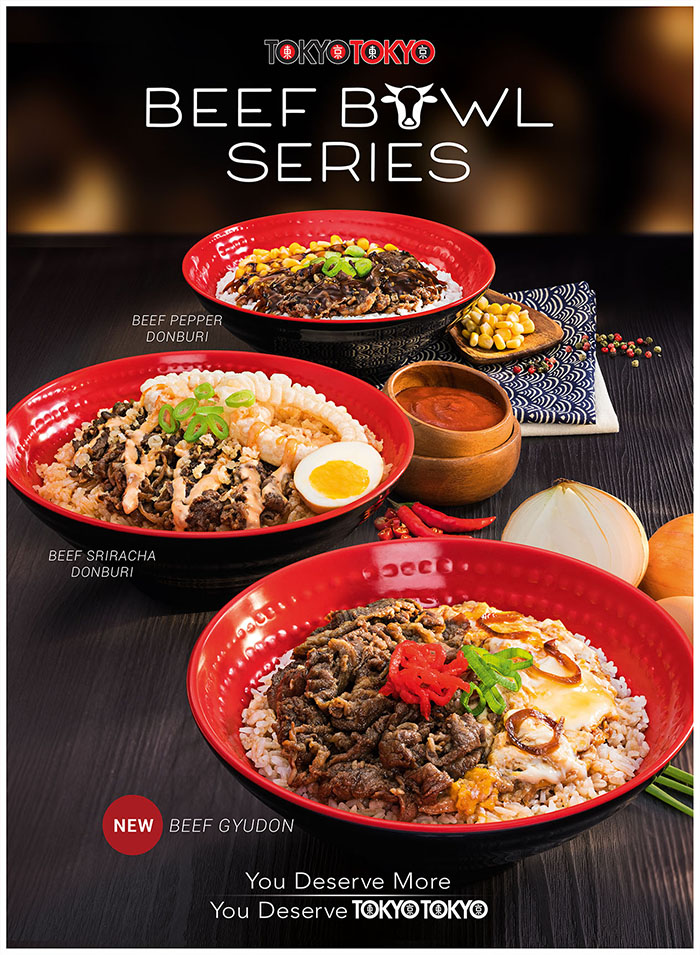 Besides ramen and gyoza, donburi is easily one of the most loved dishes in Japan. This classic dish that's composed of meat or fish and vegetables simmered and served over rice ̶ in a signature bowl ̶ makes for a quick and filling meal. No wonder locals and tourists swear by it!
Luckily for us, Filipinos no longer need to fly to The Land of the Rising Sun just to enjoy such delicacy.
Tokyo Tokyo, in keeping up with its tradition of making quality and delicious Japanese food accessible to Filipinos, recreates this favorite dish with a line of beautifully-crafted Japanese beef rice bowls.
Here, Tokyo Tokyo uses only premium beef to capture that unique umami flavour in every bowl. Expect nothing less than tender, juicy beef in every bite!
Tokyo Tokyo's Beef Gyudon, with its thinly-sliced tender beef, simmered in sweet and savoury sauce with scrambled egg is served on a bowl of steaming rice, and topped with onion leeks and red pickled radish. Anyone can enjoy this authentic Japanese dish for only P145!
Likewise available is the Beef Pepper Donburi (P145), rich flavorful beef strips seasoned with pepper sauce and made more exciting with Japanese sweet corn. And of course, not forgetting the Beef Sriracha Donburi (P155), beef misono with crunchy onion rings and nitamago egg drizzled with sriracha mayo on a bowl of sriracha flavoured rice.
Now, more than ever, the delicious taste of Japanese cuisine is well within reach. And with these donburi options from Tokyo Tokyo, you'll surely get big flavors, big servings for a small price.
So what are you waiting for? Satisfy your cravings for Japanese donburi at your nearest Tokyo Tokyo branch!
Itadakimasu!