'Jolly-fy' the Yuletide Holidays with easy festive recipes
'Tis indeed the season to be Jolly!  With Christmas time packed with so many holiday traditions like family dinners and potluck parties with friends, why not pull out all the stops  and celebrate the occasion in the most decadent (yet hassle-free) way?  Get into the festive holiday spirit by whipping up these  three  seasonal  specialty recipes with a "Jolly-fied"  twist that are sure to warm up your Yuletide celebrations.
Ideal treats to jazz up any bountiful spread or as a thoughtful food gift for loved ones and friends, these quick and oh-so-practical recipes courtesy of JOLLY, the country's top canned vegetable and fruit brand, are sure to please palates while bringing holiday cheers and fondest memories.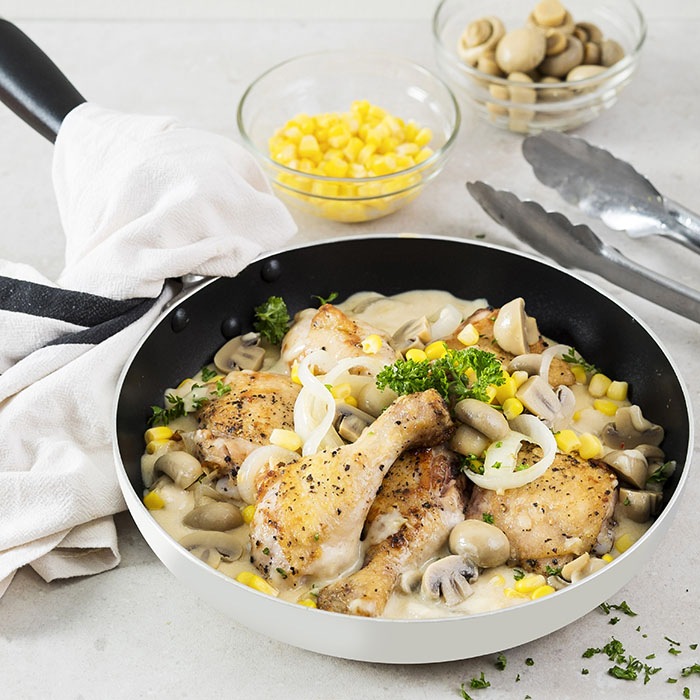 CHICKEN IN GRAVY
Preparation Time: 5 minutes / Cooking Time: 45 minutes / Serves 6
Ingredients:
1kg Chicken pieces (preferably thighs and drumsticks)
1 tsp Iodized salt
½  tsp Ground black pepper
2 tbsp Jolly Heart Mate Canola Oil
1 large White onion, sliced into rounds
1 cup Jolly Whole Kernel Corn, drained
400g Jolly Whole Mushrooms, drained, halved
¼  cup Unsalted butter
¼  cup All-purpose flour
2 cups Water
1 cup Jolly Cow Fresh Milk
1 pc Chicken broth cube, crushed
2 tbsp Parsley, chopped
Procedure:
Season chicken pieces with salt and pepper. Heat oil in large pan over medium heat. Fry chicken and onions together until golden, about 8-10 minutes. Toss in Jolly Whole Kernel Corn and Jolly Whole Mushrooms until just heated through. Transfer to container and set aside.
In the same pan, heat butter until melted. Add flour and cook until golden brown, stirring constantly.
Slowly whisk in water and milk until mixture becomes smooth. Add chicken broth cube, chicken pieces, and vegetables, then simmer for 20 minutes, covered, until chicken is cooked through.
Garnish with parsley before serving.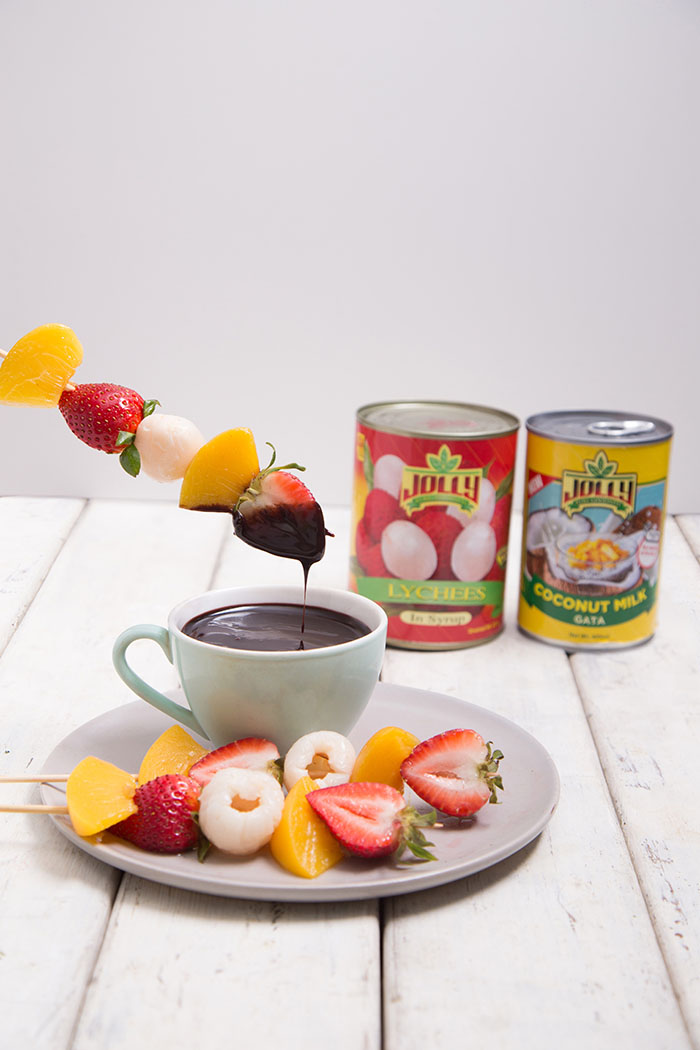 Coconut Choco Fondue with Fruit Skewers
Preparation Time: 10 minutes / Cooking Time: 5 minutes / Serves: 6
Ingredients:
440ml Jolly Coconut Milk
½ kg Dark chocolate, coarsely chopped
825g Jolly Peach Halves, drained, chopped
565g  Jolly Lychees, drained
12  pcs Fresh strawberry, halved
Procedure:
Heat Jolly Coconut Milk in a pot until almost boiling. Stir in chocolate pieces and mix well until melted. Keep warm and set aside.
Alternately thread Jolly Peach Halves, Jolly Lychees, and strawberries through skewers.
Serve fruit skewers with warm coconut choco fondue.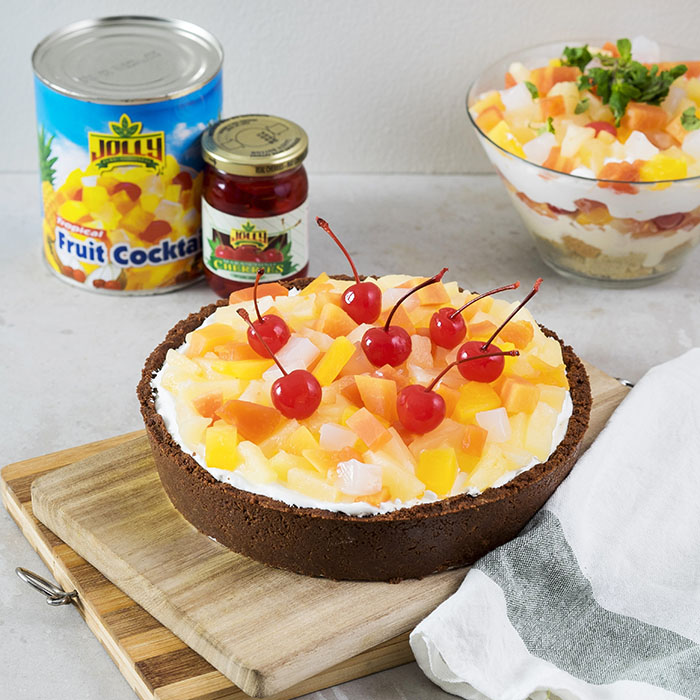 NO-BAKE FRUIT COCKTAIL PIE
Preparation Time: 30 minutes, plus overnight refrigerating / Serves: 8
Ingredients:
Crust:
2 cups Chocolate graham crackers, crushed
¼ cup Powdered sugar
6 tbsp Unsalted butter, softened
Filling:
8oz  Cream cheese, softened
1/3  cup  Powdered sugar
1 tsp Vanilla extract
2 x 250g  All-purpose cream
Topping:
850g Jolly Tropical Fruit Cocktail, drained
6oz Jolly Maraschino Cherries, drained
Procedure:
Mix graham crackers, sugar, and butter in a bowl. Press mixture into bottom and sides of 9-inch pie pan. Place in freezer 10 minutes or until set.
Using a wooden spoon or spatula, beat cream cheese, powdered sugar, and vanilla together in a bowl until smooth. Fold in all-purpose cream.
Spread filling over crust and top with Jolly Tropical Fruit Cocktail and Jolly Maraschino Cherries.
Refrigerate 6 hours or overnight to set.
Hits: 55