The Rise of the Branded Rice: Sunnywood Revolutionizes How Filipinos Shop for the Staple Food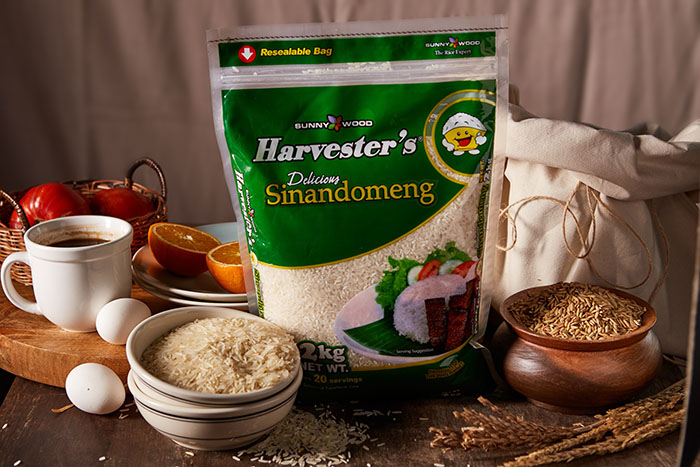 A quiet revolution has taken place in the supermarket in the last two decades. Sunnywood Superfoods Corp., a local company, has greatly influenced the way Filipinos buy their rice, a staple food that most of us can't do without in our regular meals (and even during meriendas!).
Established in September 1997, bannered by its flagship brand Harvester's, Sunnywood introduced its rice to Filipinos in the supermarkets thru the launch of several varieties of white rice. Filipinos usually buy their rice in the wet markets and the neighbourhood sari-sari stores but Sunnywood has helped change that by riding on the growing acceptance and reach of the supermarkets and malls with its branded rice.
"Through the years, Filipinos have embraced supermarkets and malls. They are convenient, comfortable, safe and make available almost everything under one roof.  In fact, they have become a way of life. It makes good sense to engage the supermarkets," says Romeo Ong, president of Sunnywood, which is celebrating its 20 years this month."We are in lockstep with the growth of the supermarkets," Ong adds. "As they expand, we expand with them to efficiently service the needs of their customers.  Meantime, our market grows as a result."
And why branded rice?  "To have a successful brand, you need to earn the trust and confidence of the consumers.  We believe we have done that through consistently providing good quality rice over time.  That same trust and confidence also define our relationship with our customers – supermarkets, restaurants, etc. – and our suppliers.  We treat them with utmost respect."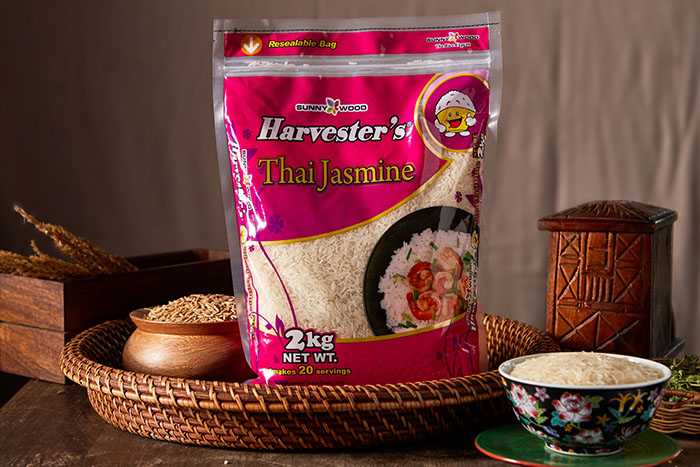 A Family Affair
A graduate of the De La Salle University in 1976 with degrees in AB Economics and BS Business Administration, Ong has always been drawn to agribusiness. "It's a confluence of circumstances," Ong says when asked why his company ventured into rice distribution. "At that time, my wife's family was already in the rice business. Her support and encouragement was overwhelming. Also, the major supermarket chains in the country were just starting to hit their stride in their expansion. The timing was right. Everything was lined up.  It was not a hard decision to make."
Sunnywood, a company name chosen because it evokes nature, agriculture and joy, started as a single proprietorship in September 1997 with just 9 items under Harvester's.  It was incorporated in 2007.  Two more brands followed in quick succession:  Jordan Farms and Farm Boy and with them the product range increased to about 50 SKU's.
The Jordan Farms brand supplies healthy (black, red and brown) and specialty (Basmati and glutinous) rice to supermarkets. Farm Boy, on the other hand, is good rice made accessible to all Pinoy families with its lower price range.
Sunnywood is not involved directly in rice farming, instead it carefully sources its rice from farmers, millers, traders, importers and cooperatives. Over the years, it has actively helped local rice farmers penetrate the market and thereby help improve their economic lot.  It is also actively supporting the organic growing of rice.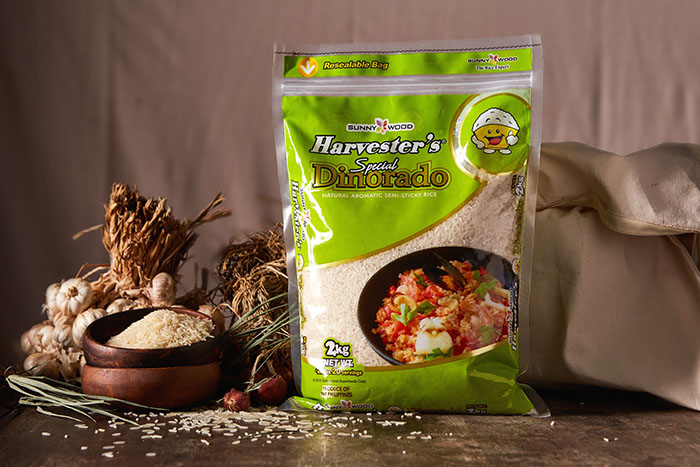 A sampling of Sunnywood's popular rice products:
Harvester's Dinorado is one of the best dinorado rice in the country. It is locally produced, naturally aromatic, especially when cooked, and is deliciously sticky. It is the local alternative to the Japanese rice and is also good for congee, arroz caldo and champorado.
Harvester's Thai Jasmine is known for its superior all-around taste and texture, and is ideal for most rice dishes and occasions.
Harvester's Sinandomeng. One of the most popular items in Harvester's line-up of rice, this is the everyday, any-occasion rice for the Filipino family.
Jordan Farms Black Rice. Among the line-up of healthy, unpolished rice, this naturally grown black rice contains more antioxidants than the other varieties.  It is also a good source of fiber, multivitamin B, essential oils, minerals, iron, among others.
Philippine Pride
Looking towards the future, Sunnywood aims to further strengthen its hold in the market.  "For the local market, we want to make our presence felt all over the Philippines. Right now, we are strong in Luzon and some Vis-Min (Visayas and Mindanao) areas, but our presence needs to be projected into many other areas of the country. We want to have a strong presence nationally," Ong says.
"We are looking into exporting our products very actively as we go forward. We really like to see our products out there in the other countries.  To show the flag, so to speak. That will be another source of pride for the Philippines. I hope we can do that in the near future," Ong says.The company has already done "small test marketing" overseas and has received interest from the Middle East, United States, Canada, among other countries.
With the popularity of the internet in the country that spurred online marketing, the company is also planning to take advantage of the convenience offered by the web.  Sunnywood aims to make its products available online so that those who cannot go to the supermarket can simply order and have their favourite rice delivered to their doorsteps. "That's in our wish list," Ong says. "But our core market will always be the supermarkets. We have a very good relationship with them. It's a win-win for everyone – the farmers, the suppliers, the distributors, and the consumers. That will stay."
Sunnywood is building a new office/warehouse to boost its capabilities, improving its processes and further enhancing the quality of its products.  "We are always looking to improve the quality of our products as we want to make our rice attain export-quality level for the Harvester's and Jordan Farms brands."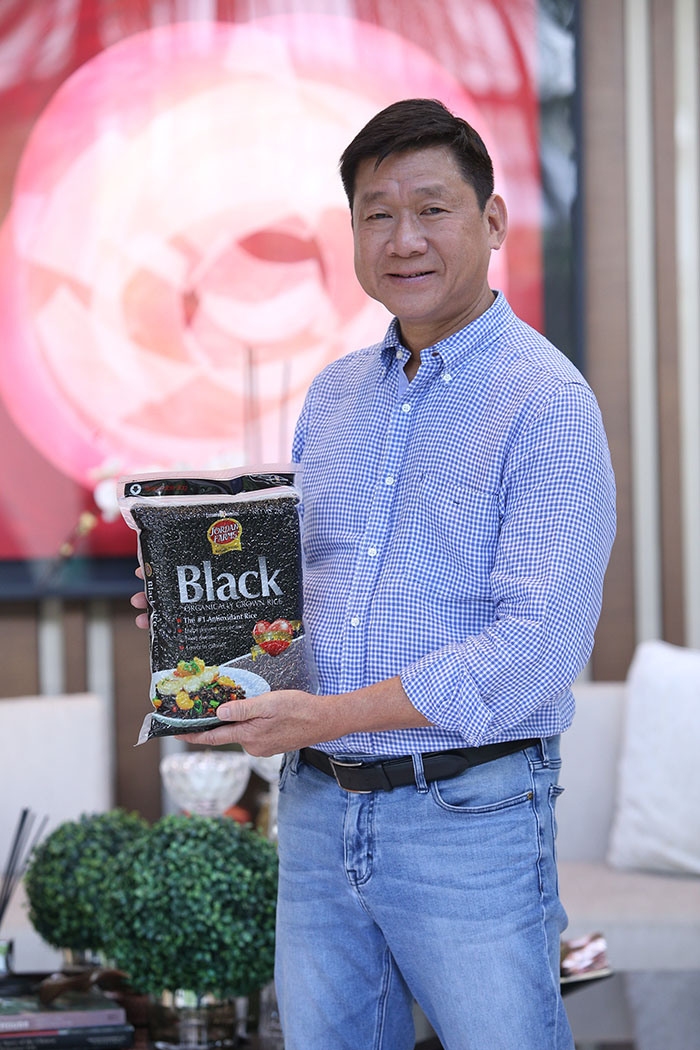 Rice, Rice and More Rice
"When people ask me what businesses I am into, I say: rice, rice and more rice," Ong says in jest. "Would I venture into other related business lines? If the opportunity presents itself, I will think about it. But Sunnywood will always be associated with the Filipino's staple food.
"Do I have anything to add?  Yes.  I firmly believe that the rice makes the meal. That's why our slogan from the very beginning has been 'The secret to a great meal is still great-tasting rice.' Ultimately, the consumers decide.  And knowing that consumers have remained loyal to our brands and have made them their own, nothing beats that feeling.  It's all worth it then."
Hits: 106