Wine, Dine, and Travel like a VIP with Visa Epic Experiences
Visa cardholders are in for a treat as the global payments company introduces more new merchants and initiatives under Visa Epic Experiences, its ever-expanding program of exclusive dining and travel privileges for cardholders worldwide.
Through this platform, all Visa cardholders, including tourists from all over the world, can easily discover unforgettable trips and gastronomic experiences by presenting their Visa card at over 60 choice establishments nationwide. Visa cardholders can enjoy epic offers from well-known establishments like Kettle in Manila to Taza Fresh Table in Tagaytay to Enye by Chele Gonzalez in Cebu, and Subo in Boracay.
This year especially, sought-after restaurants such as Antonio's, Chef Jessie's Group of Restaurants, Pablo Bistro, Samba, Epilogue and many others are introduced into the Visa Epic Experiences affluent dining platform – a wine and dine series exclusive to Visa Platinum, Visa Signature, and Visa Infinite cardholders. These discerning cardholders can enjoy either a complimentary glass or a bottle of wine at some of the Philippines' finest and most premium dining establishments.
In addition to dining merchants, Visa Epic Experiences platform also includes travel offers such as 25 per cent discount off published room rates at Anya Resort Tagaytay, 60 per cent off published room rates and 30 per cent off massage services at Crimson Resort & Spa Mactan.
"Filipinos love to travel and dine and this is proven from our data, where we see almost half of all Filipino cardholders spend on these categories. With this in mind, we are introducing the fifth edition of Visa Epic Experiences. Every year, we make an effort to revamp and introduce new offerings to make this platform bigger and better for our cardholders. Filipino cardholders and tourists from all over the world who own a Visa card will be able to enjoy exclusive dining and travel privileges, where they can create unforgettable life memories with their families and loved ones," says Stuart Tomlinson, Visa Country Manager for the Philippines and Guam.
The unique perks of Visa Epic Experiences are available to all Visa cards issued anywhere in the world. Visa cardholders can enjoy all the offers on Visa Epic Experience platform today until March 15, 2019. Terms and conditions apply.
To see the full list of offers, please visit www.visa.com.ph/epic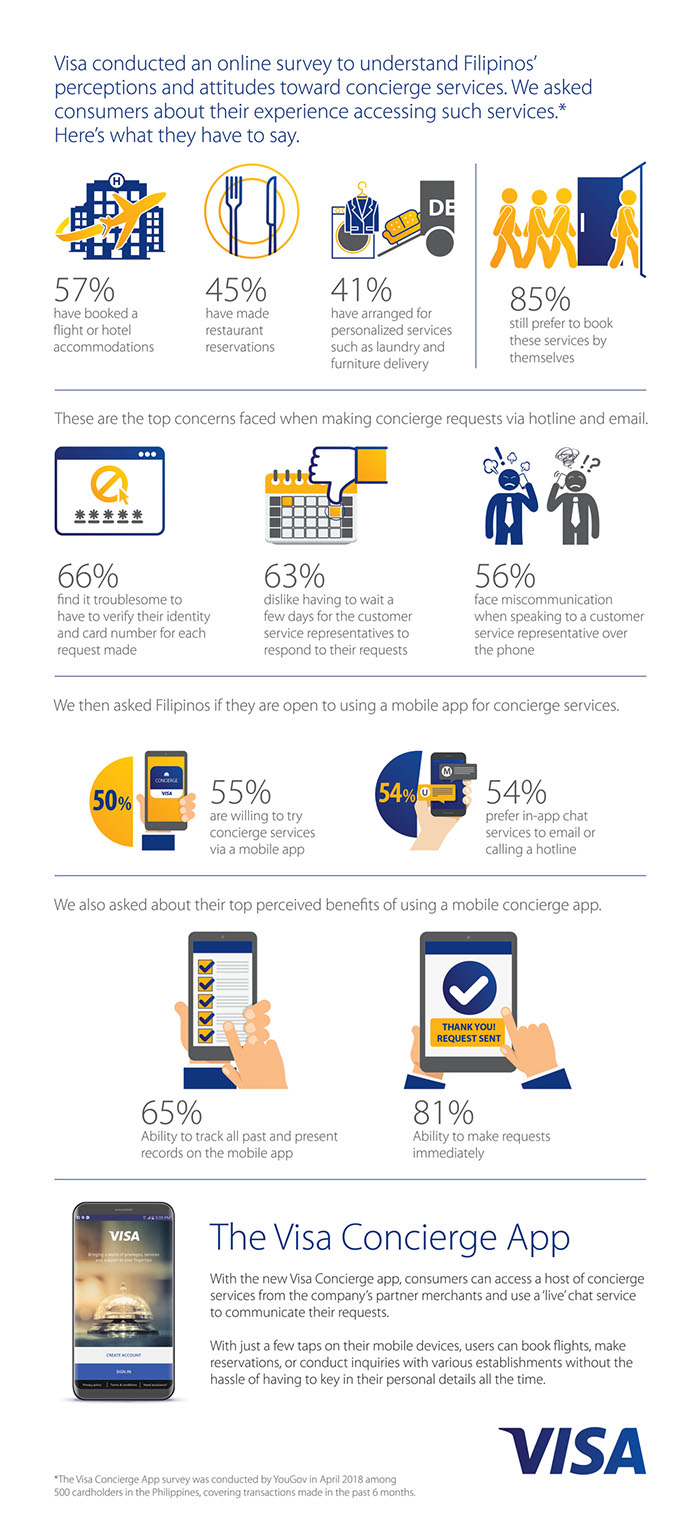 Reserve your next trip or meal at Visa's partner merchants using Visa Digital Concierge app
This year, Visa also introduced the Visa Digital Concierge app, where Visa Signature and Visa Infinite cardholders can view the Visa Epic Experiences offers, and also book hotel accommodations and make restaurant reservations through the app.
Traditionally, cardholders need to dial a hotline or email a concierge service provider to engage their services. The new Visa concierge mobile app offers a real-time channel for affluent consumers to arrange for services such as hotel, flight and restaurant reservations, event ticket purchases or other enquiries.
A recent survey1 conducted by Visa found that most Filipinos make flight reservations, accommodation and dining reservations on their own because they find it troublesome to have someone else doing it for them.
Top concerns raised about making concierge requests via hotline and email include having to verify their identity and card number for each request made (66 per cent), waiting a few days for the customer service representatives to respond to their requests (63 per cent), and miscommunication when speaking to a customer service representative over the phone (56 per cent).
The Visa Concierge mobile app simplifies these traditional concierge processes. It is equipped with a live-chat function, which enables consumers to chat with a customer service representative directly to make personalized and bespoke requests. Through this feature, they can get instant results and prompt responses to their requests.
For more information, please visit www.visa.com.ph
Hits: 82