Artist Eberle Catampongan relives old Filipino way of life, family values, and cultural traditions through Pan de Manila Christmas 2018 artwork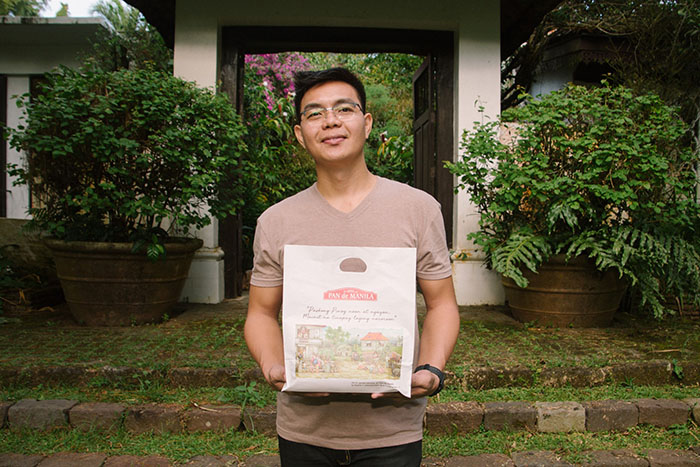 Christmas is certainly a most festive occasion in the Philippines, and Filipinos have many reasons to be happy and thankful for during this time of the year. One such reason is the opportunity to get together to rekindle age-old traditions, create new memories, and strengthen family bonds.
For this year, artist Eberle Catampongan was chosen by Pan de Manila to give new light in spreading togetherness and Filipino traditions in its newest Christmas art advocacy.
Entitled "Pasko sa Nayon", the 25"X 60" oil on canvas artwork conjures a captivating rustic rural scene that brought the familiar comforts and sights seen in a barrio community as it eagerly dresses up their town for the holidays. Amid all merry-making preparations is the pure joy and infectious anticipation by both old and young come Christmas season.
Yuletide magic was indeed at work in this sweeping visual masterpiece, traditional elements like hanging like parols and a church facade (to signify the observance of the nine-morning mass or Simbang Gabi) present. Catampongan also injected elements of nostalgia in the artwork by including his cherished childhood memories, thus making the canvas more precious, personal, and relatable.
"One particular childhood recollection that I included in this artwork is the caroling scene, one that showed how I, as a child, enjoyed serenading homes with Pamasko jingles along with my neighbors. I also portrayed the bustling scene the barrio during this much-celebrated time of the year when rural folks are busy and happily participate in the many festivities like eating after Simbang Gabi, and dressing up their homes. It's a narrative of how Filipinos' love celebrating the occasion with all those dear to them," he explains.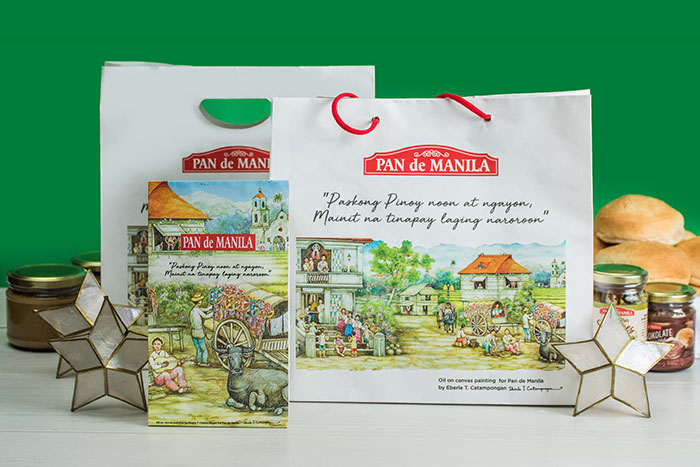 Shared spirit
On a deeper note, Catampongan views his artwork as one that shows how Filipinos unite especially during this joyous season.
"It reminds us of the togetherness and love shared among the family and the genuine camaraderie in the community as they all excitedly look forward to Christmas. I think it's a message that remains relevant and is very timely to spread today," he says.
The 38-year-old artist Catampongan, who hails from Antipolo, is a member of the Art Circle Gallery, an esteemed organization that aims to bring the best in Philippine art. A proud apprentice of highly respected artist Tony Mahilum, his father-in-law, Catampongan studied Architecture at the Technological Institute of the Philippines. His background in Architecture is reflected in the intricate details seen in structures, which he uses as backdrop in Filipino rustic villages that he is well known for.
Describing his style as Filipiniana, Catampongan is known for immortalizing heritage landmarks, landscapes and sceneries in the country, focusing as well on the rich history of the Philippines.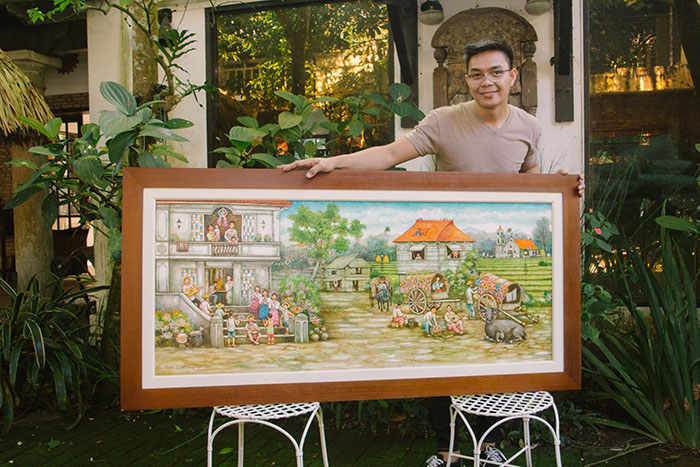 Legacy for generations to come
"For me, the most appreciated underlying aspect of Pan de Manila's project would be its way of giving artists the opportunity to express, through brushstrokes, the true spirit of Christmas. Through this initiative, artists are given the opportunity to showcase and immortalize timeless Filipino values and love for the family. I wish Pan de Manila more success as they passionately continue this project so that more artists will be given the opportunity to touch people through their talents," says Catampongan.
"Being chosen as featured artist by Pan de Manila is one of my biggest achievements and fulfillment as an artist. Not all artists get the privilege to be chosen for this inspiring project. I hope more artists will be featured as well," he concludes.
Since 2008, Pan de Manila has featured works of up-and-coming local artists in its Filipino Art-inspired Christmas paper bags. Among the Filipino artists who were specially handpicked for this holiday endeavor are, Larry Memije, Rina Albert-Llamas, Dante Hipolito, Amador Barquilla, Jovan Benito, Bibsy Torio,Noel Mahilum, among others.
For updates and more information, please follow Pan de Manila Official in Facebook and Instagram.