Hi-Precision Diagnostics Receives Third Gold Award from Reader's Digest Trusted Brand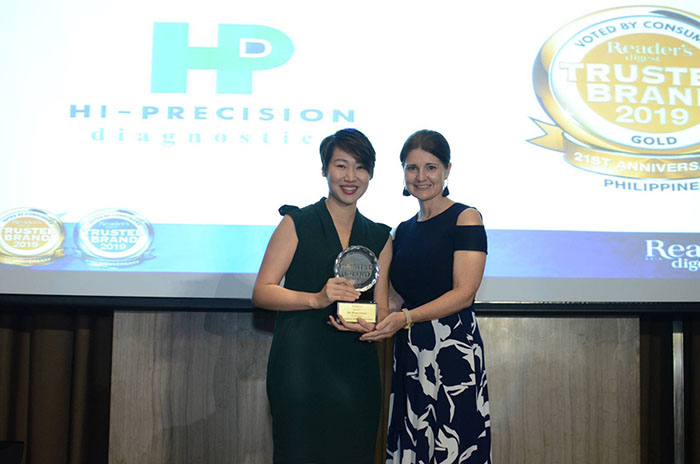 Hi-Precision Diagnostics (HPD), one of the country's largest duly registered and accredited medical laboratories, received its third Gold Award for being a Reader's Digest Trusted Brand in ceremonies held last April 2, 2019 at Marco Polo Hotel in Ortigas.
For the past 21 years, Reader's Digest, through renowned global research company, Catalyst Research, has been conducting a survey among consumers from countries like the Philippines, Taiwan, Hong Kong, Singapore, and Malaysia to determine the brands that they trust the most.
The Gold Trusted Brand Award is given to brands that scored significantly higher than their rivals. Hi-Precision Diagnostics has received this award for the third consecutive year since 2017. It has consistently earned the top scores for trustworthiness and credibility, quality, value, understanding of customer needs, innovation, and social responsibility.
Renowned for the quality of its service and the accuracy of its results which can also be accessed online, HPD is trusted by thousands of doctors in the Philippines.
Rapidly expanding with more than 50 branches nationwide, HPD is very accessible to patients who require a wide array of laboratory tests and services, including tests that are not readily available locally, be they esoteric or difficult to perform. Committed to serve, HPD constantly brings in new tests to the Philippines so that patients would not need to go abroad.
In its over 23 years in the industry, HPD has been ISO 9001:2008 Certified and its main office accredited to PNS ISO 15189:2010. Likewise, it has participated in internationally-recognized External Quality Assurance Services certification from Bio-Rad, College of American Pathology Proficiency Testing, and the US Department of Health and Human Services.
For more information about Hi-Precision Diagnostics, call its Customer Care hotline: 741-7777. Or visit its website: www.hi-precision.com.ph