ART FOR ALWAYS, A Tagaytay Art Locale Exhibit at Taal Vista Hotel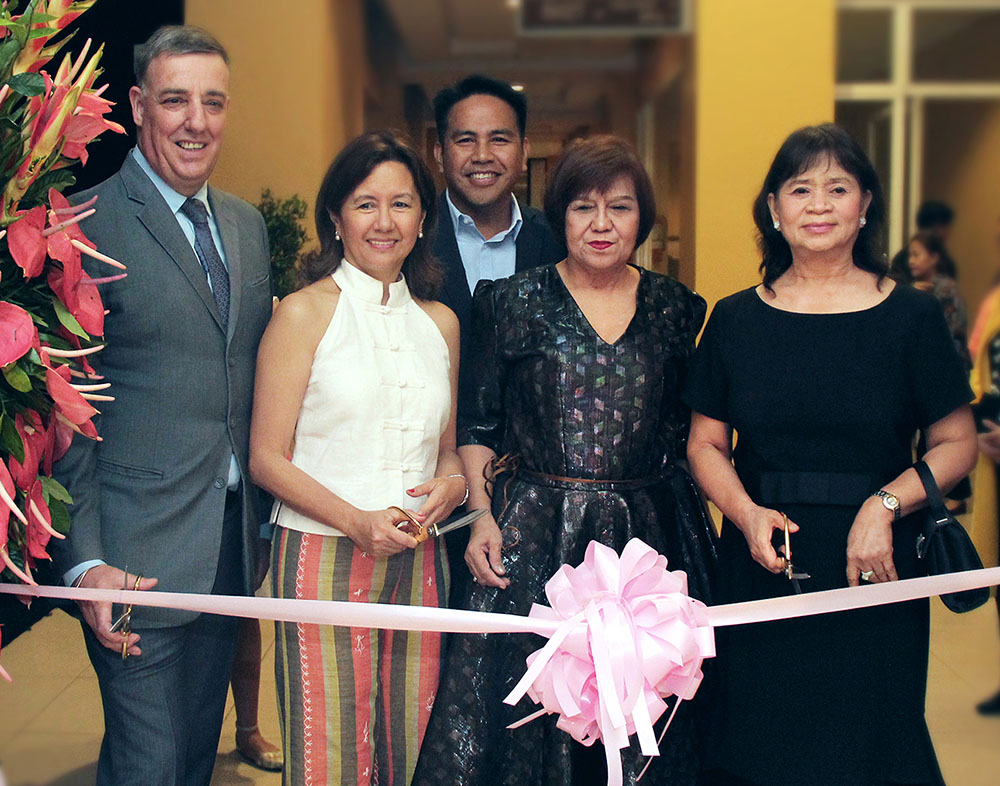 Taal Vista Hotel's story began in 1936 when then newly-elected Commonwealth president Manuel L. Quezon expressed his desire to develop Tagaytay as a tourism destination. And on October 7, 1939, the Taal Vista Lodge became the first and only deluxe hotel in Tagaytay.
As Taal Vista Hotel celebrate its 80th anniversary this year with a theme "Taal Vista Hotel, Here For Always", the hotel have events lined up throughout 2019.
Last June 15 Taal Vista Hotel launched their first ever art show entitled ART FOR ALWAYS, A Tagaytay Locale Exhibit. "This is our way of honoring and promoting the region's great talents. And because good art moves, influences and affects how we feel, we are featuring the art pieces that will make the viewers more engaged and inspired." according to Taal Vista Hotel's General Manager Richard Gamlin.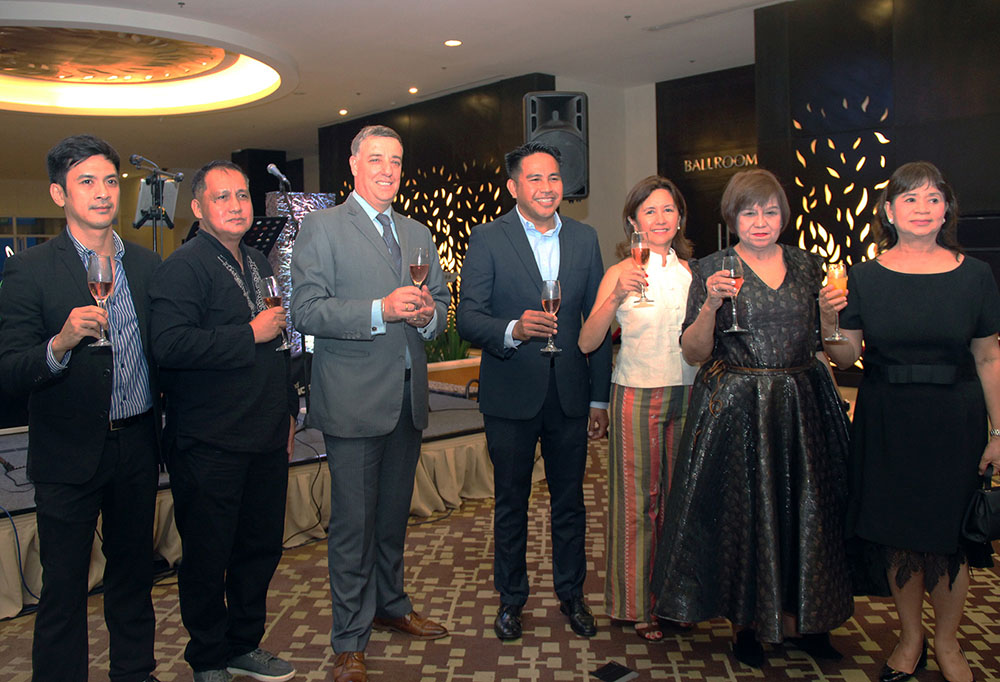 Situated at the Lake Wing exhibit area of Taal Vista Hotel, the 2-month long group show is of free admission open to all guests and art enthusiasts.
Featuring top and upcoming artists from areas of Batangas, Laguna, Cavite and Manila namely are – Wilfredo Calderon, Michael Anthony Sagaran, Lawton Ladao, Joemarie Sanclaria, Ronald Castrillo, Camille Chua, Tanya Gaisano-Lee and Joemike Tejido.
WILFREDO CALDERON
Dreamy, tranquil, truthful – through his paintings, artist Wilfredo Calderon maps out his own understanding of the world, captures its mundane beauty and invites us to take a look with fresh new eyes. Calderon is a member of International Watercolor Society Philippines, Singapore Watercolour Society, and SininGapor (Filipino Artists in Singapore). He has been a part of local and international art exhibits since the '80s. A couple of these local shows include the 4th Asean Young Painting Workshop and Exhibition (1986) at the Cultural Center of the Philippines, the 14th Kulay sa Tubig Annual Watercolor Exhibition (1997) at Gallery Genesis, and Kil-a-Win Two Men Art Exhibition (2000) at Penguin Cafe Gallery in Malate, Manila. His first exhibit in Singapore, Art Bridges (2007), was held at the Singapore Management University Art Gallery. This was followed by annual shows in different Singaporean venues like Selegie Art Centre, Hong Lim Green Community Centre, and White Canvas Gallery.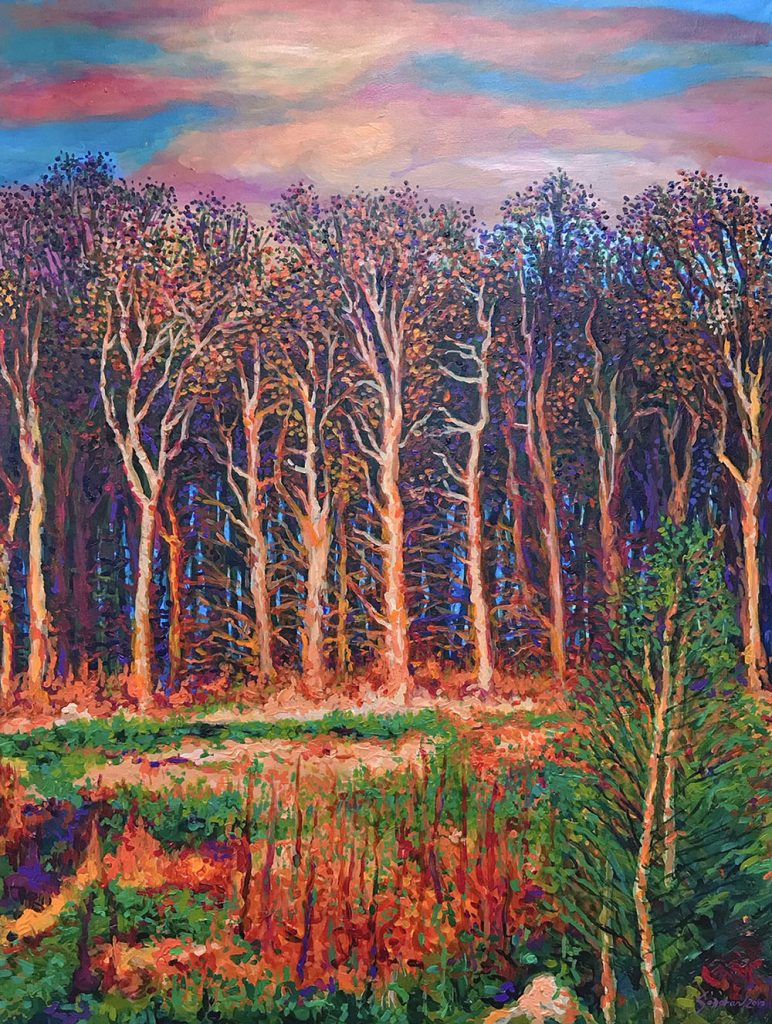 MICHAEL SAGARAN
With art pieces showcasing predominantly nature subjects such as sunrises, sunsets, forests, seascapes and more, Michael Sagaran's creative ideals are to promote nature plus inspire and relax the viewers. A hotelier by profession and a professional food, architectural and landscape photographer, Sagaran shares "I have always been fascinated in the beauty of nature, life, and what makes it all connected. I love capturing the beauty of it in my own perspective, translating and sharing the beauty of what surrounds us through paintings, photography or visual art to sort of satisfy my soul, knowing that in my little own way I can inspire the viewers to have a positive outlook in life."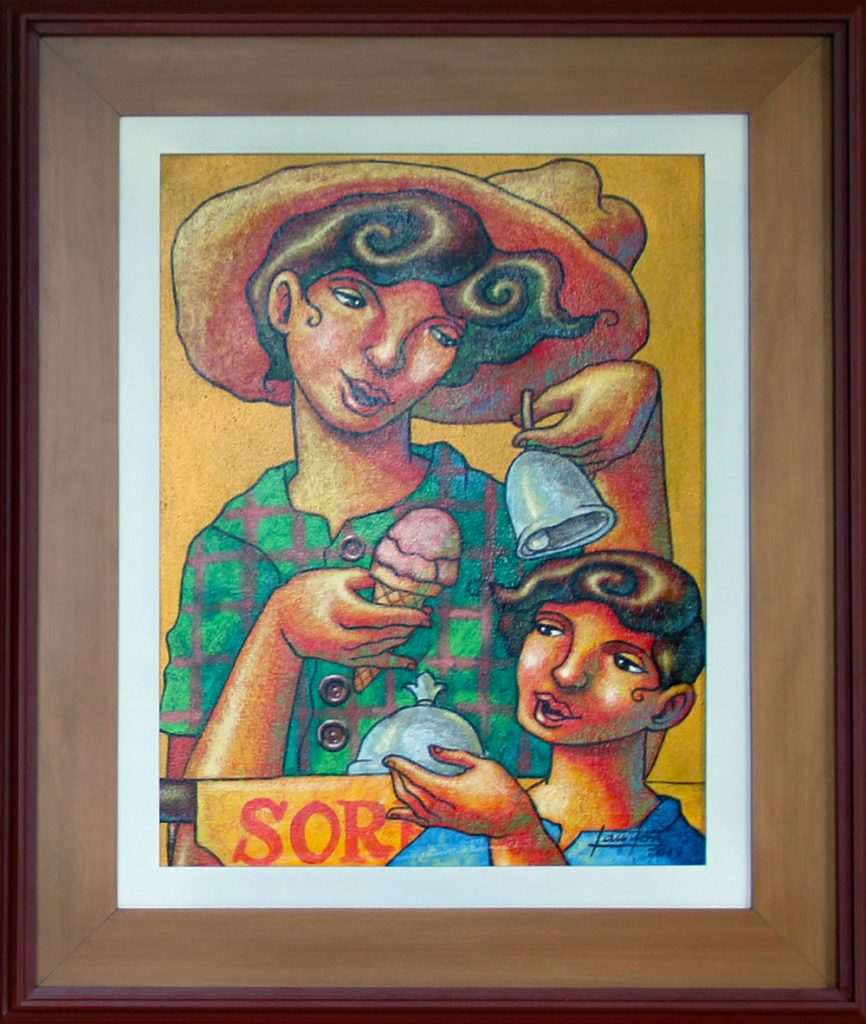 LAWTON LADAO
As he always say, he wants his Obra Maestras not just be hanged in walls and be appreciated by enthusiasts. He wants a much broader meaning for his pieces. He believed that his obras can grow trees in unforested mountains, bring unfortunate children to schools, can inspire people to be good and do good, can change perspective and can move the nation to greatness.
By his joyful colors and graceful figures, Lawton tells a story from our past and tell a story to our future. For him, paintings could not only consume spaces in our walls but should also consume spaces in our thoughts and hearts.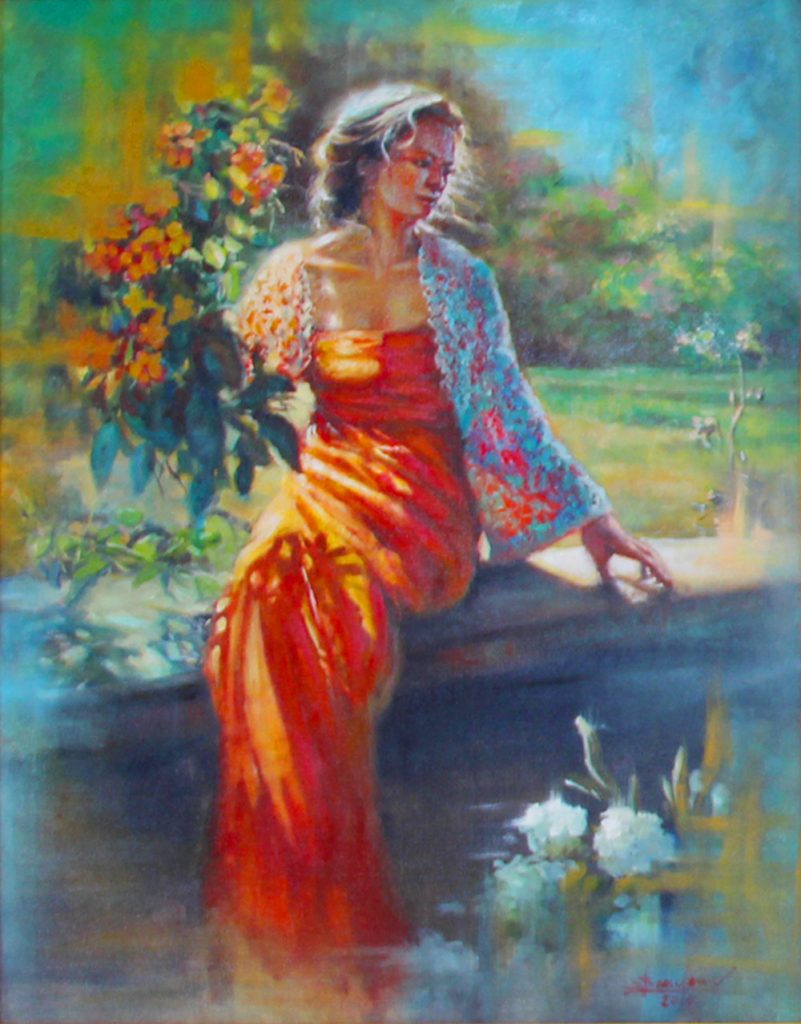 JOEMARIE SANCLARIA
Joemarie executes a painting and how he chooses his subjects based on the vibrancy and fluidity of movements like a narration that includes emotive actions. The most beloved paintings are always those that narrate folktales, and the delightful scenes rendered with utmost care are situations that we can always profoundly relate to because they had been a part of a beautiful memory from our distant past.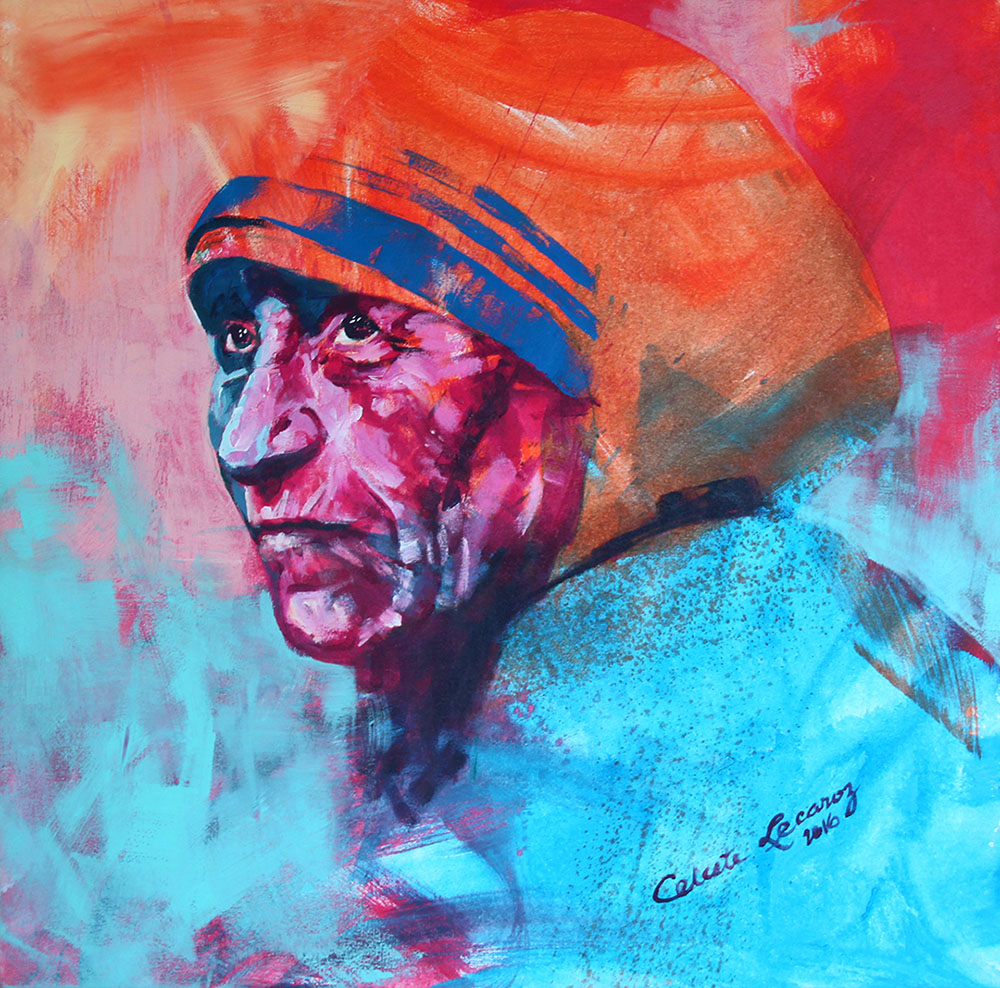 CELESTE LECAROZ
Lecaroz has mastered more conventional, more traditional forms of art—and this is why she can subvert art itself in a way that still makes visceral sense to the viewer. Her paintings are not just a hodge-podge of pigments—this is an organic and not entirely unconscious undoing of the conventions of light and paint and texture and form and reality. The process may seem mystical, but to Lecaroz, it is merely the natural order of things—that creation itself is non-linear, and is as crucial as ever in a genre like spontaneous realism. Spontaneity, too, is a complex creature. It makes one think of the archetype of the eccentric artist splashing paint across canvas—but why must we underestimate the inner workings of the impetus for those splashes?
"It is a becoming," Lecaroz says. "A process that isn't exactly putting one foot after another. The impulse to do something, to paint, is both an image and a word. It is both a vision that realized in words, that is further realized in a vision. The immersive process is as important as the end-product. The beginning, the process, is as important as the end, whether vision or word."
RONALD CASTRILLO
Ronald was born on June 3, 1964. His parents, Aurea and Amado Castrillo – a great writer, Illustrator and sculptor has influence and inspired him to develop his interest and skills in the arts at a tender age. He finished a degree in Bachelor of Science in Aeronautical Engineering Major in Aircraft Aircraft design at PATTS School of Aeronautics. His inspiration are his surroundings using metal, wood and glass element to form lines and curves that people can touch and feel.
CAMILLE CHUA
Camille thinks of herself as a storyteller, often using a narrative and research based on the many topics she's interested in to dictate her artworks. She is currently inspired by mythologies and legends around the world and fusing it with symbolism, history, pop culture, and fantasy themes. She works primarily with inks, gouache, and acrylic, but she has always experimented with other mediums on the side, her fingers always itching to try out new methods and techniques.
TANYA GAISANO-LEE
Tanya's current trademark style is largely inspired by her experiences and exposure to various arts and cultures from her frequent travels abroad as well as throughout her native country of the Philippines. Her technique is most accurately described as contemporary, having a single subject, distinct patterns, and vibrant colors.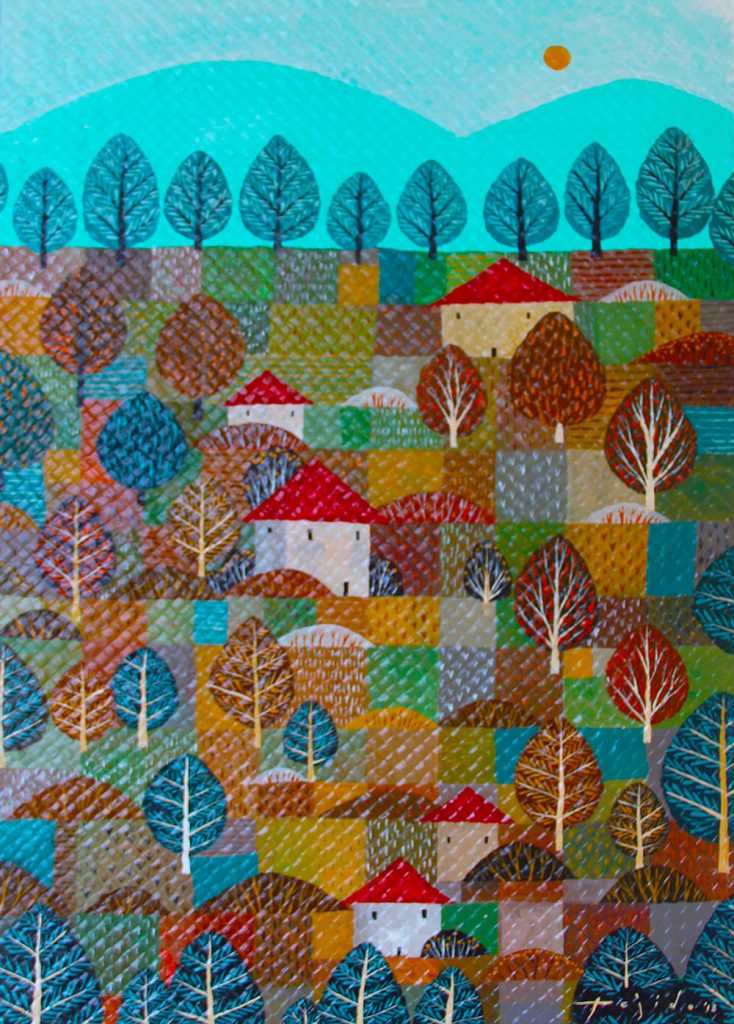 JOE MIKE TEJIDO
Architect Jomike Tejido has pioneered the acrylic on hand-woven mat painting style to offer a refreshing, yet distinctly modern Filipino painting. Familiarity and research on its organic base led to the utmost care in the painting process to ensure its longevity for collectors. Tejido's mats are chemically treated, then primed with a base layer for maximum paint adhesion, and finally layered with multiple coatings of artist quality acrylic paints. The opacity and plasticity of the acrylic medium seals the pores and zeroes into the network of weaves. A finishing glaze locks in the pigments, acts as a tough fixative and gives a film of protective luster for years of appreciation.
ART FOR ALWAYS, A Tagaytay Locale Exhibit is in partnership with Sorrell Publishing Company, New York – a well-known company specializes in publishing coffee table books such Philippines Future Legends, an ensemble of upcoming Filipino visual artists and The Philippines Best Hotels and Resorts.
Taal Vista Hotel is along Kilometer 60, Aguinaldo Highway, Tagaytay City 4120 Philippines. For inquiries and reservations, please call +63 (2) 917 8225, +63 (46) 413 1000 or +639178091254. Stay connected with Taal Vista Hotel! Visit our website at www.taalvistahotel.com and join us on Facebook (facebook.com/taalvistahotel) and Instagram @taalvistahotel.
Hits: 382