Awesome Flavors, Natural Green & Black Tea Extracts and Philippine Island Mangoes with Sugar, Honey + Stevia as Sweeteners Make Lick an Ideal Drink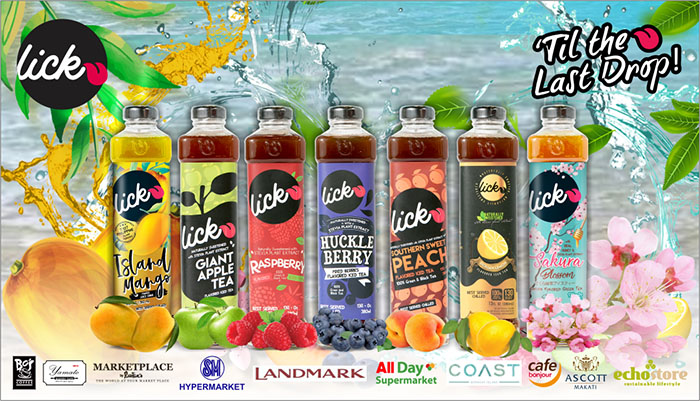 The newest glass bottled iced tea beverage is here! Celebrate real tea goodness with the refreshing and naturally sweetened Lick Iced Tea.
Lick Iced Tea is made from real, high-quality, green & black tea extract combination and is naturally sweetened with sugar + stevia to make sure you get the same amount of sweetness –minus the calories!
Preservative-free, Colorant-free, and zero artificial flavors, Lick Iced Tea makes for an ideal drink for wellness seekers and fitness enthusiasts, complementing a healthy diet.
Lick Iced Tea is proudly Filipino made and is manufactured for South Carolina Beverages Inc. – a start-up company producing premium quality beverages.
Lick Iced Tea comes in 5 awesome flavors of Raspberry, Sicilian Lemon, Giant Apple Tea, Southern Sweet Peach, and Huckleberry which are available in premium 380 ml glass bottles at P99 SRP in supermarkets and at P120 SRP in different coffee shops, deli shops, specialty stores and more. Refreshing and healthier iced teas, Lick Iced Teas are available at SM Hypermarkets, Landmark, Allday Mart, Assi Fresh, Bo's Coffee, Yamato Bakery, ECHOstore, COAST Boracay, Café Bonjour, Ascott Makati and soon at The Marketplace by Rustan's branches nationwide.
Lick Iced Tea also its newest flavor: Lick Sakura Blossom – a green tea drink that is sweetened naturally with a combination of sugar, honey & stevia. Our take on a lighter green tea drink, with its soft, and flowery Sakura flavors!
Lick is also introducing the first of its juice line, the Lick Island Mango an ode to the Philippine Island's best cultivated mangoes. With no artificial colors, preservatives or flavorings, Lick Island Mango is as real as it gets with just the water, mango and sugar as the only ingredients we use. Taste the glimpse of Philippines' natural wonder in a bottle! Grab this island favorite right now and drink up! Mabuhay!
Sakura blossom is sold at P120 SRP and currently available at Ono Poke, Yamato Bakery, Peppy Olive and soon at major restaurants, coffee chains and supermarkets! Island Mango is sold at P128 SRP available at Ono Poke, Megawatt, Peppy Olive and soon in more locations!
So go ahead, embrace realness with an equally real and healthier iced tea & juice beverage. Get your bottles and drink Lick today! DrinkLick #TilTheLastDrop #AyokongPlastik #IslandMango #TasteTheIsland