Chef Gene Gonzalez Shares Delightful Cooking Secrets and Family Dishes for King Sue's Pre-Holiday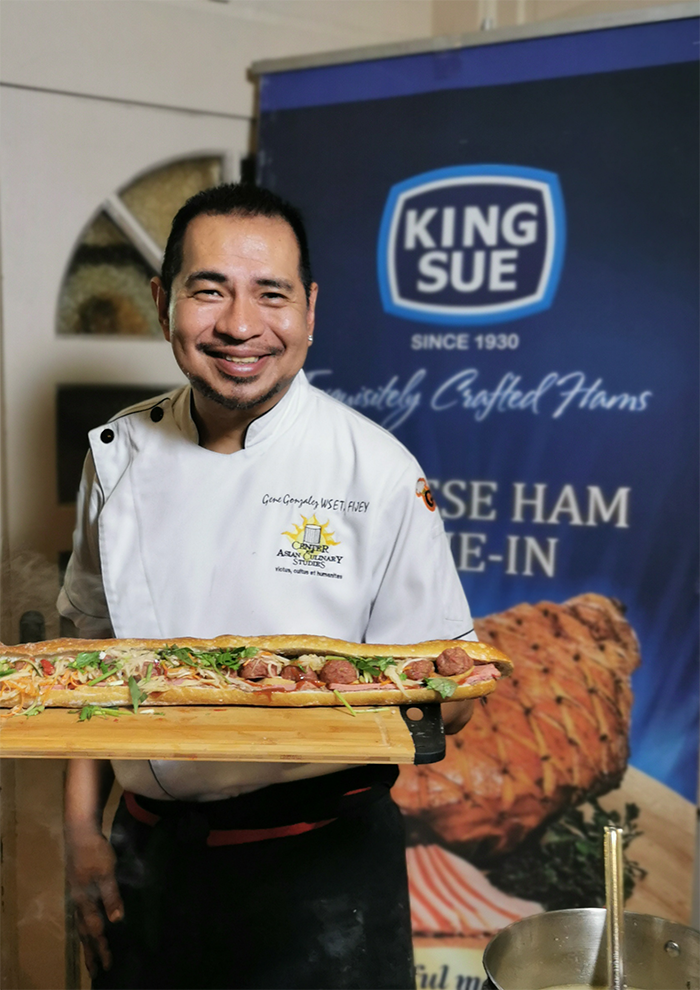 On a gloriously sunny day, a short walk down a slow sloping pavement brings you to the familiar white entry way of Cafe Ysabel. The restaurant, which is an established culinary icon for almost 20 years, enjoys its new home nestled in the quiet neighborhood of M. Paterno, San Juan City. As the doors open, you are greeting with a buzz of activity as an audience gathers excitedly for an event arranged by King Sue Ham and internationally renowned Chef Gene Gonzalez, as he cooks up traditional favorites and sumptuous innovations with a King Sue twist.

Chef Gene, who opened Café Ysabel at 23 and is now president of the pioneering Center for Asian Culinary Studies, pays tribute to King Sue products which have been a staple fare on the dining table as well as in his kitchen. "King Sue has been there at home ever since," shares the author of "Cocina Sulipeña" and many other cookbooks.  He'd wake up to King Sue bacon for breakfasts as a student, enjoy Chinese ham during holiday festivities with the family, and rely on Chinese sausage for his Asian cooking and for his culinary school. "I also like their dried pork feet, which goes into my Spanish cooking and to my superior stock that gives my Chinese dishes authenticity," he reveals.
"Rather than glaze a ham, you can braise it in a mix of vegetables and wine and the broken down vegetable puree acts as the sauce," he confides. King Sue products are not only popularly available and dependable, they are also very versatile. "The dried pork feet are truly excellent for beans, fabada, and stews along with Spanish chorizos for Filipino-Spanish combinations."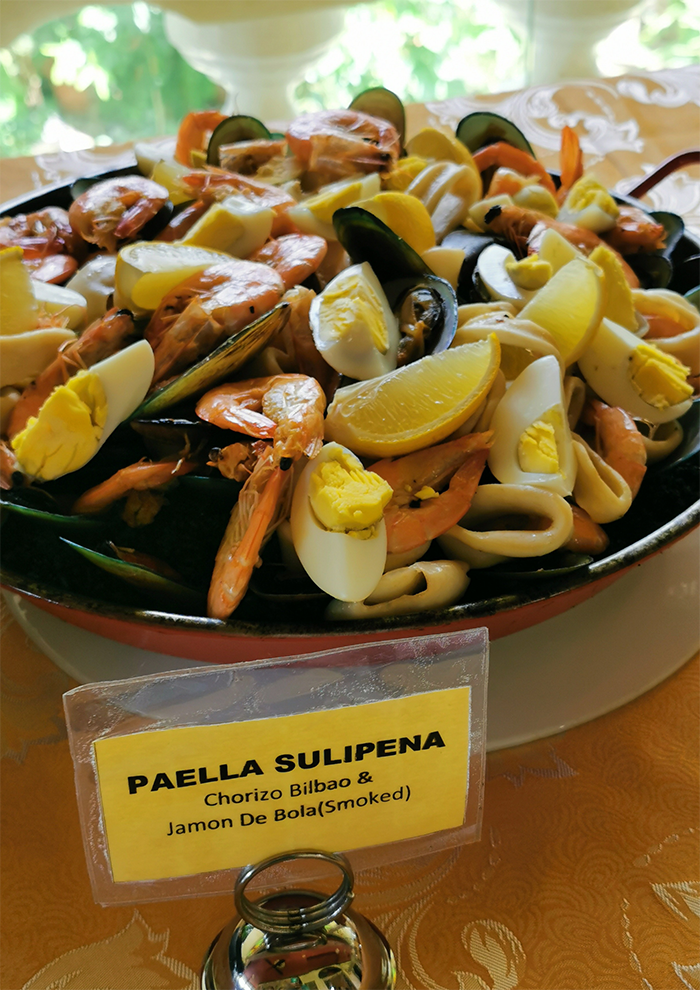 "The King Sue burgers can be redone with herbs to create meatball, while the Pear Shaped Ham has hundreds of applications as fillings for Vietnamese and German cooking," enthused Chef Gene, as he animatedly uses a mortar and pestle. Adding cilantro, in a bowl of papaya salad, seasoned with sugar and vinegar, Chef Gene showcases a quick and deliciously flavorful  Banh Mi to the delight of the crowd, at the same time creating an Austrian Flavade Stew with King Sue's Premier Kaiser Sausages. He muses that the best part about  King Sue is that it has withstood the test of time and changing markets, is also very reasonably priced for such top quality.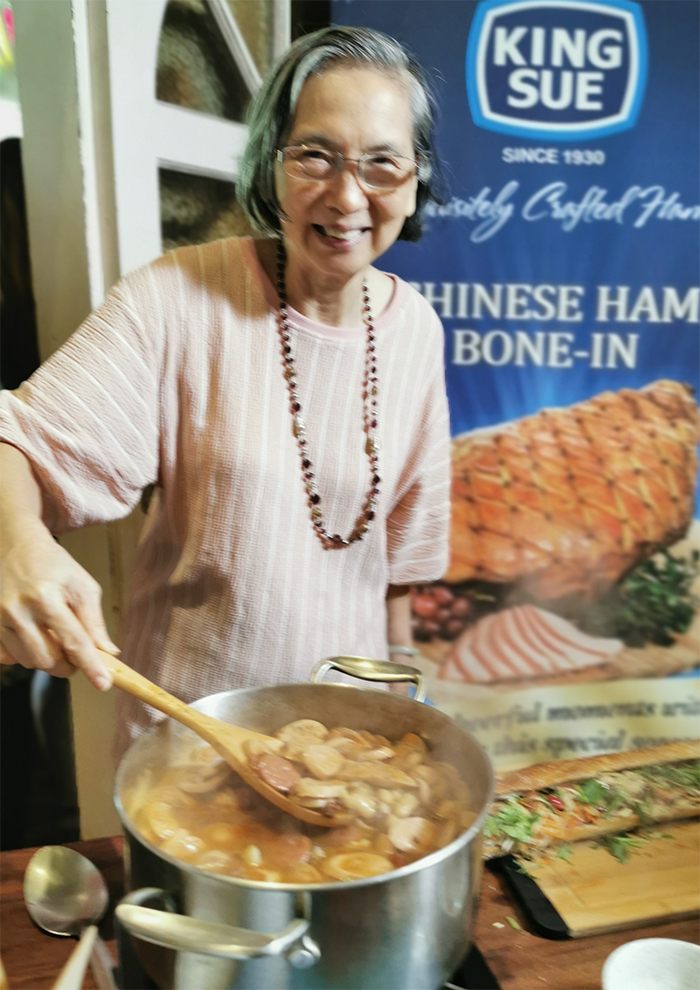 Hobby cooks and consultant could readily resort to King Sue when their or their client's budgets get a bit tight so as to avoid sacrificing taste and flavor. Thus, the only Ten Outstanding Young Men Awardee for Culinary Arts, advised homemakers, chefs, and restaurateurs:
"Before you think deli items, take a second look at your King Sue products because they have great applications for reasonably priced ingredients with good quality."
Indeed, King Sue is synonymous to quality. As a third generation business started in 1930 by Mr Cu Un Kay who began by selling whole leg Chinese hams in Chinatown. "The name comes from King, meaning 'royalty,' and Sue, meaning 'small,' shares Mr Richie King, VP for Marketing, "because my grandfather who is small in physical stature, has big dreams for his family." Thus, after 89 years, King Sue, which was incorporated in 1970, has diversified from whole leg hams to sausages and cold cuts to other meat products. "Today, the company boasts of a variety of quality meat products, ranging from traditional hams to smoked bacons and sausages, as well as traditional favorites tocino, longganisa, and sisig," adds Mr King.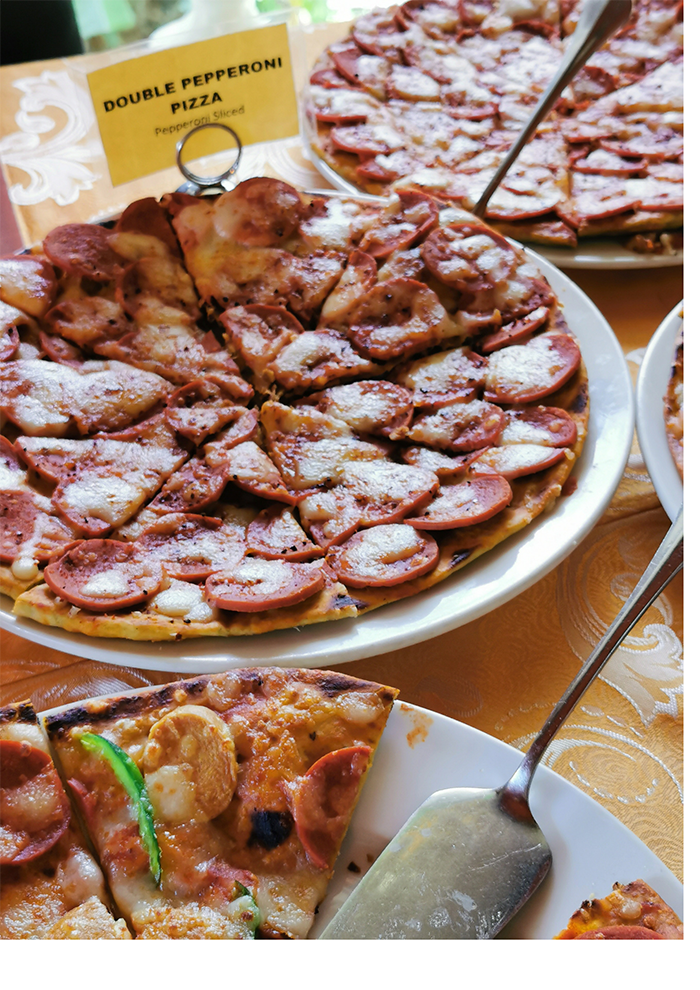 King Sue, however, continues to step up its game by reaching further into the high-end and more health conscious market. In 2019 it launches its Kaiser Deli Brand, which offers ultra-premium sausages, bacons, and hams for the most discriminating clients. All King Sue products are both GMP and HACCCP certified. Maintaining quality and supplying the market demand are easy for the King Sue because everything's made in house using state-of-the-art German equipment. "But, even with these high-tech machinery, preparation for the Christmas season starts in August for the whole bone Chinese hams," confessed Mr King. "It takes a month to properly cure whole bone, which still needs to be smoked then cooked. It takes patience to perfect them."
Major supermarkets—SM, Robinson's, and Puregold—as well as hotels and restaurants from La Trinidad, Metro Manila, through Bicol carry King Sue products, which are distributed nationally through distribution partners.
"King Sue moves forward in 2019 with another milestone on top of its high-end line," opens Ms Romana Go, VP for Human Resources, "by slowly converting to merit-based management. Although the company remains a family business, we've started hiring outside employees for key management positions—Of course, the recipes from our grandfather and the tradition of making hams remains a family secret."
Chef Gene Gonzalez, who is the consultant responsible for the success of some 60 food establishments/businesses and a member of the London-based International Wine and Food Society, has personally witnessed the versatility of King Sue for all occasions and cooking needs.
Thus, Chef Gene's world-class expertise and impeccable taste shares with us one of the secrets of his delicious traditional dishes at home, innovative meals at Café Ysabel, and creative recipes for the Center for Asian Culinary Studies: King Sue's Chinese ham, bacon, and dried pork feet along with a delightful array of new meat products!
After the demonstration, Chef Gene invited the guests to partake of the scrumptious array of paella, pastas, salad, pizza all using the wide range of products from King Sue. The crowd favorites proved to be the grazing table made from an selection of King Sue cold cuts and the smoked Chinese Bone In Ham. Chef Gene further explores the possibilities of the classic ham by glazing it with sugar while keeping the skin crackling and crunchy.
Every kitchen will surely take on a new level with by having King Sue as its old reliable partner for its meat needs. Without a doubt, King Sue products are as good for the holiday table as they are for exciting everyday meals, special dinner spreads, and catering needs not just this Christmas but through the years to come!
Hits: 181