A New Dining Destination in Pampanga
---

---
Alviera, a 1,800-hectare estate by Ayala Land and Leonio Land in the barangay of Dolores, Porac, Pampanga, has just opened its exclusive country club. With sports courts, swimming pools, fitness gym and studio, theater room, game console room, KTV, function rooms and a grand ballroom, the sprawling, six-hectare country club is poised to be a social hub as well as a sports and recreational destination.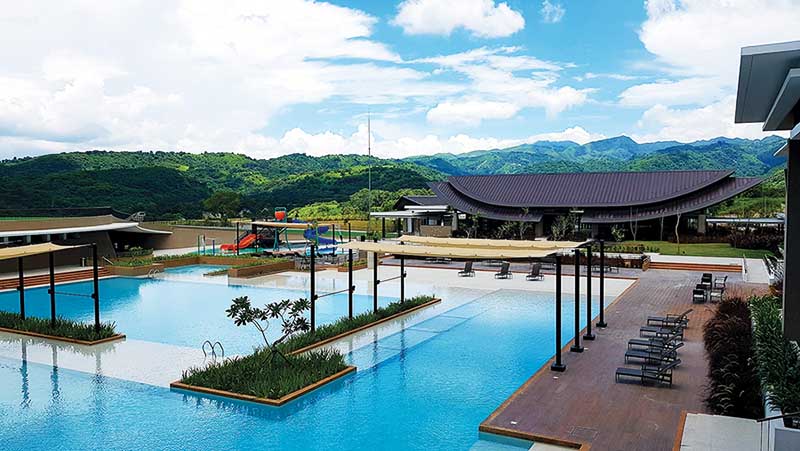 Aside from different amenities and facilities, the Alviera Country Club also aims to be a dining spot with its three options—Manyaman Restaurant, Sabyan Café and Galo Sports Bar. As Pampanga is widely considered the Philippines' culinary capital, the estate development wants keep up with reputation and aims to elevate the dining experience.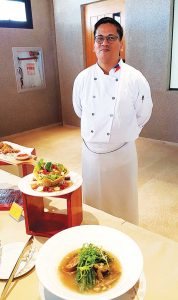 "The club's dining experiences are in the capable hands of Chef Rafael Borromeo Hubilla, better known as Chef Raffy. He has been in the food business for some 25 years, working in various hotels and clubs as executive chef, apprenticing under many international chefs," revealed Melanie Eugenio, project development manager of Alviera. "His experience includes The Savoy Hotel Manila, Marriott Hotel Manila, Hyatt Hotel and Casino, Camayan Beach Resort, The Alabang Country Club and The Palms Country Club. He spent two years in Diamond Hotel Saipan as a Japanese restaurant chef, enabling him to learn Nihongo. At home, he speaks English, Filipino, Bicol and Ilocano. Chef Raffy studied Architecture at the University of Baguio before honing his culinary chops at the Center for Culinary Arts."
"The Alviera Country Club members and guests can expect a good range of local and international flavors in our dining outlets. The breakfast menu includes Filipino, Japanese, all-American and continental options. There is a good share of Filipino dishes, and distinctly Pampangan specialties like Bringhe and Tibok-tibok in the main menu. We have an Asian corner, Western favorites, pasta dishes, and brick oven-baked pizzas," she shared. "We have deli sandwiches as well, including the highly recommended Alviera U.S. Angus beef burger. Over on the grill, we have US-certified Angus beef, Australian lamb chops and black tiger prawns. We can also offer customized menus for special functions. We feel that every dining experience in Alviera Country Club should be a complete delight for all the senses."
At the Manyaman (Pampangan word for "delicious") Restaurant, the club's main restaurant with a dining veranda that spills over to the central lounge pool, the Olongapo City-born chef laid out his specialties for us.
We started with his signature Sesame-crusted Seared Tuna Loin with Balsamic Wasabi Cream and Pickle Relish.
"The ripe mango balances the acidity of the balsamic reduction with wasabi cream," he explained.
He confessed: "This concept is my favorite because I started in my career as a Japanese chef."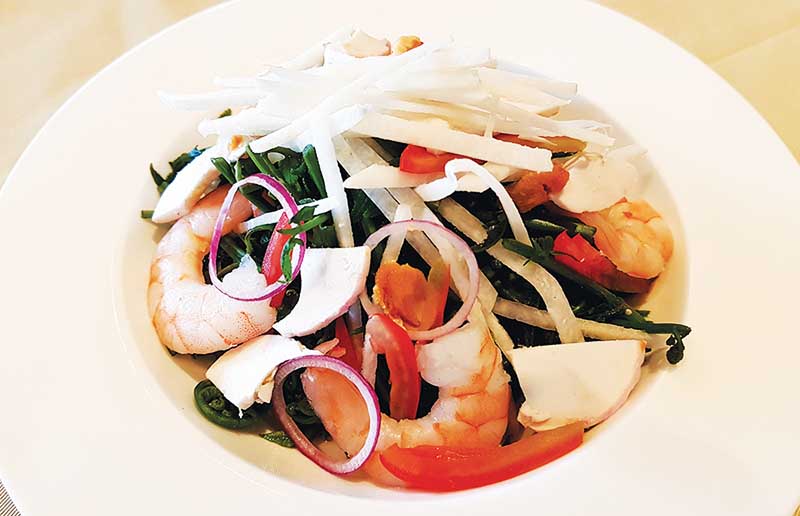 For the Buttermilk Chicken Wings, the chicken is "marinated in butter and milk for almost 12 hours before being coated with flour, deep fried until golden and drizzled with maple syrup, with a side of garlic aioli and capsicum dip."
"The ingredients of garlic aioli is pure garlic puree, mayonnaise, Dijon mustard, salt and pepper," Hubilla said.
He added: "Lots of ingredients in one concept or dish become confusion, so I start with the basics with five flavors on the palate."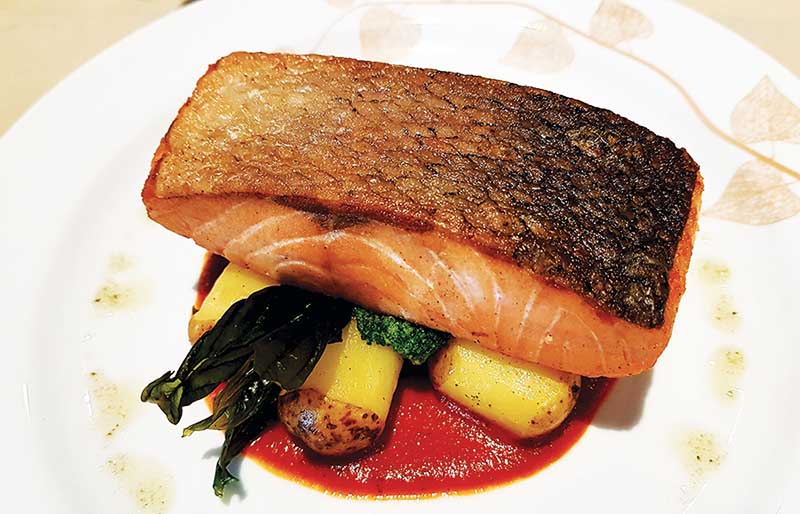 The capsicum dip, the chef described, "is pure bell pepper, roasted and seasoned with salt and pepper; paprika and olive oil, slow-roasted in the oven until they become tender. Remove the skin and put them in the blender with olive oil and put some curry powder. So, they have a sweet and spicy flavor."
On the other hand, the Crispy Calamari Fritos is "classic calamari coated with flour, egg and bread crumbs with tangy chili-cilantro dip and then honey mustard."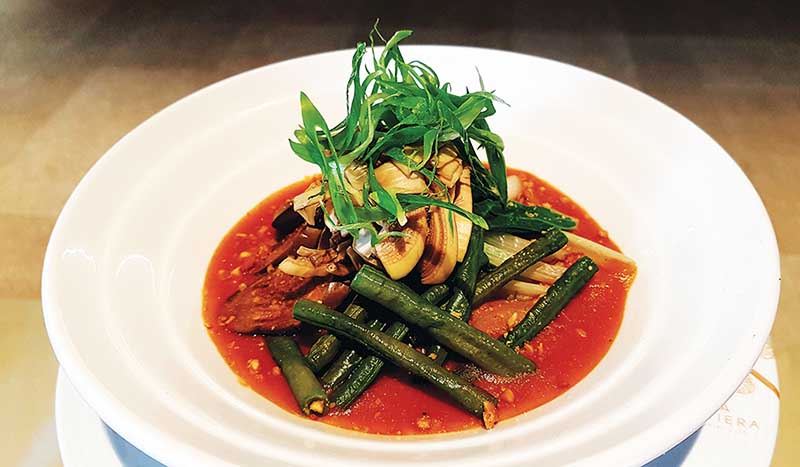 A combination of Asian and western flavors, the Parmesan Basket Salad is another of Hubilla's signature dishes.
"Fresh parmesan is baked in the oven and molded into a basket," he revealed.
In the basket goes dragon fruit, quail eggs, tomato, walnut to make it crunchy, Cobb leaves with Romaine lettuce, grapes, avocado and roasted Cajun chicken with Oriental dressing plus guacamole.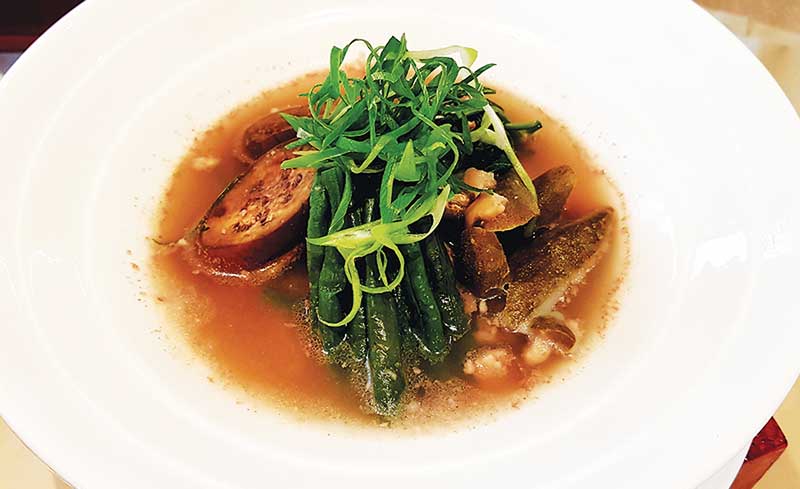 For the main dishes, Manyaman offered Pan-seared Australian Blackened Salmon Steak and Barbecue Baby back ribs, among others.
The Pampangan dishes are at the forefront starting with the classic Pako Salad, made with blanched fern fiddleheads.
"I use the local ingredients here in Pampanga," Hubilla said. As a twist, he added turnips to add more crunchiness to the already crunchy salad.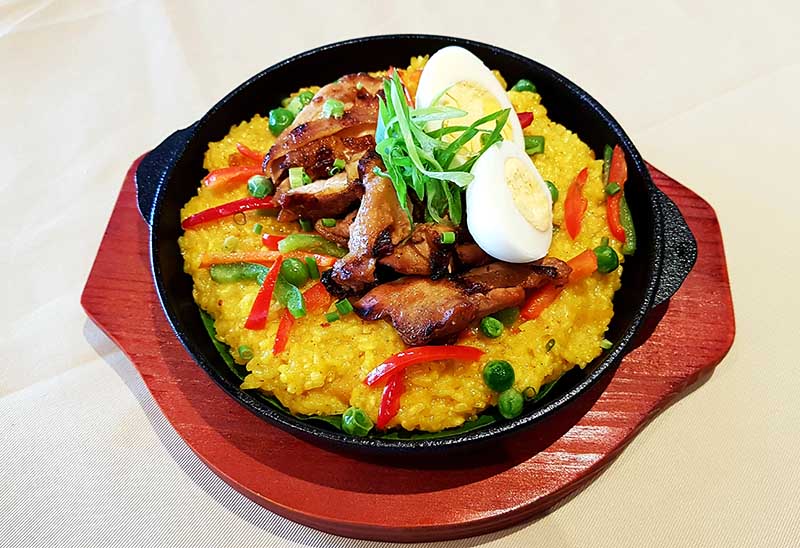 The salad also had salted egg, shallot, tomato and shrimp, drizzled with fish sauce, vinegar, kalamansi juice, salt and pepper.
For soup, he served the popular Bulanglang. "Bulanglang is classic and traditional here in Pampanga. This is called in Tagalog, in Bulacan, Sinigang sa Bayabas, but they have a twist here in Pampanga. They use gabi (taro), kangkong (water convulvulus), puso ng saging (banana heart) and more 'yung guava. So you can taste the tamarind flavor and the sweetness of the guava. Usually, they use pork, but it can substituted with milkfish or shrimp and ulang (crayfish)," Hubilla said "Hindi kumpleto ang meal sa bahay kung walang bulanglang (A meal at home is incomplete without the bulanglang)."
The Kare-kare is another classic Pampangan dish, which is popular now all over the Philippines. "I make this from scratch," the chef said. "I use the traditional ox tail and ox tripe."
Bringhe was also served.
"The Bringhe is from northern Pampanga. Hindi kumpleto ang piyesta nang walang Bringhe (A fiesta is not complete witihout the Bringhe). This is traditional Spanish paella adopted by the Pampangan with glutinous rice. They also replace the saffron with yellow ginger called galangal. And then they cook it in coconut milk," Hubilla said.
Food writer Mikey Fenix though emphasized that Bringhe is a native Filipino dish.
For Manyaman's Bringhe, Hubilla uses Chicken inasal to lend it a smoky flavor.
For dessert, they had Tibok-tibok, made with carabao milk and topped with latik.
Manyaman Restaurant also has sandwiches, such as Vietnamese Roast Pork Sandwich (Banh Mi) and the Alviera U.S. Angus Beef Burger (served in a matcha sesame bun), pasta dishes and pizzas.
At Sabyan Café, members can have freshly baked breads and pastries, cookies and cakes, hot coffees and frappes, teas and more Western fare.
Pampangan for "to converse," Sabyan was designed for relaxed meals and casual meet-ups with coffee. Coffee beans are sourced from Sagada in Mountain Province and Sultan Kudarat.
The café serves sandwiches and a variety of salads. The Alviera Club Sandwich and Roast U.S. Angus Beef Striploin Sandwich are heavy, but there are also lighter choices, such as Grilled Vegetable Focaccia and Tuna Nicoise Salad Wrap. Sabyan also serves pasta and pizzas, most notably the Alviera Chicken Adobo Pizza and Pampanga Longganisa Scarmoza Pizza.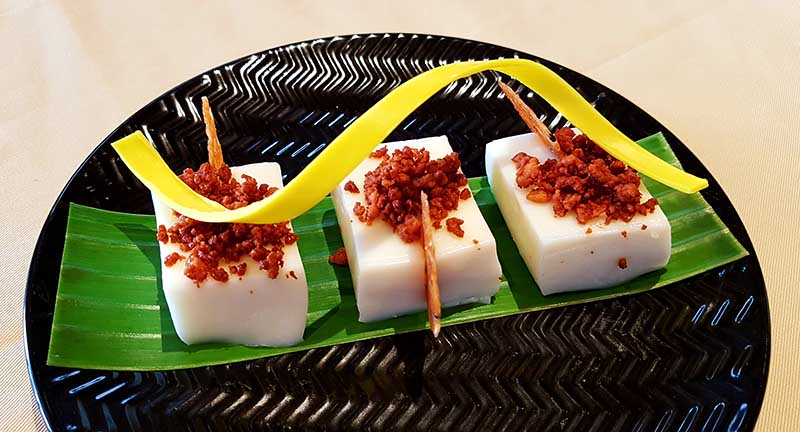 Galo Sports Bar is even more casual. It has games such as darts and billiards and televisions screens for the latest games. Galo (Pampangan word for "action" or "movement") offers beers, cocktails, spirits and other drinks with bar chow. Hungrier guests can enjoy sandwiches, pizzas, pasta and noodles. Dessert selections include buko pandan, halo-halo and ginumis.
At the edge of the bar are the private KTV rooms. At the game room, widescreen TVs and consoles entice gamers. For a private movie screening, guests can also sit back with popcorn and drinks in the 21-seater theater room near the bar.
Aside from being gastromic spots, these outlets at Alviera Country Club are also available for different occasions, such as meetings, birthdays, and anniversaries.
Hits: 631