February is a time for Luxurious Romance and Revelry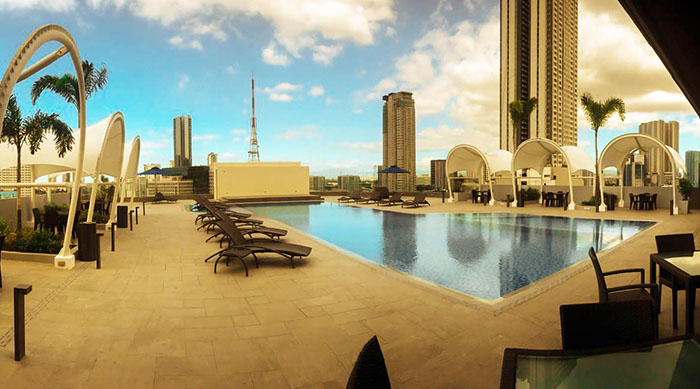 Valentine's is one of the most anticipated days in the year, and Luxent Hotel knows how much Filipinos love the idea of romance and various other expressions of love during this season. We're giving couples a night to remember with F&B offers for their love-filled moments.
Luxent Hotel boasts of several other options for people to spend time with their loved ones on February 14. Those who prefer to express their love through a one-of-a-kind dining experience may opt for a dinner date at the Vertigo Pool Deck Bar, where they can chill to the city's shimmering evening view with a lavish 6-course dinner served by a personal butler. Completing the air of elegance and fiery romance is a complimentary bottle of wine and a violinist playing live. Available for Php6,000 nett for two.
Those who prefer to have their intimate dinner in a splendidly elegant environment may opt to take their date to the Lush Bar and Lounge. Here, they can also get to appreciate a fine 6-course French set dinner, served with a glass of red, white, or sparkling wine. An invited acoustic band will also perform live in the lobby to serenade couples in their dream dates. This offer can be availed for only P2,500 nett person.
On the other hand, guests who wish to take their loved ones to a Valentine's treat can do so with this year's Valentine offer at the Garden Café. Dishes from around the world welcome each guest as they select their favorites for a sumptuous dinner. This offer can be availed for P1,388 per person for adults. The Garden Café Valentine buffet offer is only available for Dinner on February 14, 2020 from 6 to 10PM.
Love wins in the most romantic and fun ways at Luxent Hotel this February. For inquiries and reservations, call (02) 8-863-7777 or visit Luxent Hotel at 51 Timog Avenue, Quezon City.
Hits: 114