Huggies Comforts Moms in Need with Donation of 100,000 Diapers for Newborn Babies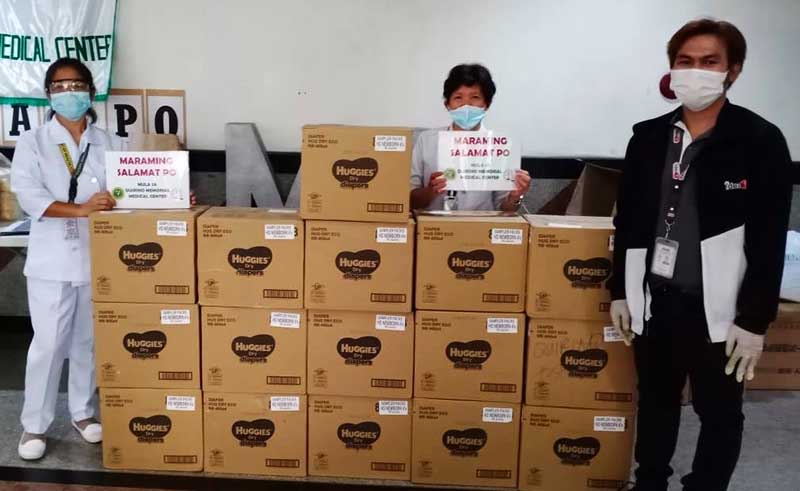 Recognizing the situation of underserved families due to the COVID-19 ECQ last April 25, Kimberly-Clark's Huggies® brand successfully distributed over 100,000 newborn disposable diapers to children's hospitals and maternity wards around Metro Manila.
Braving the current COVID-19 pandemic is a daunting task for the entire nation. The situation is especially challenging for many moms in the early stages of motherhood. Amidst all this, Huggies Philippines is undeterred in lifting the Filipino families' spirits with comfort and care, particularly new moms in need of support in raising their children.
"Kimberly-Clark has long been a pioneer and trusted expert in baby and child care and we want to assure moms through this difficult period, we will be there for them every step of the way," said Michael Vainio, General Manager, Kimberly-Clark Philippines. "Through our donation, we look to ensure the accessibility of these necessities to families and babies impacted by COVID-19."
To date, Huggies Philippines has provided its Huggies Dry diapers to the following institutions: Dr. Jose Fabella Memorial Hospital, Ospital ng Makati, East Avenue Medical Center, Valenzuela Medical Hospital, National Children's Hospital, Taguig-Pateros District Hospital, Caloocan City Medical Center, Dr. Jose N. Rodriguez Memorial Hospital, San Lorenzo Ruiz Women's Hospital, Navotas City Medical Center, Valenzuela Emergency Hospital, Mandaluyong City Medical Center, Champ Hospital Pasig, Pasig City General Hospital, Ospital Ng Maynila, Sta. Ana Hospital, Tondo Medical Center, Pasay City General Hospital, Novaliches District Hospital, Quirino Memorial Medical Center, and Amang Rodriguez Memorial Medical Center.
For most moms, parenthood after childbirth is already an arduous task under normal circumstances, let alone during a global pandemic. The overwhelming news, worry, and uncertainty around COVID-19, combined with the physical and emotional exhaustion of caring for a newborn can take a toll on one's health. That is why Huggies is committed to helping moms and their babies the best way they can as they go through their motherhood journey during these trying times.
"In this unprecedented situation, giving moms and their babies the comfort and care they need is our utmost priority," said Brian Duruin, Marketing Head of Kimberly Clark Philippines. "We hope to be able to continue to help more moms navigate through the challenges of parenthood during this time and that our donations can help ease the burden of those currently having trouble securing supplies, especially those most vulnerable and underprivileged.
In total, Huggies Philippines has committed to donating a total of 200,000 diaper packs.
Huggies is under the Kimberly-Clark Corporation, a pioneer of trusted baby, child, and feminine care brands. Leading the world in essentials for a better life, the company is doing its part to support the fight against COVID-19 through its donations to medical facilities and non-profit organizations around Metro Manila.
For more information, parenting tips and great offers, visit https://www.huggies.com.ph
Hits: 91