#SavorEveryMoment At Home with Eden!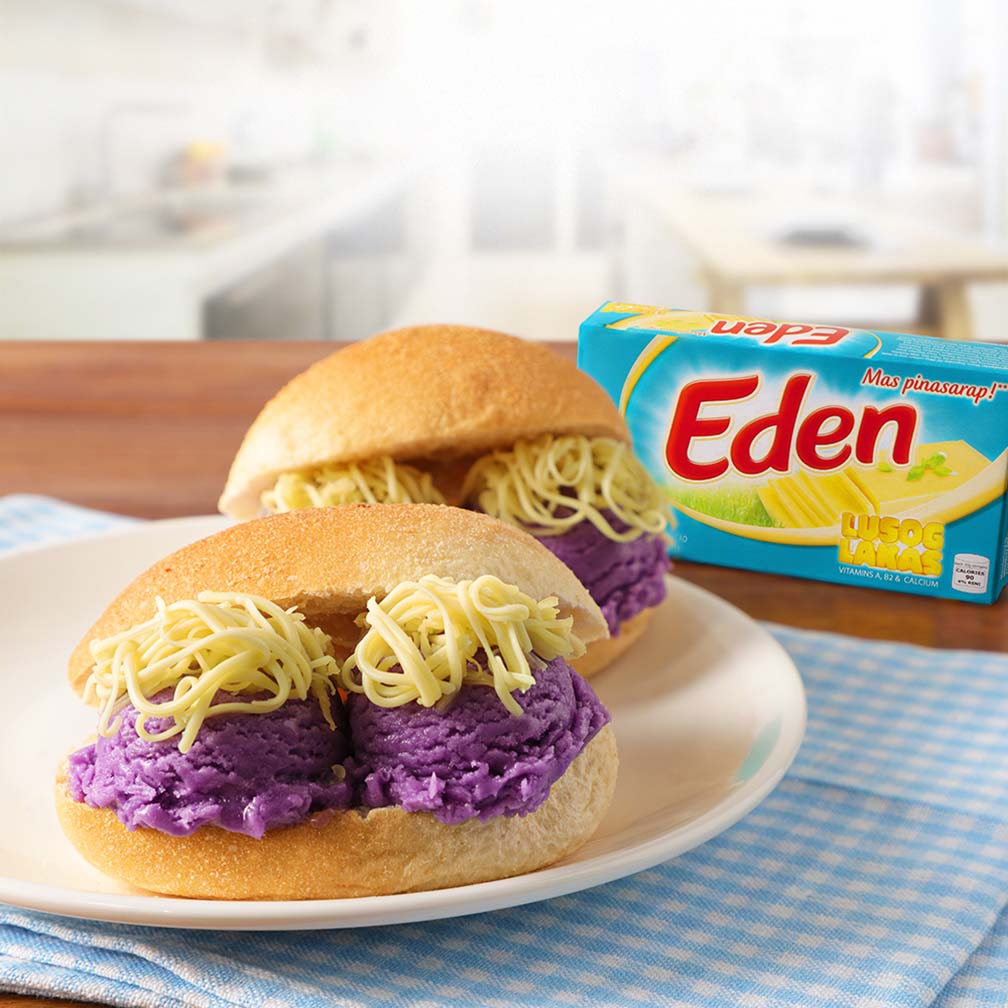 Life has taken a whole new turn this 2020 and many claim it will never be the same again. Still, despite the turn of events brought about by the pandemic, we strive to remain resilient. 
One of the reasons why our families remain strong is because of the love and care we receive from our Moms. With their unconditional love, they make sure that in every situation, they get to provide what's best for us.
One of the ways they show this is in their preparation and cooking of food. With food at the center, families can #SavorEveryMoment.
A fast, emerging trend is cooking and baking more desserts. More often than not, Moms give their own recipes a twist.
As we move toward the "new normal," having Mom cook and serve desserts can be a family tradition where everyone bonds and savors the moment.
What better way to bring this to life than by serving Pinoy Desserts made better with the goodness of Eden Cheese!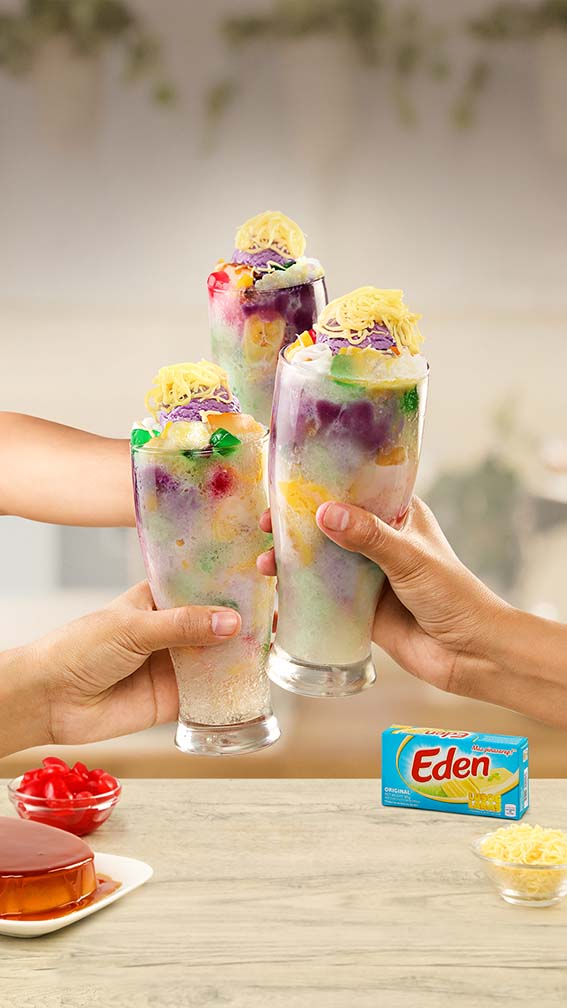 HALO-HALO
When we talk about Pinoy Desserts, Halo-halo is an instant favorite and has become one of the Philippines' best comfort food dishes.
Level up the usual recipe by adding grated Eden Cheese to amp up the flavor and goodness of this all-time favorite dessert.
A cup of Special Halo-halo with Eden Cheese will be enough reason to excite the entire family while staying at home.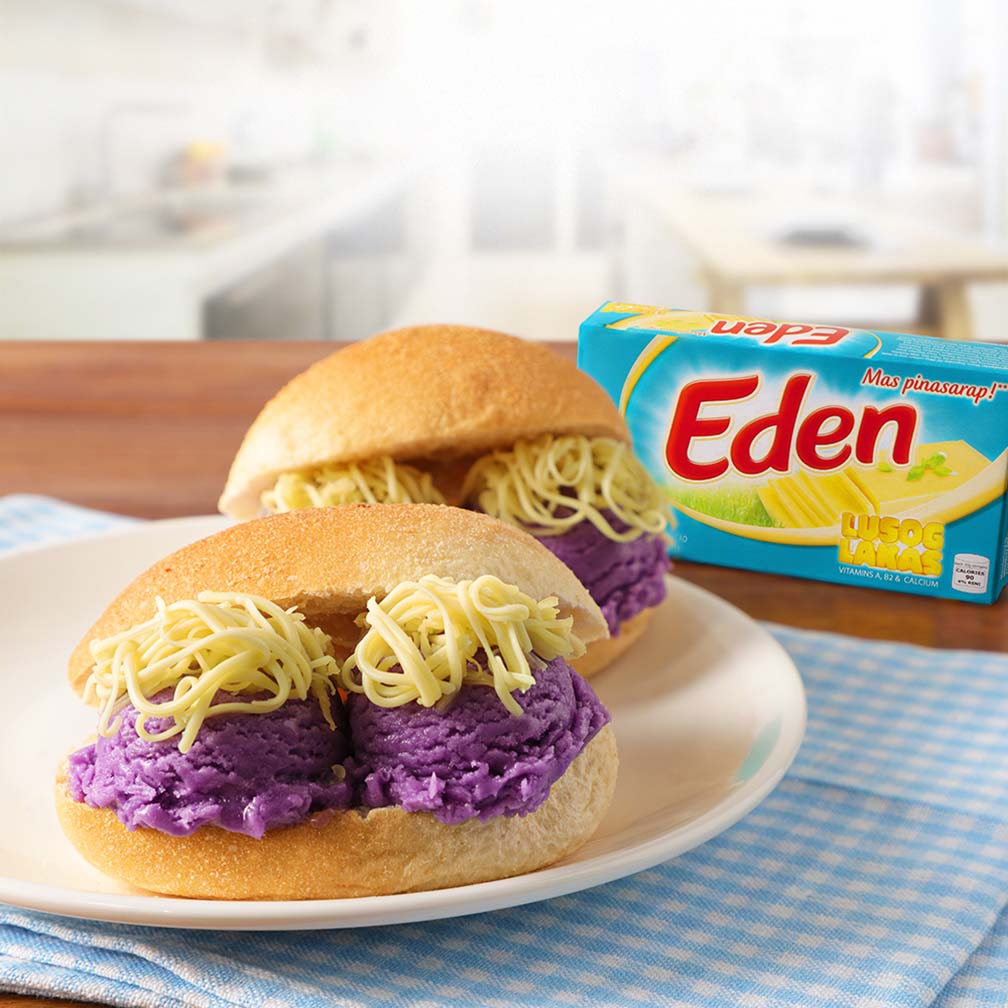 UBE ICE CREAM PANDESAL
Miss eating sorbetes in a bun whenever Manong Sorbetero passes by your street? Why not make your own at home?
This family merienda is simple and easy to make and would instantly make any day cooler and more refreshing.
Try making your own Ube Ice Cream Pandesal with Eden Cheese, you surely won't regret it!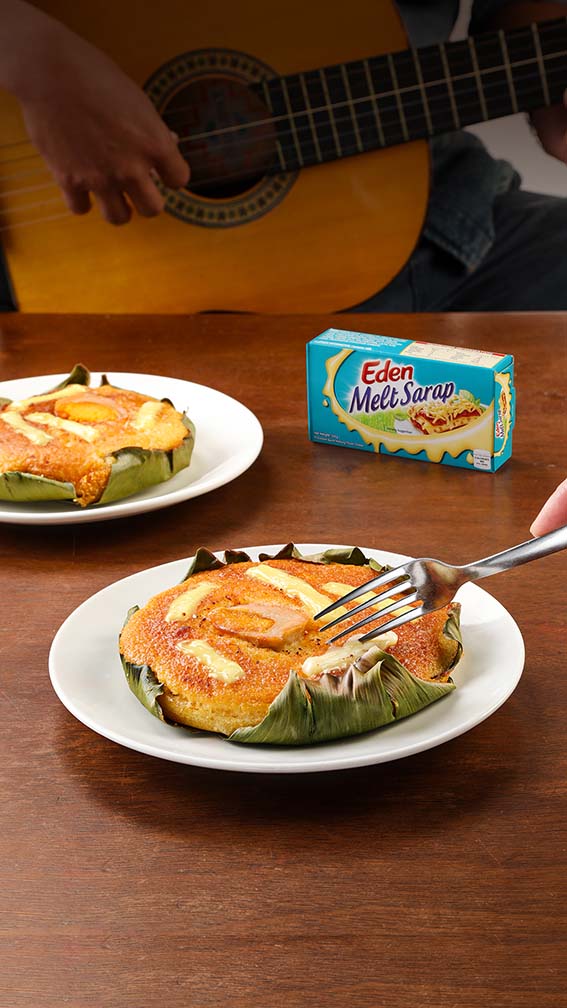 CHEESY BIBINGKA
One more dessert you can serve to make moments at home even better is to bake your own Cheesy Bibingka with Eden Meltsarap Cheese. For those who are more into baking, this treat is the best fit.
Imagine that fluffy and delicious bibingka you know and love made better by adding the cheesy and melting goodness of Eden Meltsarap Cheese! Have that heartwarming and enjoyable family bonding with this dish at the center.
Treasure moments at home with your loved ones by creating these Eden Pinoy desserts. With Eden, you can #SavorEveryMoment at home and build memories that will last a lifetime. Check out the recipes in our Eden Facebook Page and try them all at home.
RECIPES:
Special Halo-halo with Eden
Ingredients:
| | |
| --- | --- |
| Saging na Saba | Shaved Ice |
| Chopped Brown Sugar | Pinipig |
| Evaporated Milk | Kaong |
| Sago | Nata de Coco |
| Sweet Red Beans | Ube |
| Small Slices of Langka | Leche Flan |
| Colored Jelly | Eden Cheese, grated |
| Cubed Macapuno | |
Steps:
1. Place saba, sago, munggo, langka, jelly, macapuno, pinipig, kaong, and nata de coco in a glass.
2. Add some brown sugar. Place shaved ice until it almost fills the glass. Drizzle with evaporated milk, until ice is soaked in milk. Garnish with ube and leche flan.
3. Finish off with grated Eden Cheese on top. Dig your spoon to the bottom of the glass. Do this a couple of times to mix everything together.
Ube Ice Cream Pandesal with Eden
Ingredients:
2 Scoops of Ube Ice Cream
1 Pandesal
Eden Cheese,grated
Steps:
1. Slice the pandesal in half.
2. Take the sorbetes out of the freezer and allow it to soften for five minutes.
3. Place one or two scoops at the bottom half of the pandesal. Add more scoops to your liking.
4. Add your grated Eden Cheese before covering with the top half.
Cheesy Bibingka with Eden
Ingredients:
| | |
| --- | --- |
| 1 Cup Rice Flour | 75g Eden Cheese, grated |
| 2 Cups All-purpose flour | 2 Salted Eggs (itlog na maalat) sliced |
| 2 tsps Baking Powder | |
| 2 Cups Water | |
| 2 Eggs, beaten | |
| 2 Cups Sugar | |
| 2 Cups Coconut Cream (gata) at room temperature | |
| 2 Tsps Melted Butter | |
Steps:
1. Preheat oven to 350°F (177°C).
2. Place wax paper or banana leaves inside three (5-inch) round baking pans.
3. Mix rice flour, all-purpose flour, and baking powder in a bowl.
4. In another bowl, combine water, eggs, sugar, gata, and butter. Mix well.
5. Slowly pour dry ingredients over wet ingredients. Mix with a rubber spatula until thoroughly combined. Use a sieve to get rid of lumps.
6. Fill prepared pans with the mixture until 75% full. Place grated Eden Cheese and sliced salted eggs.
7. Bake in the oven for 20 to 25 minutes. or until a toothpick inserted in the center comes out clean.
Hits: 444