New On The Menu: Flavour-Packed Tortilla Wraps!
Subway has introduced its NEW Flavour-Packed Tortilla Wraps! This new product carrier, as a fresh alternative to the regular 6-inch bread, will be permanently added to Subway's menu items across all their restaurants and is also available on the delivery platforms.
The NEW Flavour-Packed Tortilla Wraps are packed with your favorite sub fillings with a Mexican-inspired treat! The wraps are easily consumable for people who are always on the go! Shareable with your family and friends too!
The NEW Flavour-Packed Tortilla Wraps is also more satisfying as it is on the same size as your regular 6-inch subs with a more 'full-filling' contentment!
While the wraps are available in all sub flavors, you may want to try first the classic Roasted Chicken wraps for Php145, Tuna and Spicy Italian wraps for Php155 each, or the Meatball Marinara wraps for Php175. Prices vary for delivery or pick-up via FB Messenger ordering.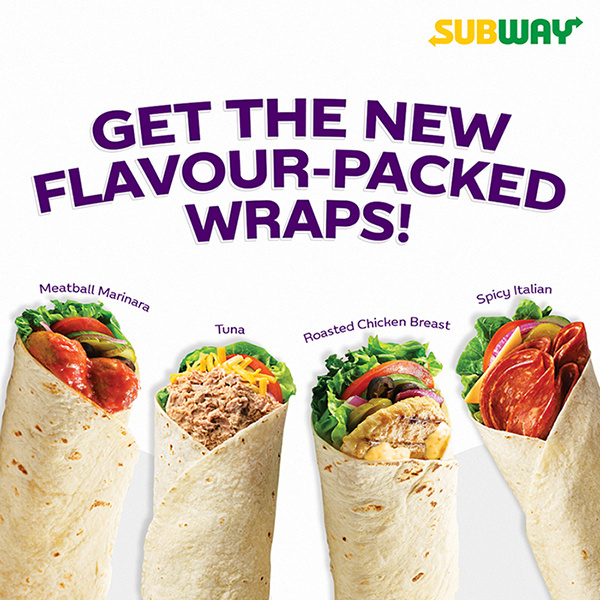 ENJOY THE WRAPS AT HOME BY ORDERING THROUGH MESSENGER "BOTTY"
As you STAY SAFE AT HOME, you can enjoy your favorite subs and the NEW Flavour-Packed Tortilla Wraps through FB Messenger ordering for delivery. Delight yourself and your friends & family with Subway's delicious and freshly made subs and wraps at the safety and comfort of your homes through delivery via FB Messenger "Botty".
Also available in other delivery platforms via GrabFood & FoodPanda.
Hits: 802