Jollibee Group offers a 10% discount to vaccinated customers
Joins industry effort to encourage vaccination among Filipinos
MANILA, Philippines. June 16, 2021 – To support the country's vaccination program, the Jollibee Group has joined Ingat Angat'sSmart Bakuna Benefits program where more than 150 restaurants in NCR Plus are offering discounts to all vaccinated cardholders from June 1 to August 31, 2021.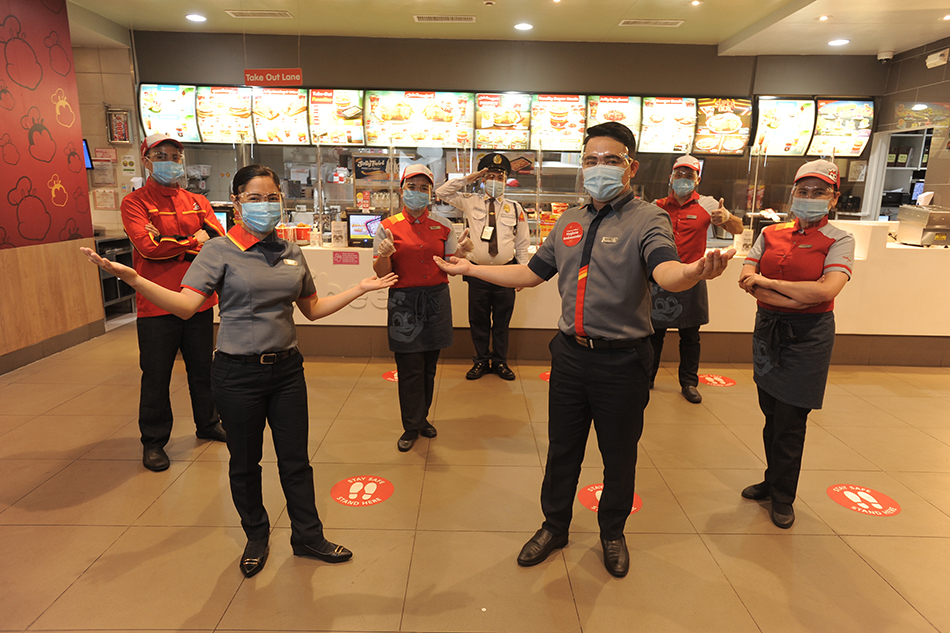 The Jollibee Group is offering a 10% discount for vaccinated customers of Jollibee, Chowking, Mang Inasal, Greenwich, Red Ribbon, Burger King, Panda Express, and PHO24. Through this discount promo, the Jollibee Group hopes to encourage its customers and the public to get vaccinated and help the country achieve herd immunity as soon as possible.
Vaccinated customers only need to show their vaccine card and valid ID to enjoy the incentive as many times as they want when they dine in from June to August 2021. Single dose vaccines are also eligible to enjoy the discount.
"This discount promo is our way to thank our customers for getting vaccinated. The vaccine is the solution that we have been waiting for to protect ourselves and our loved ones, as well as help revive our economy and livelihoods. So let us all get vaccinated," said Pepot Miñana, Jollibee Group Chief Sustainability and Public Affairs Officer."We remain optimistic and hopeful that when we work together to achieve herd immunity, we can all have a better Christmas this year."
Jollibee has started its promo last June 1, while other Jollibee Group brands Chowking, Mang Inasal, Greenwich, Red Ribbon, Burger King, Panda Express, and PHO24 will start their promos on June 15. Customers can check the brands' Facebook pages for the specific terms and conditions of each discount promo. Customers can also check www.ingat-angat.com/benefits to see the full list of participating brands.
About Jollibee Group
Jollibee Group is one of the fastest-growing Asian restaurant companies in the world. It operates in 33 countries, with over 5,800 stores globally with branches in the Philippines, United States, Canada, the People's Republic of China, United Kingdom, Italy, Vietnam, Brunei, Singapore, Saudi Arabia, United Arab Emirates, Qatar, Oman, Kuwait, Bahrain, Indonesia, Costa Rica, Egypt, Panama, Malaysia, South Korea, Japan, and India. It has eight wholly-owned brands (Jollibee, Chowking, Greenwich, Red Ribbon, Mang Inasal, Yonghe King, Hong Zhuang Yuan, Smashburger), five franchised brands (Burger King, Panda Express, and PHO24 in the Philippines, Dunkin' Donuts and Tim Ho Wan in certain territories in China), 80% ownership of The Coffee Bean and Tea Leaf, and 60% ownership in the SuperFoods Group that owns Highlands Coffee and PHO24 brands.
Jollibee Group is a significant investor in Titan Dining LP, a private equity fund and the ultimate holding entity of the Tim Ho Wan (THW) Brand and has a joint venture with the THW Group to open THW restaurants in Mainland China. It also has a business venture with award-winning Chef Rick Bayless for Tortazo, a Mexican fast-casual restaurant business in the United States. The Group will also establish a 50/50 joint venture to operate and expand Yoshinoya in the Philippines. Yoshinoya is one of the largest and most recognized Japanese restaurant brands globally.
Jollibee Group was named the Philippines' most admired company by the Asian Wall Street Journal for ten years. It was also honored as one of Asia's Fab 50 Companies and among the World's Best Employers by Forbes. In 2020, Gallup awarded the Jollibee Group with the Exceptional Workplace Award, making it the first Philippine-based company to receive the distinction.
Jollibee Group has grown brands that bring delightful dining experiences to its customers worldwide, in line with its mission of serving great tasting food and spreading the joy of eating to everyone.
Hits: 246