1st Store in Downtown Chicago and in Washington D.C.as Part of North America Expansion Plan
MANILA, Philippines. Aug9, 2021 – Sustaining its strong expansion plan for the year, Jollibee Group-owned Smashburger—the US-based fast-casual better burger restaurant known for its Certified Angus Beef® burgers—recently opened its first store in Downtown Chicago and in Washington D.C. in the US.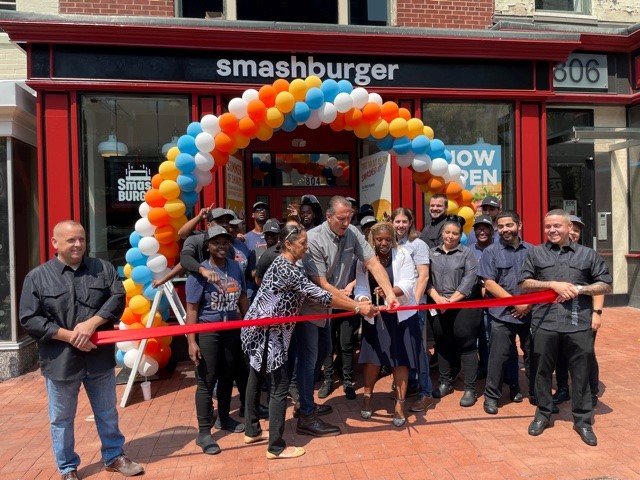 These openings are part of the plan to open 25 new stores in 2021 consistent with Jollibee Group's expansion plan in North America and its vision of becoming among the top five restaurant companies in the world.
"Smashburger has achieved noteworthy business improvement, and these store openings are a testament to the brand's growth momentum in the region," said Ernesto Tanmantiong, President and Chief Executive Officer of the Jollibee Group."The new stores in 2020 and 2021 are generating 2 to 3 times the average of other stores. The plan is to open 25 new stores and renovate a substantial number of older stores in 2021."
"Smashburger's financial performance is expected to continue improving markedly in the months ahead and we anticipate that these two openings will further contribute to its continued turnaround, leading to its profitability," Tanmantiong added.
The first store in Downtown Chicago
The new store in Chicago is located at 360 North Michigan Avenue. This high visibility location on the historic corner of Michigan Avenue and Wacker in the LondonHouse Chicago building will serve as a flagship location for future expansion of the Smashburger brand in the greater Chicago area.
"Chicago has one of the best food scenes in the United States, which is why we are so thrilled to be bringing our signature burgers, sides and shakes to the Chicago Loop – the stunning heart of the city, buzzing with life and exciting attractions," said Carl Bachmann, President of Smashburger.
Washington D.C. opening
The new store in Washington D.C. is located at 804 7th Street NW and opened July 28.
"We are happy to finally open in Chinatown D.C. area and make Smashburger the go-to place for both mouthwatering burgers and delicious breakfast for families of all ages in this community," said Bachmann.
Interior elements of the space feature an exposed kitchen with the grill as the focal point. Dining seats are thoughtfully placed throughout the restaurant and offer a nod back to the brand's Colorado roots, while also celebrating the nation's capital by featuring the artwork of the city.
Smashburger is 100% owned by the Jollibee Group.  Jollibee Group's wholly-owned subsidiary Bee Good! Inc. acquired in December 2018 Smashburger Master LLC's remaining 15% stake in SJBF LLC, the former parent company of Smashburger.
About Smashburger® 
Smashburger® is a leading fast-casual better burger restaurant known for its Certified Angus Beef® burgers that are smashed on the grill to sear in the juices and seal in the flavor. In addition to burgers, Smashburger® offers grilled or crispy chicken sandwiches, turkey and black bean burgers, fresh salads, signature side items such as Brussels sprouts and SmashFries®, and hand-spun shakes made with Häagen-Dazs® ice cream. Founded in 2007 in Denver, Colorado, Smashburger is a recognized Stevie American Business Award winner with 239 corporate and franchise restaurants operating in 36 states and eight countries. To learn more, visit www.smashburger.com.  
About Jollibee Group
Jollibee Group is one of the fastest-growing Asian restaurant companies in the world. It operates in 33 countries, with over 5,800 stores globally with branches in the Philippines, United States, Canada, the People's Republic of China, United Kingdom, Italy, Vietnam, Brunei, Singapore, Saudi Arabia, United Arab Emirates, Qatar, Oman, Kuwait, Bahrain, Indonesia, Costa Rica, Egypt, Panama, Malaysia, South Korea, Japan, and India. It has eight wholly-owned brands (Jollibee, Chowking, Greenwich, Red Ribbon, Mang Inasal, Yonghe King, Hong Zhuang Yuan, Smashburger); five franchised brands (Burger King, Panda Express, and PHO24 in the Philippines, Dunkin' Donuts, and Tim Ho Wan in certain territories in China); 80% ownership of The Coffee Bean and Tea Leaf; and 60% ownership in the SuperFoods Group that owns Highlands Coffee and PHO24.
Jollibee Group is a significant investor in Titan Dining LP, a private equity fund and the ultimate holding entity of the Tim Ho Wan (THW) Brand, and has a joint venture with the THW Group to open and operate THW restaurants in Mainland China. It also has a business venture with award-winning Chef Rick Bayless for Tortazo, Mexican fast-casual restaurant business in the United States. The Jollibee Group also has 50% ownership in a joint venture established to operate and expand Yoshinoya in the Philippines. Yoshinoya is one of the largest and most recognized Japanese restaurant brands globally and is the company's first-ever Japanese food chain.
Jollibee Group was named the Philippines' most admired company by the Asian Wall Street Journal for ten years. It was also honored as one of Asia's Fab 50 Companies and among the World's Best Employers by Forbes. In 2020, Gallup awarded the Jollibee Group with the Exceptional Workplace Award, making it the first Philippine-based company to receive the distinction.
Jollibee Group has grown brands that bring delightful dining experiences to its customers worldwide, in line with its mission of serving great-tasting food and spreading the joy of eating to everyone.
Hits: 982