Singapore Swing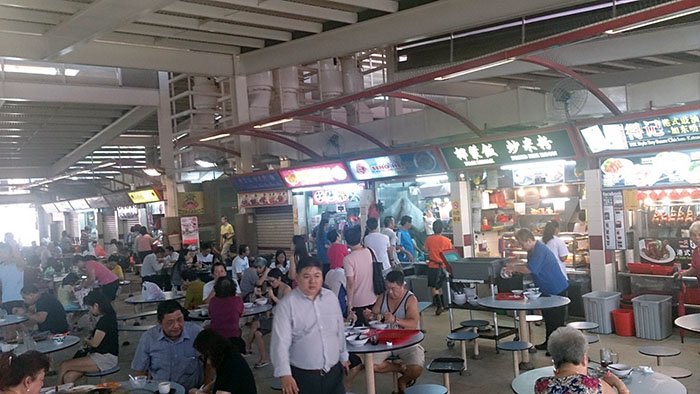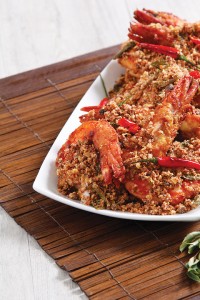 Summer means family holidays and this past Holy Week, we were fortunate enough to be "invited" again to Singapore by friends and relatives. When I say "invited", I mean we planned our trip on our own and informed our hosts when we will be coming. It has become a yearly thing, making the three-hour flight to the lion city. I must admit, I still get excited at the thought of hawker centers, clean and orderly surroundings plus a bit of shopping. Singapore is one of my favorite destinations food-wise and the hospitality of our hosts, not to mention their generosity, adds to the overall experience.
Our home away from home in Singapore is the Butiu residence, located in Redhill. Conveniently located in the southern-central part of the city-state, we are only a short (SGD 6.00-8.00 cab fare) ride from Sentosa Island or Orchard Road, two of our most frequented places. Even more important, Redhill's complex of apartment buildings have their own hawker center and wet market. This means I am always no more than a five-minute walk to a plate of chicken rice or roti pratha. Most apartment complexes have hawker centers nearby, but these can be small (10 or less stalls) or the choices can be limited. Redhill's hawker center boasts of around 50 stalls, plus bakeries, 24-hour convenience stores, dry goods stores and a wet market selling everything from meats, seafood, vegetables and more.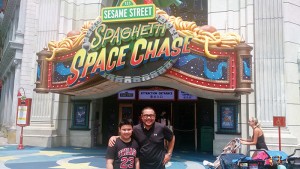 I remember the very first time we stayed at Redhill, our hosts Jun and Ann Butiu took us to the hawker center for late dinner (our flight arrived at around 8pm). I was like a kid in a candy store, wide-eyed and couldn't decide on what I wanted to have first. Ann gave me some cash and off I went, ordering from different stalls, askingv the specialties of each one. But like most food stalls in Singapore, you really can't do much wrong. The worst you can do is order something ho-hum, good but not great. At the Redhill Hawker Center, choices abound so each meal can be themed depending on what general cuisine you are craving for. Some stalls specialize in barbecued wings and satay, some offer wet noodles while others the dry kind. There are stalls that serve Malay and Muslim favorites like rotis and rojak. Curry stalls, roasted meat stalls, chicken rice stalls, stalls that specialize in fish balls, stalls that serve only beef-based stews and noodle soups, coffee stalls, fruit juice stalls, baked goods stalls, iced dessert stalls, etc. Being spoilt for choice can get confusing at first, but in a day or two and after a couple of pounds in, you'll get the hang of things.
During my most recent visit, I arrived at midnight and sleep was the only thing on my mind. Come morning though, I was up early and immediately headed down for breakfast. For a weekday, it's still surprising how busy the food center is. Groups of old men chatting while having coffee, people lining up for take-out while some are seated, enjoying bowls of congee and noodles for breakfast. It seems that rather than cook, Singaporeans just buy food or eat out. The quality, convenience and cheap prices make cooking your own meals impractical. Meals can be had for SGD 2.00, even less if you don't eat a lot. For SGD 3.00 for example, you can get a huge bowl of congee or noodles, easily good for two, even for those with a healthy appetite. I opted for something light, a radish cake and a curried meat pie, knowing that our first day will be spent walking around and standing in line for rides at Universal Studios Singapore.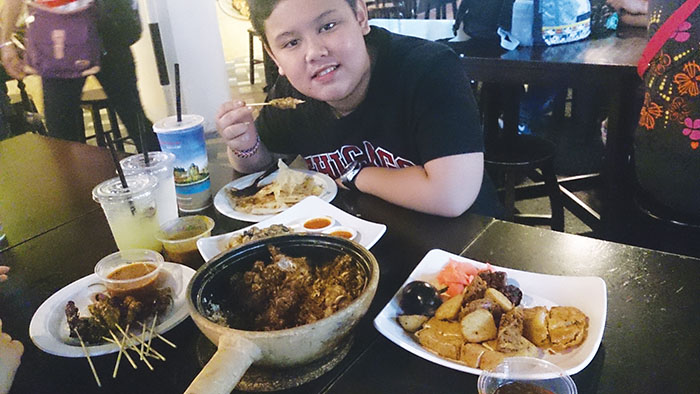 Malaysian Food Street at Sentosa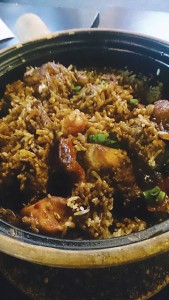 After half a day of walking and fun rides, it was time for a late lunch and just outside the entrance of Universal Studios is Malaysian Food Street, an air-conditioned food court which features Malaysian and Singaporean specialties. The interiors are designed to resemble an old city quarter, complete with facades and signages for restaurants and shops. All around the "streets" are tables and chairs with stalls which sell specialty foods along the perimeter. Stalls sell mostly one to two types of dishes, be it fish head curry, satay, noodles, roti, chicken claypot rice and fried appetizers. There are a few more but as hungry as we were, the nearest stalls to our table got most of our business. An order of chicken claypot rice, an order each of chicken and beef satay, 2 orders of roti, an order of oyster omelette and a tasting plate of fried items, consisting of sausage, fish balls, prawn fritters and a century egg were all laid out on our table. Oh, did I mention that "we" is composed of three people, two adults and a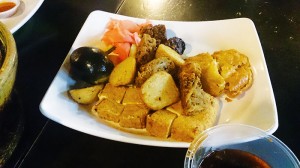 child? Our flabby family of three can slug it out with the best of them. Given that our son Maui mostly had roti and a few spoons of rice and a stick or two of satay (he prefers western food to Malaysian), it was up to Marianne and I to finish up the rest. Needless to say, we had to take a substantial break before continuing on with the theme park rides.
Wet Market Shopping
Knowing that our time in Singapore would be limited, I planned to cook at least one dinner for our hosts, which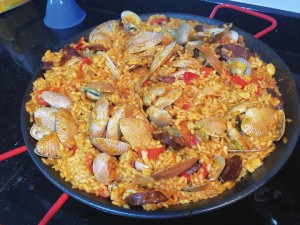 meant waking up early-ish to do some shopping at the wet market for ingredients. I brought some essentials with me from home, namely some rice, some saffron and chorizo for the paella I was planning on making. I planned on making paella for Jun and Ann on our previous trip late last year but due to time constraints and lack of ingredients, we had to settle for something else. This time, I came prepared and only had to shop for a bit of seafood.
The predominantly Chinese stall owners can be intimidating. Unlike our local vendors who are friendly even when being makulit, the Singaporean "uncles" and "aunties" seem all business, as if they were irritated with our questions. After some thought though, I think it is more of a language barrier, even an accent barrier which requires more effort from them to be able to communicate with us.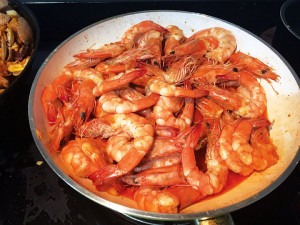 Anyway, we were able to buy a kilo of prawns and two kilos of clams and were all set.
The prices are comparable to those here in Manila, so considering that a good meal costs SGD 3.00 (PHP 100.00), it is definitely cheaper to eat out in Singapore than cook if you're cooking for less than four people.
Cereal Prawns Back in Manila
One of my favorite Singaporean dishes is cereal prawns. I first had it here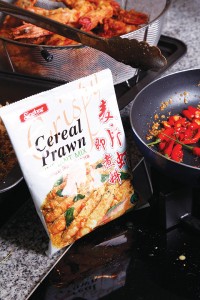 in Manila and got to try a couple of versions of the dish in SG. Honestly, I liked the version I had here in Tao Yuan better. Like any specialty dish, each stall will have their own version, putting their own spin on the dish. I was given a few packs of cereal prawn mix to take home by the ever-generous Ann. But knowing that those mixes aren't available here, I decided to source ingredients locally. It ensures that our readers can replicate the dish easily and find what they'll need in most supermarkets.
Cereal prawns are a Singapore classic, making use of their favorite cereal milk drink,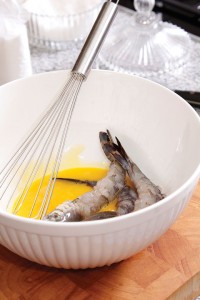 Nestum. Locally, we have similar products so just choose whichever you prefer. The other important ingredient, the curry leaves can be bought at some specialty market stalls, high-end groceries or Indian grocers. The rest of the ingredients are easily found everywhere. My recipe for this month was inspired by my recent trip to Singapore and our gracious hosts. Fortunately, I can now replicate this particular dish easily, anytime. I hope you all give it a try too..
Hits: 99