Australian Ribeye Kebabs with Yoghurt Sauce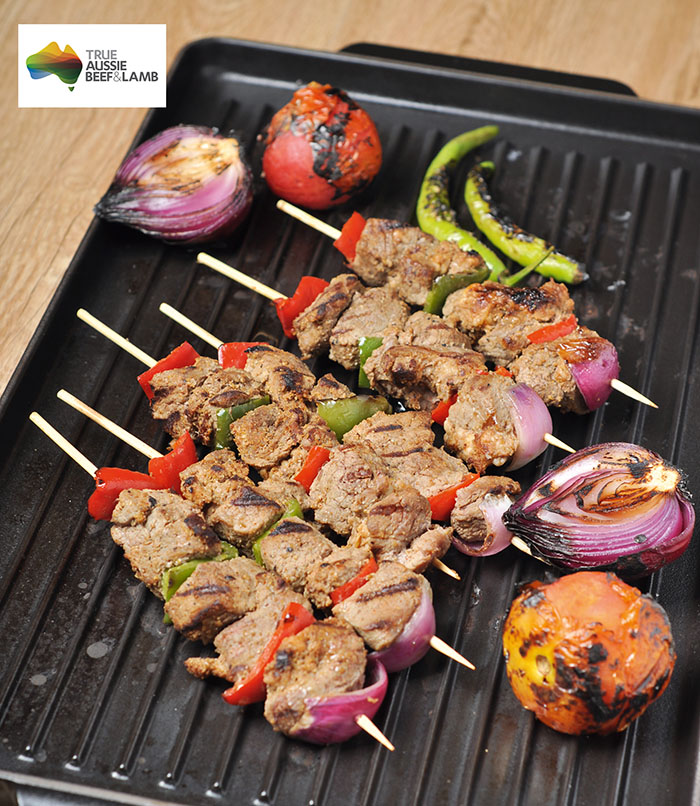 Ingredients:
2 pcs Australian Ribeye Steaks (about an inch thick each)
1 red bell pepper
1 green bell pepper
2 large red onions
1 tbsp ground coriander seeds
1 tsp ground cumin
1/2 tsp chili powder
1 tsp salt
juice of half a lemon
bamboo skewers, soaked in water
For the sauce
1 cup plain yoghurt
2 tbsp mayonnaise
2 cloves garlic, minced
1 tbsp chopped fresh parsley
1 tbsp chopped fresh mint
juice of half a lemon
a pinch of salt
Procedure:
Slice Australian Ribeye steaks into 1-inch cubes.
Slice peppers and one and a half onion into 1-inch squares. Set remaining half onion aside.
Blend onion or grate and squeeze to get juice.
Marinate steaks in onion juice, coriander, cumin, chili powder, salt and lemon juice for an hour.
Skewer marinated Australian Ribeye cubes, alternating with bell pepper and onion squares.
Grill for a minute on each side.
To make yoghurt sauce, simply mix all ingredients together in a bowl.
Serve kebabs hot with yoghurt sauce on the side.
Makes 12 kebabs
Hits: 99