Berry Romantic
---

---
One of the most basic no-bake desserts you can make is chocolate mousse. Essentially, it's just a bit of melted chocolate and cream, folded into stiff-whipped cream. And although it might sound overly simple, chocolate mousse remains one of the most decadent things you can dip your dessert spoons into.
Now who doesn't know the time-tested combination of chocolate and strawberries? Even without all the romance that has been associated with these two "aphrodisiacs", the juicy and tart berries are just the perfect foil to the bittersweet taste of good chocolate. For my recipe this month, I've decided to add even more chocolate in the form of a chocolate cake base. The cake adds a bit of heft and an added texture to each bite. The cake layer is optional of course. You are most welcome to just have the chocolate mousse with the berries. You can even serve them in cups or goblets if you wish.
However you decide to enjoy this dessert, whether with cake or without, it'll surely be the perfect ending to any meal.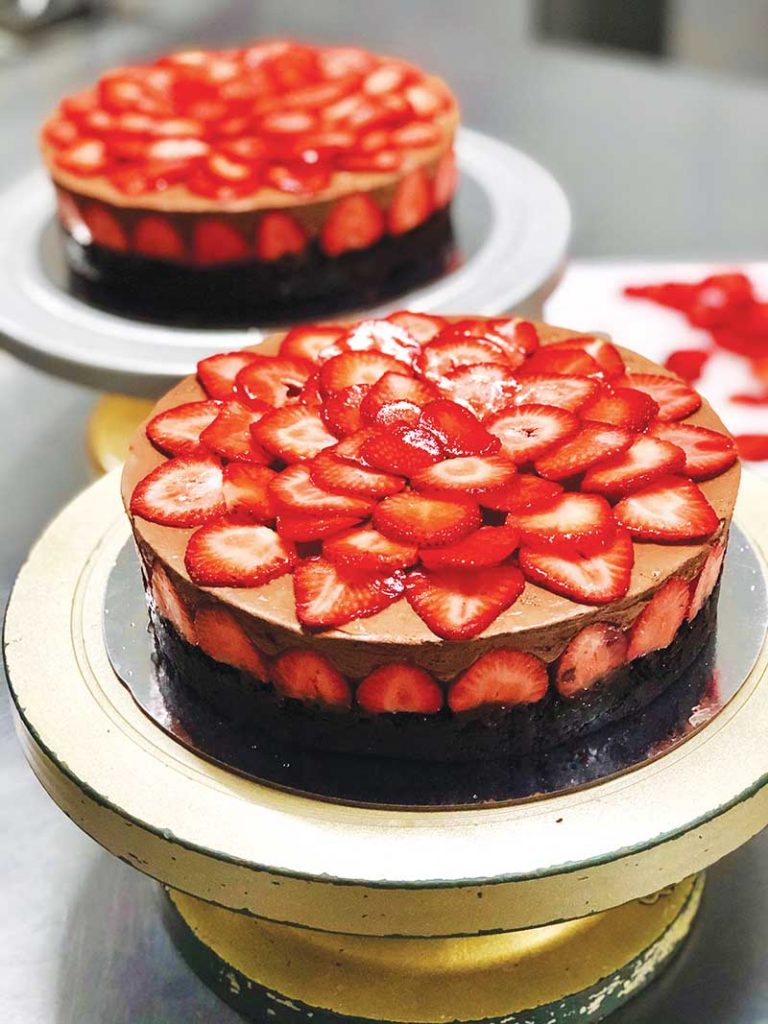 Strawberry and Dark Chocolate Mousse
| | | | |
| --- | --- | --- | --- |
| Serves 8-10 | Baking Time 30 minutes | Prep Time 1 hour | Chilling Time 4 hours |
Ingredients:
For the cake layer:
110g all-purpose flour
170g sugar
45g cocoa powder
1/2 tsp baking powder
1/2 tsp baking soda
1 pc egg
1/2 cup milk
1/2 cup oil
1 tsp vanilla extract
1/2 cup boiling water
For the chocolate ganache:
2 bars of your favourite dark chocolate
1 cup cream
1/2 tsp vanilla extract
a pinch of salt
For the Cream:
2 cups chilled whipping cream
2 tbsp powdered sugar
For Garnish:
sliced and halved fresh strawberries
1/2 pack gelatine powder
1/2 cup warm water
Procedure:
Preheat oven to 180˚C.
Grease an 8-inch tin pan with oil. Use the ones with the detachable bottoms (this is crucial to unmolding the mousse later).
In a mixer, combine all cake ingredients except boiling water and mix using the paddle attachment till smooth.
Once smooth, add boiling water a little at a time while mixing on low speed.
Pour contents into the cake tin and bake for 25 to 30 minutes.
Let the cake cool in the tin. Arrange strawberry halves along the perimeter of the tin.
For the ganache, combine ingredients in a double boiler or a bowl over a pan of simmering water.
Heat and stir until chocolate has melted and is well-mixed with the cream. Let cool to room temperature.
Using a chilled mixing bowl and whisk, beat cream and powdered sugar until stiff.
Fold whipped cream into the chocolate and keep folding until combined and no more streaks are present.
Pour mousse into cake tin, smoothing out the top with a spatula.
Refrigerate for 2 hours or until firm. Release mousse from tin by pushing the tin down and the removable bottom upwards.
Dissolve gelatin in warm water.
Arrange thinly sliced strawberries on top and brush the strawberries with the gelatin to keep them bright and fresh.
Hits: 191