The Food of our Southeast Asian Neighbors, Jiggling Cake, and Aice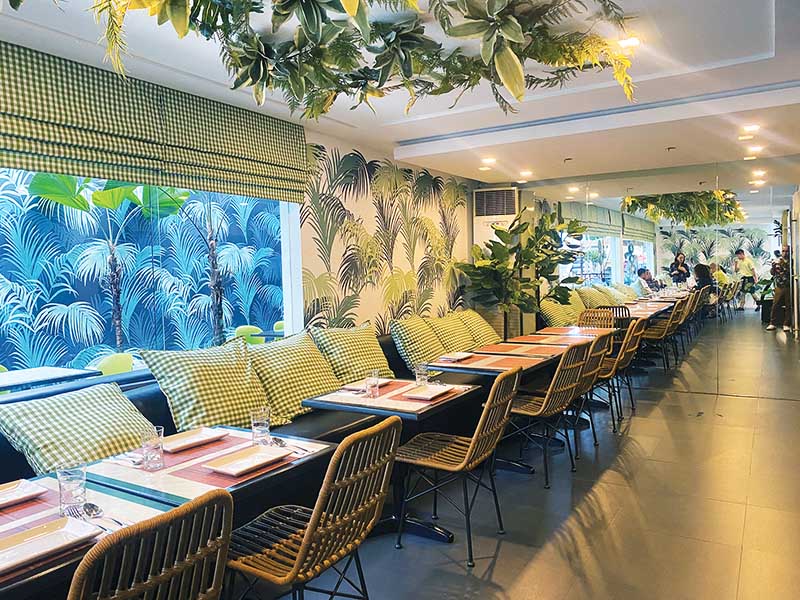 Pandan Asian Café
There is a lushness to Pandan Asian Café. The minute you enter the restaurant, designed by Ivy Almario, the greens and the foliage-themed decor from the wallpaper to the upholstery and accent pieces, like wall sconces in gingham green, just add to this verdant quality. This lush and fresh quality definitely extends to the cuisine. Pandan Asian Café is Chef Tatung Sarthou's first professional foray outside the Filipino cuisine he champions, and because this is the best of Southeast Asian Cuisine, this includes Filipino specialties as well, and this shows he is equally adept to both.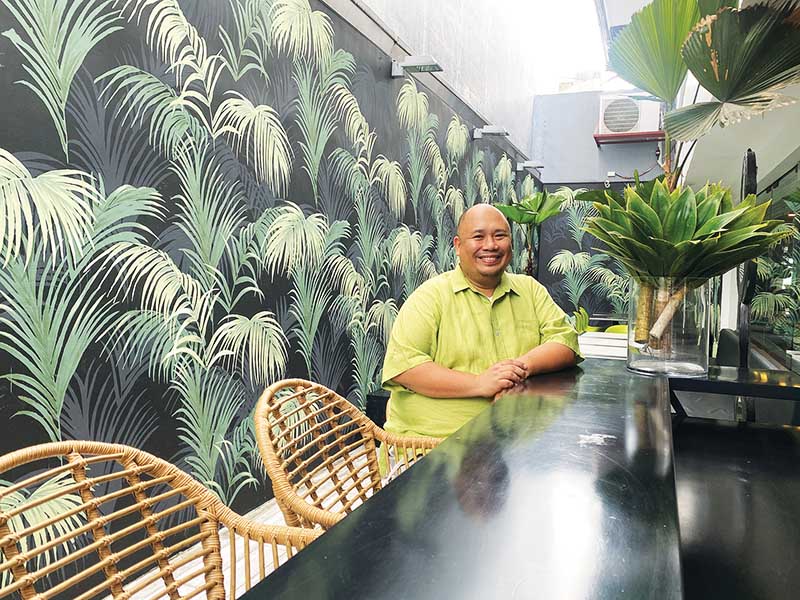 We were greeted with a refreshing lemon and cucumber crush, which I can imagine will be especially welcome in the summer heat. You will also probably want to try the bandung, a popular rose syrup flavored milk drink in Indonesia, referred to on the menu as pink milk tea. An appetizer platter of Vietnamese fresh and fried spring rolls, and tender chicken satay makes for tasty starters. The Inasal rice with lemongrass, chicken, kalkag (dried alamang) is delectable.
Most binakol I've tasted you can barely discern the buko juice because the subtlety of that flavor is inevitably lost in the chicken broth, and the only testament to it being binakol are the strips of buko, so Pandan Café's very buko forward broth is much appreciated.
There isn't a shortage of authentic East Asian (Chinese, Japanese, and Korean) restaurants in the metro and beyond, but authentic Southeast Asian (Indonesia, Malaysia, Singapore, and Thailand) cuisine is a far dicier prospect. When it is available, it seems muted, as if there is a hesitancy in making it truly authentic. What Chef Tatung has aimed to do with Pandan is to give these classic Southeast Asian dishes the most authentic versions of themselves. "Everything is very straightforward, very cleanly done. My objective is for it to have a very close resemblance to how it would be done in the original country," said Chef Tatung. "Walang intention to Filipinize flavors. It's very clear that while there are dishes from all over, hindi siya fusion. It's a collection of different dishes from different countries."
Ayam Goreng, a classic fried chicken, has more punch and flavor because it is seasoned and fried in sambal. All the food is fresh and the spices are pungent and bloom in your mouth—from the sambals, the laksa, to the Malaysian classic Beef Rendang. This is because Pandan Asian Café makes all their sauces, from the curries to the sambals, from scratch. The herbs, spice, dried chilies, cinnamon bark are all freshly ground. "It's really something I enjoy (yung giling giling ng herbs and spices). My fascination with the Southeast Asian cusine is with the techniques," Chef Tatung explained. The noodles in the Char Kway Teow are fried in the rendered fat of the pork which makes it a tasty noodle dish, plus it acquires the smokiness because it is cooked in a wok. "The more we cook with the wok, the more flavor [we get], as it imparts a smoky flavor." The lengths they go to really be as authentic to the original as possible is such that Chef Tatung even wants to get the same brand of the fishballs they use in Singapore. The Kare-kare is also done traditionally, thickened with ground rice and flavored with peanuts that were roasted and ground. Chef Tatung admits to not liking Kare-kare that is too peanutty. "Our Kare-kare doesn't taste like most other restaurants' kasi we did it the traditional way, slow-cooked. We toasted and ground the rice. We toasted the peanuts. A lot of restaurants just use harina and margarine," to which Chef Tatung jokingly referred to as "caroux-caroux".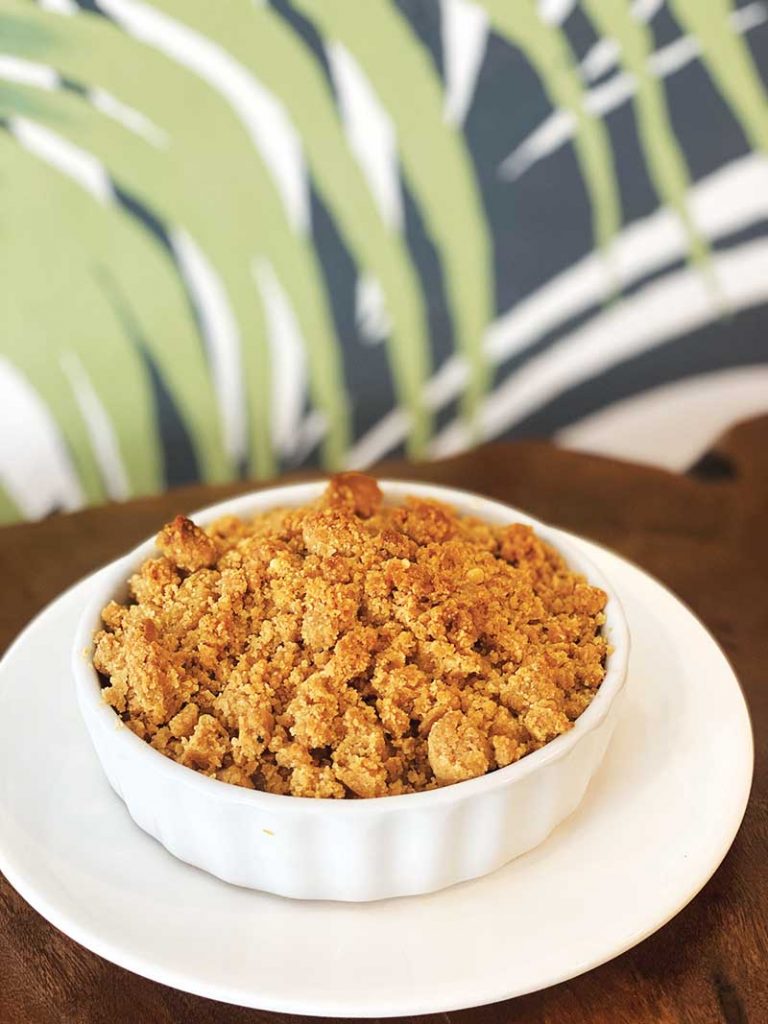 The crumble buko pie comes off as a surprise mainly because it looks plain and has none of the razzmatazz of flashy Instagram desserts, but the combination of the polvoron crumble top and the tender slivers of buko in a light custard made for a delicious and delightful ender.
Pandan Asian Café is certainly a soothing and flavor-filled trip through the food landscapes of our cuisine and those of our Asian neighbors.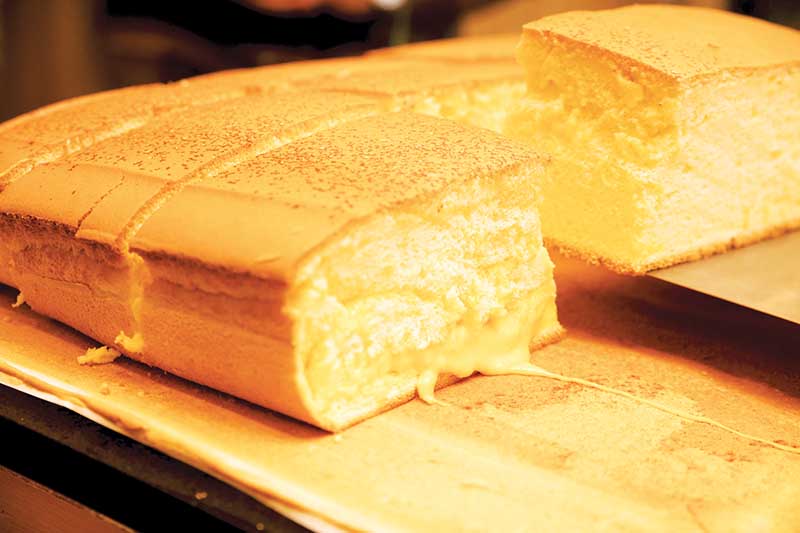 Original Cake from Taiwan
You may have seen videos and gifs of Taiwan's Original Cake, the fluffy, jiggling cake, that people line up for. I believe it's similar to Japanese cheesecake, only Taiwan's "Original" doesn't automatically contain cheese (but there is a cheese variety). The cakes are light and airy, a result of the beaten egg whites folded gently into the rest of the cake mix, and while Japanese cheesecake has cream cheese, Taiwan's Original Cake lists the cake base ingredients as fresh eggs, milk, vegetable oil, sugar and flour. According to their website (www.originalcake.ph) Original Cake started in 2010 "from the scenic riverside Tamsui Old Street north of Taipei, Taiwan.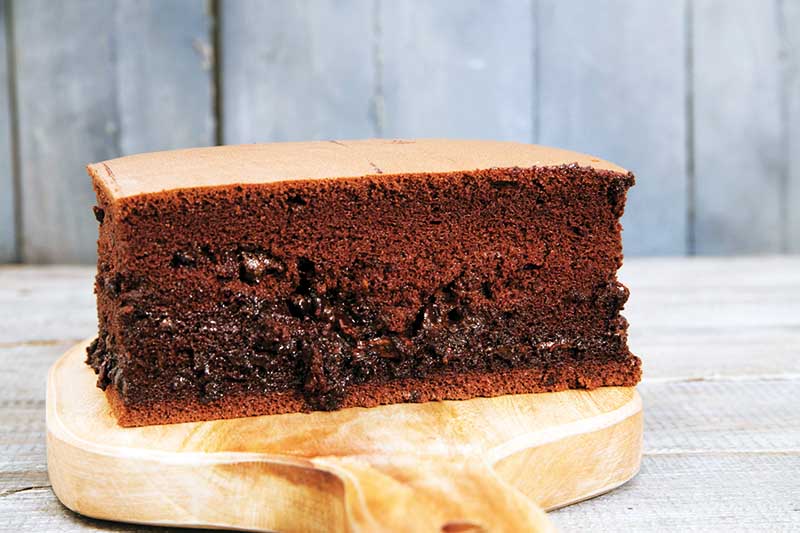 It has stood the test of time to maintain its status as a preferred delicacy among many consumers in Taiwan and now, the Philippines." I've been seeing videos of this cake and didn't realize it had such a prosaic (but also dramatic) name. I saw a branch in Starmall Alabang, and saw that apart from the original, it also has a cheese and chocolate. If you can imagine a texture that is both dense and fluffy, and yet so light, that's what Original Cake is like—I quite liked it. It tastes like a fluffier mamon, if you will. It's a basic cake with fresh ingredients, freshly baked. You can even see the ovens. The cake loaves cost at a reasonable P180 to P250, depending on the flavor.
Aice Ice Cream
I'm seeing more and more small stores selling Aice, the affordable ice-cream brand from Singapore that gained mass distribution and popularity in Indonesia. The packaging lists itself as a sponsor of the 2018 Asian Games, which adds to their credibility because if it's a brand you've never heard of before, then that certainly adds to the odds of you trying it. I remember first seeing this at the Paranaque Medical Center canteen and was shocked at their ultra-low prices: mochi ice-cream for 12 pesos! I think I had three, and the rest of the array from P10 popsicles to P26 elaborate sundae cups. For those prices, they certainly taste a lot better than certain local mass-market brands, so I'm not surprised that a local brand has also come up with their own mochi ice cream. It's always good for the consumer to have a lot more choices, although there's a part of me that thinks the equally affordable local cult brand Dan Eric's should be in more outlets and earning the same name recognition as Aice, especially because it's a homegrown brand. That's just even more ice-cream for everyone, too.
Hits: 206