Quick Prep Meals

---
When talking about quick to prepare meals, pasta and salad always comes in my mind. So what I have for you today is a quick salad and also pasta.
Using the salmon that I have in my refrigerator, you can substitute this with chicken, and any other fish. Now, what I do is I pre-marinade my fish, and leave it in the refrigerator until ready to use. It can be stored in the refrigerator up to three days and sometimes, you can freeze it as well and can be frozen up to two weeks. When you think about quick prep you want to make sure that it doesn't take anymore than 15 minutes to cook. Be sure to buy a fish that is fresh, don't buy frozen fish and then thaw, and then freeze it again.
If you do that you can buy frozen fish, and then thaw as you need, then cook it So literally the longest time for you to cook the pasta is the longest time that you can actually cook it. This salad recipe I gave is simple, the dressing can be made ahead of time. It can be used as a power pack lunch, or a light dinner. You can always add different energy boosting fruits and vegetables to it, like avocados, or to boost either your protein intake, you can add nuts.
For the pasta, it's something that I use when I want to have a quick and hot dinner; it doesn't require me to stay long in the kitchen. If you want to go healthy, you can have homemade pasta. I like fetucine and cream sauce that's why I used thick pasta for my creamy fish dish. This can be substituted by chicken, and you can also add other vegetables if you like, such as asparagus, broccoli rabbi, snow peas and sugar snap peas, things that are light, that will not over power the taste of the dish. For another umami booster, you can always grill your leeks. Just to get nice smokiness flavor to your dish.
So once again, I hope you like it! Follow me on instagram, @chefb78, and on twitter @chefbrucelim tell me about anything, comment, tell me if you like it or not.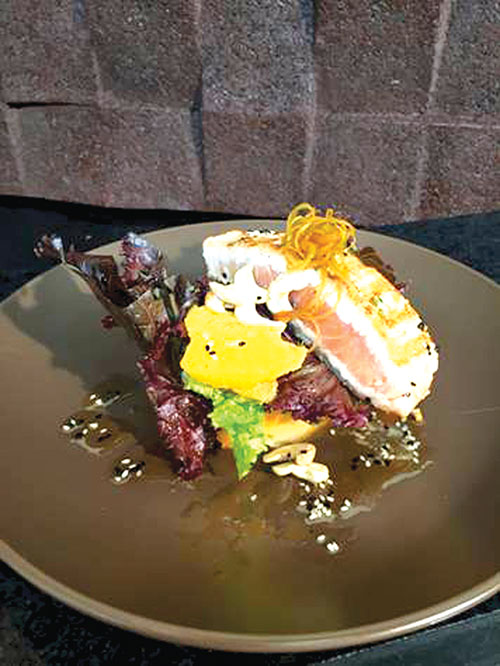 Asian Inspired Salmon Salad
80g salmon
75g mixed greens
30g mandarin orange, wedges
20g toasted cashew nuts
30g cucumber, sliced
2 sprig cilantro
Dressing
50g Lee Kum Kee soy sauce
50g Lee Kum Kee sesame oil
50g canola oil
75g rice wine vinegar
5g white and black sesame seeds, toasted
5g green onion
salt and pepper to taste
Season salmon with salt and pepper. Let it sit at room temperature for 5 minutes.
Mix dressing by combining all ingredients in a metal bowl. Whisk until sugar dissolves.
Place in chiller until ready to use.
Pan-sear salmon 1 minute per side, medium-rare, so it will be pink at the center. Rest, before serving.
Place a bed of mix green at the center of a metal bowl, toss with dressing.
Place at the center of serving plate, top with assorted cilantro sprigs and red bell pepper throb as garnish and fresh herbs.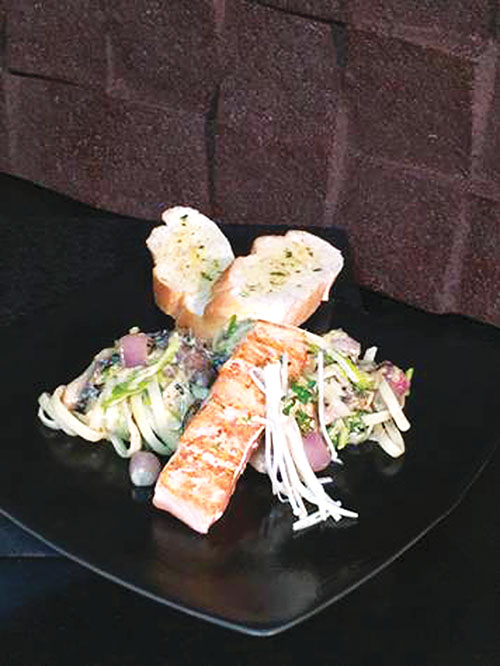 Creamy Salmon Pasta
180g salmon, marinated
150g fettucine pasta, cooked
15g onions
10g garlic
1 sprig thyme
50g leeks
30g butter
100g cream
50g cremi mushroom, fresh
50g roasted shallots
salt and pepper to taste
Marinade
500g oil
5g garlic
2g parsley
1 sprig thyme
salt and pepper to taste
Garnish
60g enoki mushroom
16g leeks
Saute garlic and onion in butter for 3 minutes until wilted.
Add roasted shallots, sauté for 2 minutes until shallots break out. Then, add mushrooms and sauté until lightly brown; do not wash mushroom.
Add, cream and leeks, bring to boil. Once boiling, tur down to simmer, then reduce to half. cook and drain pasta, then, mix in pan.
Pansir salmon about 2 minutes per side, leaving the center pink.
Season with salt and pepper.
Serve with croutons.
Hit me up and follow me on Facebook (Chef Bruce Lim) and Instagram (@chef_bruce_lim).
Hits: 128