Fresh, Light, and Roasted
---

---
As a holiday centerpiece, roasts are normally associated with large chunks of meat. Whole pigs, whole birds, quarters of lamb and sections of beef are what usual roasts tend to be. Technically, roasting pertains to cooking with a steady, indirect heat. Whether in an oven, over burning wood, coals or any other heat source, roasting uses dry heat that envelops the food being cooked. Anything can be roasted, from meats to seafood to vegetables. Since roasting has to do more with technique, seasonings are best left simple. And since roasts are often served as is, an accompanying gravy or sauce is almost a necessity.
For my recipe this month, I wanted to roast something that is quick and light, opposite to the fatty and heavy roasts we are all used to. Seafood, particularly crustaceans and shellfish, are great for roasting as they cook quickly and are perfect cooked in dry indirect heat. Seasoned simply with salt and pepper, or in my case a bit of oregano and olive oil for some additional aroma, roasted seafood can be done in under an hour, sauce included.
Broaden your menu and think of other dishes for your holiday centerpieces. While tradition is great, breaking it once in a while can be refreshing. As an added bonus, having seafood for your holiday parties means that there won't be as much guilt and added pounds after the merriment has died down. Enjoy!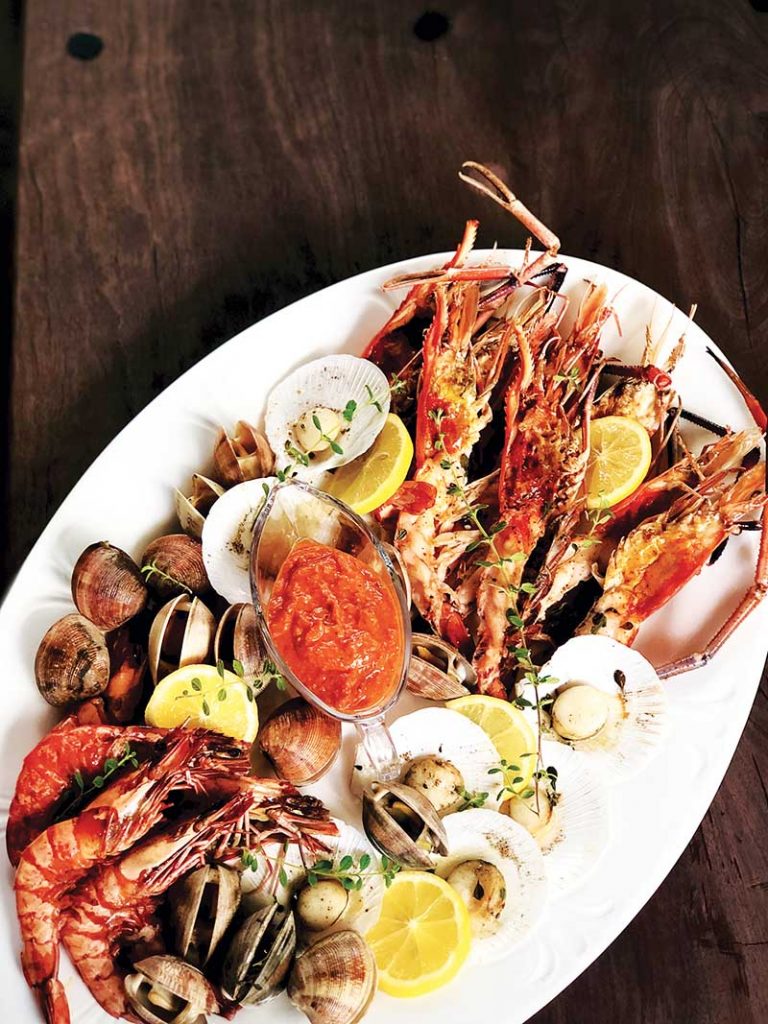 Roasted Seafood with Romesco Sauce
| | | |
| --- | --- | --- |
| Serves 6 | Prep Time 10 minutes | Cooking Time 20 minutes |
Ingredients:
6 pcs large river prawns (ulang) or small lobsters
12 pcs tiger prawns
12 pcs scallops in the shell
2kg large clams
4 sprigs fresh oregano
3 tbsp olive oil
salt and pepper
For the Romesco sauce
3 pcs red bell peppers, roasted, peeled and seeded
3 pcs ripe tomatoes, seeded
1/4 cup roasted almonds or pine nuts
1 clove garlic
2 tbsp olive oil
2 tbsp red wine vinegar
1/4 tsp paprika
salt and pepper to taste
Procedure:
Preheat oven to 200˚C.
Rinse seafood in water and clean them.
Split river prawns in half, lengthwise.
Using scissors, cut a slit at the back of the prawns and remove the "vein".
Arrange all the seafood in a roasting tray, sprinkle with salt and pepper and drizzle with olive oil.
Sprinkle oregano leaves on top.
Roast in the oven for 20 minutes.
To make the sauce, simply place all ingredients in a blender or food processor. Blend until smooth.
To serve, arrange seafood on a platter, keeping the middle empty for the sauce.
Place Romesco sauce in a container and place in the center of the platter.
Sprinkle with a bit more oregano, add some lemon wedges and drizzle with some more olive oil.
Hits: 148