"Binalot" Roast Lamb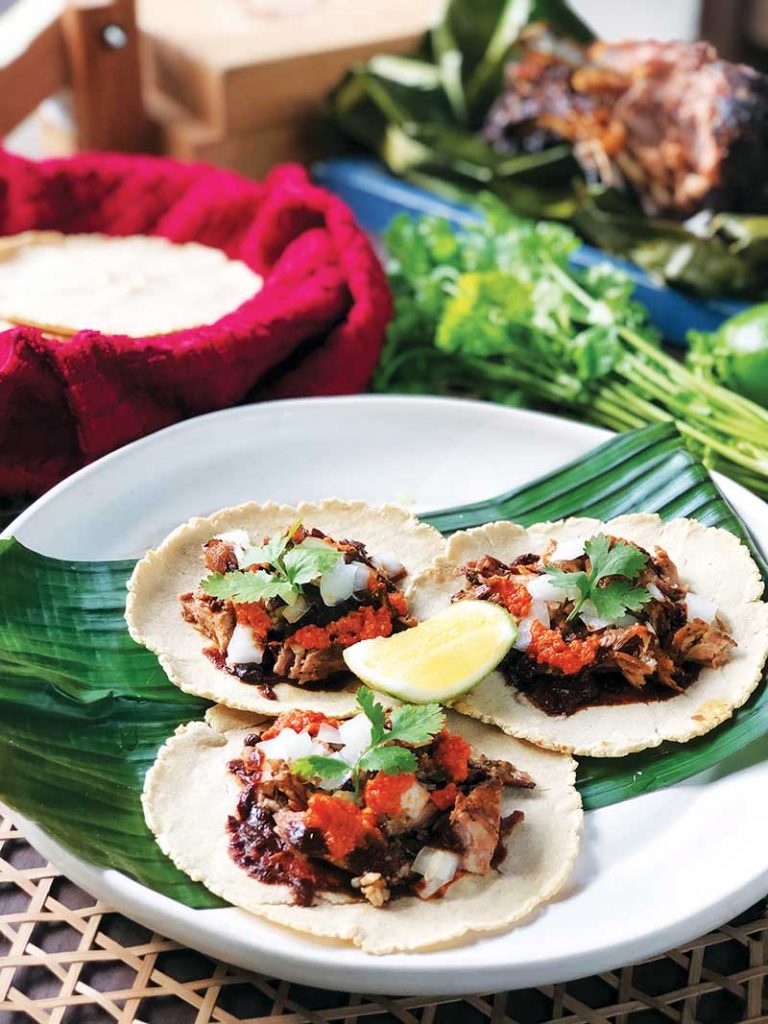 We at COOK have traditionally done roasts as our monthly theme for November. We've been doing this yearly to give our readers ideas on what can be served come the holidays. We've done quite a lot over the years – from turkey to duck to beef to fish, if it can be roasted, we've probably done a version of it. One of my favorite roasts though, has to be lamb. I've always preferred lamb over other meats for some reason. It could be the gamey flavor, especially the way the lamb fat tastes and how it crisps up on the surface and becomes meltingly luscious inside. I like all cuts of lamb too, not just the loin chops. From saddle too neck to leg to shank, given a choice, I'd always pick lamb over beef. For this recipe, I used my favorite cut of lamb – the shoulder. Meltingly tender meat, just the right amount of fat and gooey tendon all combine in this prized part of the lamb. Often used for stews and braised dishes, shoulder is also great for slow roasting. The resulting meat is so tender and juicy, you'll be tempted to pick the meat with your hands, no forks and knives necessary.
My inspiration for this month's roast recipe comes via Mexico. On a trip to buy nachos at a supplier in Manila, I came across dried chiles from Mexico, specifically Guajillo, Ancho and Pasilla. Out of curiosity, I purchased all three, including a bag of corn Masa. Not knowing how to cook the chiles and how to make corn tacos, I just knew I'd come up with something for them. Having lamb as the primary meat and a Mexican theme with the ingredients I had, I decided to try a take on the famous Barbacoa, using banana leaves and an oven instead of the traditional pit. With a bit of research, I discovered that dried chiles are toasted before rehydrating. After that, they can be used as a sauce, a marinade, an ingredient in mole, etc. With a few more ingredients such as limes, cumin and onions and garlic, I made a marinade for the lamb and saved some to be used as sauce. The corn taco was a little tedious to make but just the smell of the dough alone is well worth the effort.
Holiday roasts are only limited by our imagination. Pick a theme, get inspired by an ingredient, and get cooking. More often than not, with a little effort and good old common sense, you'll create a unique and memorable feast for your friends and family.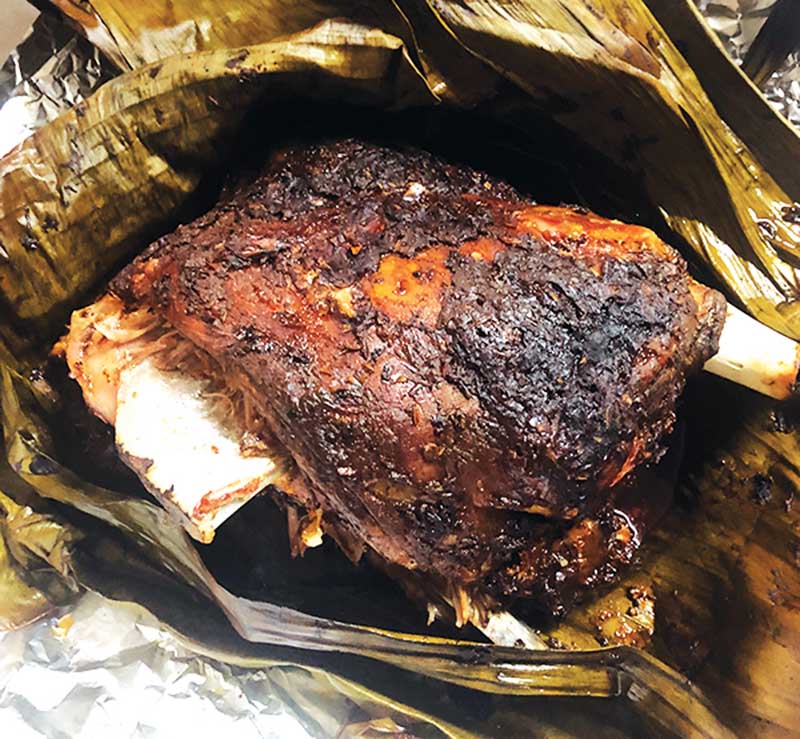 Mexican Slow-roasted Shoulder of Lamb
| | | |
| --- | --- | --- |
| Serves 4 | Prep Time 15 minutes | Roasting Time 3-4 hours |
Ingredients:
1 pc frozen lamb shoulder (about 2kg)
3 pcs Ancho Chile
3 pcs Guajillo Chile
3 pcs Pasillo Chile
1 pc onion chopped
6 cloves garlic chopped
2 tbsp oil
juice of 2 limes
1 tbsp ground cumn
2 tbsp salt
1 tbsp pepper
For the Corn Taco
2 cups corn masa
1 3/4 cup hot water
1 tsp salt
For the roasted pepper sauce
4 pcs red bell peppers roasted, seeded and peeled
2 pcs tomatoes, seeded
4 cloves garlic
1 pc labuyo chili
1 pc lime, juiced
1/4 cup olive oil
For the garnish
1 pc white onion chopped
1 bunch cilantro
4 pcs lime, cut into wedges
banana leaves and foil for wrapping
Procedure:
Toast dried chiles in a pan.
Add water and let boil then turn off.
Once chiles are soft, open up and remove seeds.
Place chiles in a blender and add a little of the cooking water. Blend to a smooth paste.
In another pan, heat oil and sauté onions and garlic for 2 minutes. Add cumin, blended chile paste and cook for 10 minutes, adding water as needed.
Turn the heat off and add lime juice salt and pepper. Let cool and divide into two containers.
Season lamb heavily with salt and pepper.
Use half the chile sauce as marinade and rub all over the lamb.
Wrap lamb in banana leaves and then foil and then place on a baking tray.
Roast in the oven at 180°C for 3 to 4 hours, until the lamb meat separates easily from the bone and falls apart when pressed.
To make the tacos, combine masa with hot water and salt. Mix with a spoon until a dough forms.
Rest the dough, covered for 30 minutes.
Form dough into 1 inch balls. Using non stick paper or plastic, press dough using a taco press. You can also use any two flat surfaces to press.
Once tacos are formed, dry fry in a pan until blistered. Store stacked and covered with a damp towel.
To make red pepper sauce, simply blend all ingredients in blender until smooth.
To assemble, spoon some sauce (Marinade sauce and red pepper sauce) over the tacos.
Add shredded lamb chunks and top with chopped onion.
Add more sauce on top and garnish with cilantro and lime.
Hits: 133