Sun and Moon Come Together for Everyday Luxury
Every woman is unique. She is a class by herself. Her individuality gives sparkle to her eyes, smile to her lips, and swing to her hips. Her uniqueness reveals an inner beauty that radiates in every direction.
The Beauty Mission celebrates the inner beauty of every woman. For founders Kristine Dee and Elizabeth Supetran, the sky is the limit for what every woman wants to achieve. A modern woman knows what she wants, what drives her, and what makes her a rockstar. The Beauty Mission sets its gaze to be a catalyst to celebrate her beauty and success.
For Kristine and Elizabeth, beauty is beyond wardrobe and accessories. For a woman to feel beautiful, confident, and alluring, to be exactly who she is, is a power on its own.

Everyday Luxury for the Filipina
Luxury is a pleasure out of the ordinary and is quite elusive to sustain every day.  In the Philippines, aside from perfumes and fragrances usually being a luxury, the choices are limited. There are international brands that are high quality, expensive, predictable, and at times, unsuitable for tropical weather. There are also brands that are priced much lower than, and usually an imitation of, international labels.  These brands may look like an immediate impression of taste, but luxury cannot be imitated.
The Beauty Mission sees this is as an occasion to create a high quality perfume brand that will cater to the uniqueness of the modern Filipina and can be her piece of everyday luxury.
The Sun and the Moon
Luxury is meant for indulgence. Every Filipina can now bask in it every day and every night. The Beauty Mission has renewed its concept of luxury and designed a fragrance that can take you from day to night—a fragrance so elegant that it chooses no special occasion to experience luxury.
"Soleil et Lune", French for Sun and Moon, is crafted for everyday luxury by The Beauty Mission. The uniqueness of every woman can now be ensconced in a luxurious bottle that can be worn from morning till night, hence, Soleil et Lune.
Crafted from France's finest oils and essences, Soleil et Lunehas three unique fragrances that capture every woman's unique personality and taste. These are fragrances that can take her from day to night, embodied in a bottle that completes her wardrobe and complement her unique style.
The Beauty Mission spent two years to get the right compound that is perfect for everyday luxury of the unique Filipina. Selecting from more than a hundred essences from Grasse, France, three perfumes were concocted to suit the tropical climate of the Philippines, wearable from day to night, with the versatility of layering as the day goes on.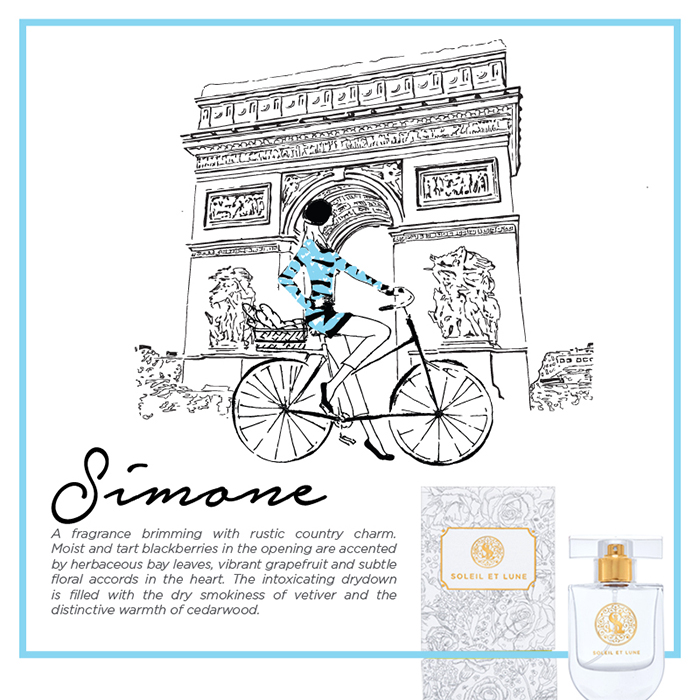 There are three Soleil et Lune fragrances that personify the modern woman. "Simone" exhibits fresh citrus with a hint of musk, for the life-savvy woman whose strength emanates from the inside. Herbaceous bay leaves, vibrant grapefruit, and subtle floral accords in the heart accent moist and sharp blackberries in the opening. The intoxicating drydown is filled with the dry smokiness of vetiver and the distinctive warmth of cedarwood.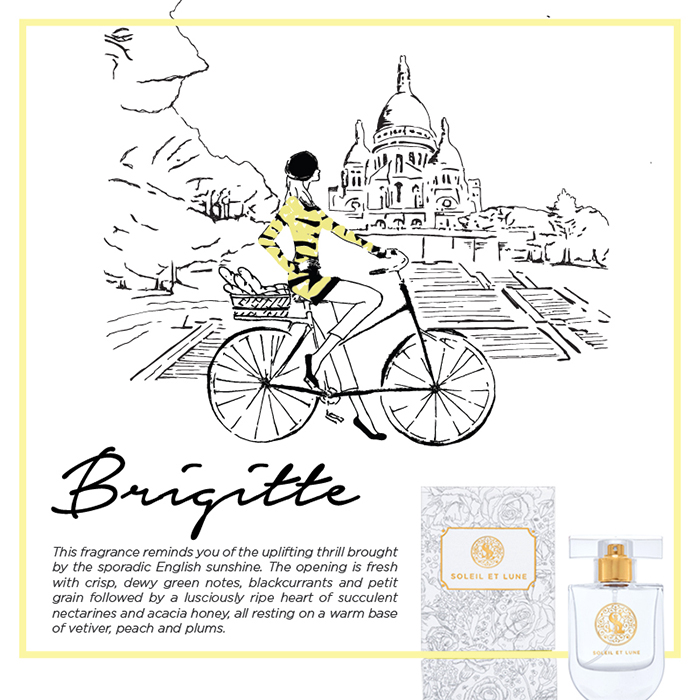 "Brigitte" bursts with fruity essence, for the hip woman who spreads love wherever she goes. The fragrance puts an uplifting thrill brought by the sporadic English sunshine. The opening is fresh with crisp, dewy green notes, blackcurrants and petit grain. This is followed by a lusciously ripe heart of succulent nectarines and acacia honey—all resting on a warm base of vetiver, peach, and plums.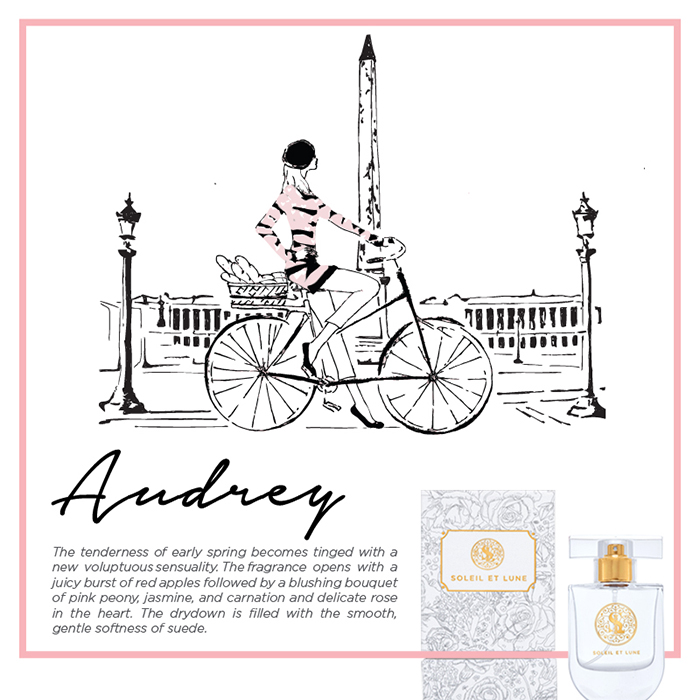 "Audrey" gives out the scent of spring blooms, for the classic woman who is always ready to greet the day with confidence. She has the tenderness of early spring tinged with a new voluptuous sensuality. The fragrance opens with a juicy burst of red apples, followed by a blushing bouquet of pink peony, jasmine, and carnation, and delicate rose in the heart. The drydown is filled with the smooth, gentle softness of suede.
Soleil et Lune is now available at Firma at Greenbelt 3 and can be ordered online via seektheuniq.com and soleiletlune.ph. It is sold in 30ml and 50ml elegant bottles.
With its iconic "Girl on a Bike" logo, Soleil et Lune seeks to create and promote products for the modern woman who continues to evolve and innovate. The Beauty Mission is on a quest to bring the best beauty products from all over the world, home to each and every Filipina.  After all, The Beauty Mission knows what a woman wants and what drives her. The sky is the limit for what a woman wants to achieve.
Instagram: @soleil.et.lune.ph
Facebook: Soleil et Lune
#soleiletlune
#sunandmoon
#everydayluxury