East Meets Pub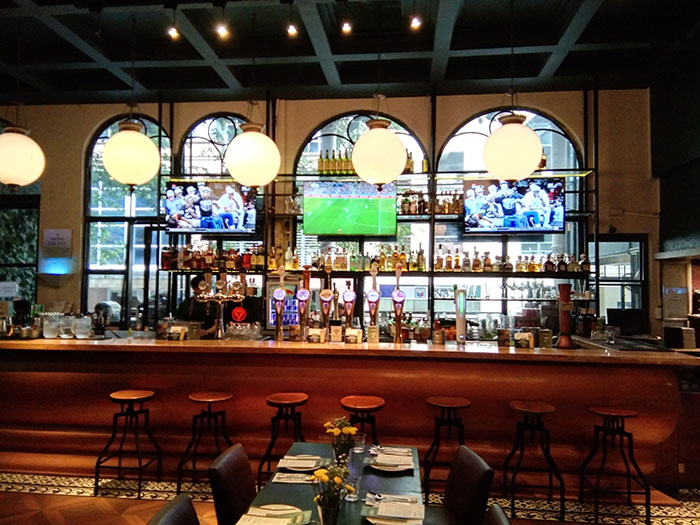 One of Legaspi Village's standout local jewels, The Belle & Dragon, celebrates its 4 th anniversary this August 28, 2019. Since its inception, the establishment has prided itself with its cross-cultural concept, merging east and west influences, to create an inventive menu of drinks and fare for the city's young lot.
"The Belle & Dragon" was initially conceptualized to become the third space of our customers," explains Indy Villalon, SVP for Operations and Marketing. " The first being your home, the second office". We aim to be a space and sanctuary where customers can just hang out after work, relax, meet up with friends, or meet new people. We aim to be your favorite neighborhood bar".
The whole concept of The Belle & Dragon plays with duality. The name itself – "BELLE" being the French word for beauty, and "Dragon" touching on its oriental roots – reflects this European-Meets-Asian Vibe. From the interiors, down to its menu, the thoughtful concept is evident.
For its menu, some of its most popular items included the Wonton Nachos (which puts an exciting twist to nachos by using Wanton chips instead of corn chips); Go Chang Wings (their version of the American Buffalo Wings that's drenched with their secret Korean Go Ju Change Sauce); and the infamous fried chicken sandwich, The Colonel. Since The Belle & Dragon is all about bring people together, expect their dishes to be good for sharing.
When it comes to their signature drinks, Sunny Jhamtani, VP of Operations, Highly recommends their fan favorites – The Lucy Lui, which sweetens the spirit with Yakult: Hot Bitch, A special cocktail infused with local labuyo; Date night or regrets "On Top of that, we have over 16 different selections of beer –both craft and international, " adds Jhamtani. " So whatever your preference, we have the perfect pint and glass for you!"
Delighting its patrons further, The Belle & Dragon also hosts daily themed nights: Tuesday is quiz night called "Skill Bill", every other Wednesday is Retro nigh and comedy night; and Thursday, undoubtedly their biggest night of the week, is for Thursday Throwdown- A Music Trivia night, where guests are encourage to join the festivities and the groove to the DJ's awesome tracks till the wee hours. Kicking off the weekend party is '90's night (Fridays) and sessions every Saturday, hosted by Patty Tiu.
For its anniversary, The Belle & Dragon has a special line up of regular DJ's that have played throughout the year, namely DJ Abdel and DJ Javui, along with an open bar to encourage guests to party all night.
The Belle & Dragon will also be whipping out the new lunch and dinner menu, which include new asian-inspired dishes along with some healthier and vegetarian options on August 30, 2019.
"We're very proud and thankful for the community that has helped The Belle & Dragon grow over the past years. And we have so much more that we want to do for our patrons," says Armand del Rosario, SVP for Business Development. "Since the space is perfect for events, we're pushing for more private and corporate events t his year. We're happy and committed to serving you better drinks, fare, and experiences."