Japan's Premium Bathroom Fixtures Brand Finds Its New Home in Pasig
Toto unveils new showroom in Robins Design Center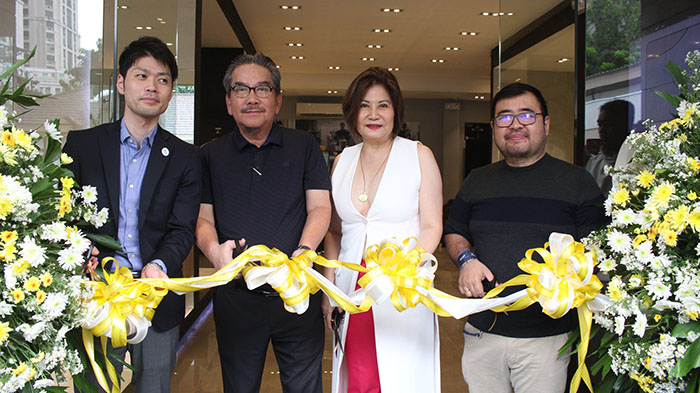 TOTO, one of the world's premier bathroom suppliers is bringing its aesthetically and technologically-advanced bathroom wares closer to the public as it recently unveiled its newest showroom at the Robins Design Center in Meralco Ave., San Antonio, Pasig City.
The new showroom allows patrons to see TOTO's latest offerings, being equipped with their suite collections. It also serves as a one-stop-shop for those who want state-of-the-art bathroom products that raise the comfort of living.
During the launching event, TOTO presented its signature product, called the Washlet. First released in the 1980s, this innovative toilet seat utilizes a water-cleansing system, that features a lid that opens and closes automatically by motion-sensor and adjusts its temperature to match its user's preference.
TOTO's Washlet is also equipped with a Tornado flush that generates a vortex force for better cleaning and stronger evacuation of waste, a ceramic glaze called Cefiontect for a refined smoothest surface for a spotlessly clean, a deodorizer that eliminates bad odor without the use of an exhaust pipe, a Motion sensor that alerts when the Washlet is about to be used, and an Ultra Violet Light that kills 99% of germs and bacteria.
"We are glad to open our new showroom here at the Robins Design Center. We believe that this showroom brings us closer to our customers in the area and the metro," said Roxanne Robins – Go, the president of La Europa Ceramica, the official distributor of TOTO here in the Philippines. "Our products are inspired by a culture of providing people prime comfort in their bathrooms while helping the environment. This mindset is important, especially in creating a sustainable and more comfortable living space."
Michael Suqui, a member of the Board of Directors of the Philippine Institute of Interior Designers, could not agree more. As one of the guest speakers during the launch, he noted that "as an interior designer, I still incorporate ways to help clients to save money and the environment by using eco-friendly products."
TOTO is a Japanese company, founded in 1917 by Kazuchika Okura with a vision and commitment of giving people a comfortable bathroom space while preserving and protecting the environment by saving water and energy.
Throughout its expansion, the brand became the industry leader and a premier supplier of plumbing-related products in Japan. With over 80 percent of Japanese households, stations, hotels, and spas using TOTO products, the brand also became popular in different parts of the world due to its cutting-edge innovations.
In the Philippines, high-end hotels and other establishments also use TOTO as their bathroom ware, with its range of products from toilets, lavatories, to faucets. The brand also utilizes people-centered designs in bringing trends in architecture and continuously upgrade their lineup to help improve the comfort, convenience, and cleanliness of residential and non-residential spaces.
To learn more about TOTO and its cutting-edge bathroom wares, you may visit their new showroom at Robins Design Center on weekdays from 9 AM to 8 PM. You may also call (02) 693 – 8711 or visit their websites at http://www.laeuropa.com.ph/ and https://www.robinsdesigncenter.com/.
Hits: 124