Bai's Boneless Lechon is the Holiday Centerpiece that Will Complete Your Christmas Celebration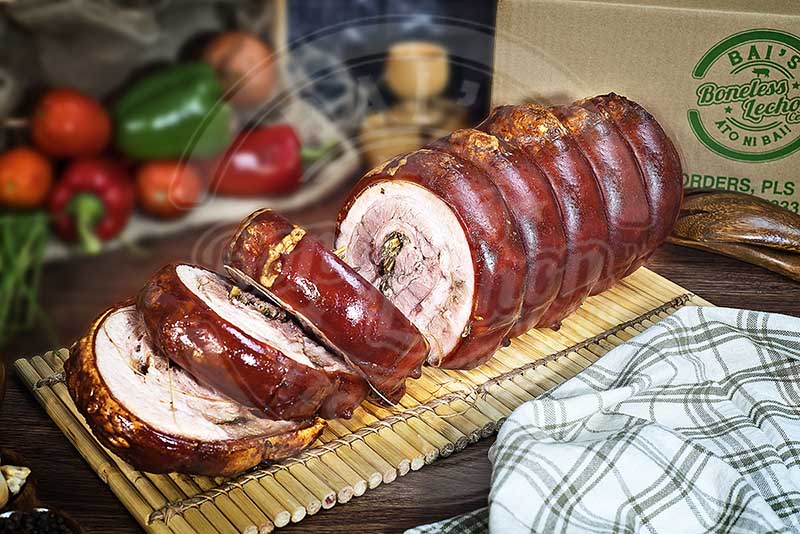 Cebuano TV Director Dexter Ding hopes of bringing his talent to the mainstream. During his time here directing TV shows and commercials he would always get weird questions when eating lechon, "No sauce?", "Ayaw mo nang sarsa?". He would reply that this is how he and his family and even most Cebuanos enjoy their lechon. NO CONDIMENTS. Cebuanos love and know their lechon. Actually it's sacrilegious if a well-balanced lechon especially from Carcar, Cebu was soaked in any dips or sauces. World renowned traveler and Food Critique Anthony Bourdain drops the line "Best Roast Pig ever" to Cebu's constant celebration staple the "Cebu Lechon". Crispy on the outside and definitely juicy and tender in the inside brought this celebratory dish to where it is today. Inspired, hungry and tired from flying pigs from Cebu, Dexter set out to make his own lechon available to his adopted city of Muntinlupa. Have you ever tried freshly cooked slow roasted lechon, that hits the spot — bringing you back to your hometown, enjoyed right inside the comfort of your home with your family? That is Bai's Boneless Lechon's promise. To serve you the freshest, most well balanced lechon in town.
This holiday, serve it up to your loved ones and let your senses be your guide to fully enjoy this authentic and most-loved Cebu lechon. Starting at P820, order this as the party entrée that can satisfy a family of 5. Additionally, the barkada size (P1,950) for 10 to 15 persons and the party size (P3,200) for 20-25 persons are the perfect choices for a larger crowd. Since it comes with a convenient take out box, this dish also makes a delightful food gift to family and friends who craves for no-frills, freshly cooked, and simply tasty Cebu lechon that's meant for sharing to people close to their heart.
For orders and inquiries, please contact 7759.4101, 0917.582.5333. For more updates on packages and promotions, visit www.baisbonelesslechon.com and social media pages Facebook and Instagram.
RETAIL BRANCHES:
PASIG – 09178341010 – 22c Market Ave. Brgy. San Miguel, Pasig City
FAIRVIEW – 09776083544 – 7 Fairlane St Fairview Quezon City (inside LG2 Autostation)
KITCHEN ALABANG 0917.582.5333 (serving Muntinlupa-Sta Rosa, Paranaque, Makati, Manila, Binondo and Pasay )⁠
MALABON 0966.465.8348 (covering the whole CAMANAVA area)⁠
QC 0927.684.2687⁠ (serving Cubao, Quezon City, Manila area)⁠⁠⁠
POP-UPS
CALAMBA 0999.165.7340 (serving Cabuyao, Calamba and Pansol)
CAVITE 0927.004.8323 (serving Bacoor, Molino, Aguinaldo and more)
Hits: 165