Top Culinary Schools Battle It Out For Honor And Over P500k In Total Prizes At The Grand Finals Of Oro, Plato Masa On Feb 22 At SM MOA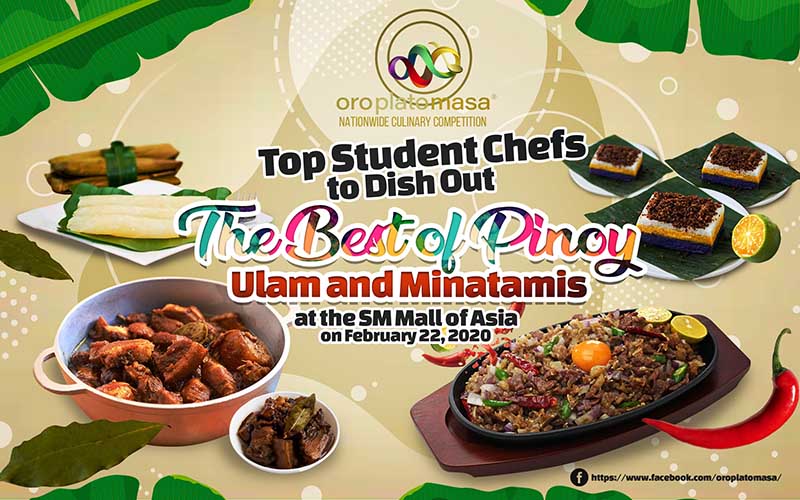 Eighteen teams from all over the country will showcase their delicious and creative recipes and will be judged by a panel of experienced Chefs at the Grand Finals of ORO,PLATO, MASA Nationwide Culinary Competition on February 22 at the SM Mall of Asia Music Hall.
The Finalists in the "Minatamis" (Dessert) Category are: Lyceum of the Philippines (Manila), University of Santo Tomas, Jose Marie Locsin Memorial High School (Zamboangita, Negros Oriental), Silliman University (Dumaguete City), Manila Tytana College (Pasay City), National University (Manila), Lyceum of the Philippines – Alabang, Polytechnic University of the Philippines (Sta. Mesa) and STI- Pasay EDSA.
The Finalists in the "Ulam" (Savory) Category are: Advance Central College (Antique), STI-San Jose (Nueva Ecija), La Flamme Blue Center for Culinary Arts (Iloilo), Technological University of the Philippines (Manila), Lyceum of the Philippines (Manila), STI-Surigao, Miriam College (QC), University of Santo Tomas and St. Scholastica's College (Manila),
"We're excited to see future culinary stars dish out their unique creations. The entries we have received confirmed what we believe that there are many great recipes waiting to be discovered. And these culinary students can be quite bold and savvy in the kitchen," says Marissa Dames, President and COO of DTC Promos, herself a National Baking Competition Champion who is the Chef Advocate of this competition.
Founded by veteran adman Ed Dames, DTC has grown from an events company which launched the Mall of Asia, and did landmark events like the GWR-breaking "Whattamouth! Largest Photo Mosaic in the World in a Billboard" for Close-Up and Christmasterpiece: Inter-Town/City Christmas Landmark-Making Competition to relaunch Lady's Choice and many others … into one of the leading Integrated Marketing Communications companies which handle market-leading brands for companies like Unilever and URC.
DTC will provide the airfare for the teams from Mindanao and Visayas while their hotel accommodations are sponsored by Golden Phoenix Hotel Manila.
Oro, Plato Masa is presented by SM Supermalls in cooperation with the Department of Tourism through its Tourism Promotions Board, DEP-Ed, the Manila Bulletin, Metro Channel, Business Mirror, Unilever Food Solutions, LENOVO, Masflex and the City of Manila. The competition is open to all Filipino students who were at least 16 years old by September 1, 2019 and enrolled in a cooking course/program of any school recognized by the Philippine government.
Mrs. Dames added that: "It is our aim to give deserving culinary students of any school, an equal opportunity to be discovered by exposing them to the pressure of working in a kitchen" while being seen by a live audience at the Mall of Asia and via social media.
The Grand Winners will win Lenovo laptops, Bamix Mixers from Focus Global, kitchen equipment and products from Unilever Food Solutions (UFS), Masflex, Oleo Fats and Sonlie.
This landmark event is also supported by the Manila Bulletin, Business Mirror, Metro Channel, Cook Magazine, Health & Fitness, Pilipino Mirror, DWIZ, 97.9 Home Radio, Philippines Graphic, UNOX, All About Baking and Kitchen Aid, Brooklyn's New York Pizza, Blizzard Chillers, Kink Cakes and Mount Fuji Rice.
Product Sponsors are Oleo Fats, Knorr and Lady's Choice.
Hits: 68