The Grub That Really Rules Britannia
I'm not much of a traveller. Truth be told, all the travelling I ever wanted to do was just to escape the heat of Manila. It's probably the reason why Baguio has always been my destination of choice. No airports, not too far, but still cold enough to give respite from the heat of the city. While I did like trips abroad as a kid, I really only liked them because of the cold…and maybe Toys R Us. Trips to the US were memorable not for the sights, but more for the cold and the toys we brought back.
As an adult, going off to some foreign place was never in my top "wants". I'd rather go shopping to be honest. But slowly, I'm beginning to see the importance of seeing other places and learning about their culture. Most of all, I am beginning to like travelling because of the food.
Of all the places I've been to (it's not a long list), I probably have the most memories from and spent the most time in England. I lived in London and in the English countryside for a total of 3 years, plus month-long visits almost yearly from 2002 to 2017. Having studied, worked and lived in England is a part of my life that I will treasure. Of course, the highlight of my stay there is my son being born in Wiltshire in 2003. There's so much to love about England—the scenery in its beautiful counties, the bustle of London, their adherence to everything proper and traditional and much more. What I didn't expect to cherish is their food. Long maligned for having the worst food in Europe, British cuisine can be pretty good if you know where to go. Of course, there are top restaurants in every big city and London and the English countryside has quite a few. But for small towns and regular pubs and restaurants, compared to the rest of Europe, the bad food reputation has a bit of truth to it—at least until the early 2000s.
Nowadays, the Brits are stepping it up. Celebrity chefs had something to do with the rebirth of British cuisine. By promoting their local produce and updating classic grub, the food they all knew and loved now looked and tasted better. Supermarket chains like Tesco and ASDA also stepped up and filled their shelves with fresh, local and seasonal produce. There's still room for improvement and they're nowhere near the French and the Italians, but they're moving in the right direction.
For this month's recipes, I am doing two British staples—Fish and Chips and Pasties. These two classics are present in any town you go to, even in the tiny villages. Chip shops and bakeries like Greggs (a bakery chain famous for pasties) are a fixture in almost every town center and village high street. They're perfect on a weeknight or a weekday lunch and quite cheap. Making these British classics is not as difficult as you may think. Here is my version, from my memories of England.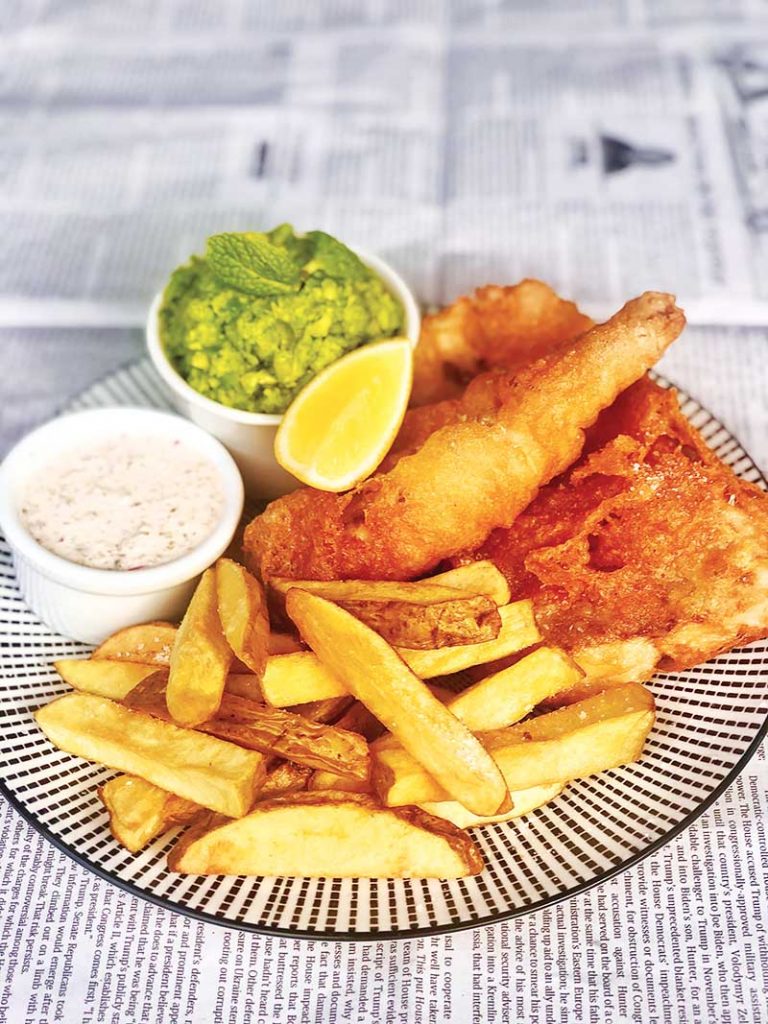 Fish and Chips
This classic dish is usually made with cod, plaice or haddock. Here at home, you can choose between Lapu-lapu, Maya-maya, Loro or any white flaky fish. Flatfish like our local sole is also good.
| | | |
| --- | --- | --- |
| Serves 4 | Prep Time 30 minutes | Cooking Time 30 minutes |
Ingredients:
For the fish:
4 pcs fillets of fish, about 300g each
1 cup flour for dredging
2 cups flour
1 1/2 bottles beer
salt and pepper
For the chips:
1 1/2 kg potatoes
3L oil for frying
salt to taste
For the mushy peas:
2 cups frozen peas
2 tbsp butter
1 pc small onion, minced
1/2 cup chicken stock
10 pcs mint leaves, finely chopped
For the Tartar sauce:
1 cup mayonnaise
1 tsp mustard
1 pc small red onion, peeled and quartered
1/4 cup drained capers
Procedure:
To be able to serve the best fish and chips, you've got to get the timing right. The fish and the chips have to be crispy and piping hot. To do that, it's best to get the first frying of the potato done first. Make the sauce and peas next, then the fish and second frying of the potatoes last.
Clean the potatoes in running water and then slice into thick chips or fries. The chips have to be cut thick, around half an inch thick. This prevents them from breaking when fully cooked after the first frying.
Soak the sliced potatoes in water to remove excess starch then dry completely after.
In a heavy pot half-filled with oil, set the flame to low.
Drop the potatoes carefully, one at a time. Fry on low heat until completely soft.
Very carefully remove the cooked chips from the oil and lay on a tray. Place in the freezer while you do your sauce and mushy peas.
For the sauce, simply place all the ingredients in a food processor and blend. If you want to chop by hand, mince the onion and finely chop the capers and mix with the mayo and mustard. Keep the sauce chilled until ready to use.
For the mushy peas, sauté onion in butter until translucent. Add peas and mint, then add chicken stock. Once the peas are heated through, turn the heat off and mash the whole mixture. Even easier, place everything in a food processor and pulse until relatively smooth. Set aside.
It's time for the fish. Turn the flame on high and heat the oil until it starts to lightly smoke.
To make the batter, simply whisk beer with 2 cups flour. Season with a little salt.
Season the fish on both sides with salt and pepper.
Dredge the fish in seasoned flour then dip in the batter.
Carefully place the fish in the hot oil, suspending it halfway for a few seconds before dropping it in completely. This step lets the batter cook and seal for a few seconds so the fish doesn't sink to the bottom of the pot.
Fry the fish until browned and crispy, a little past golden brown.
Drain on a rack and sprinkle with salt. The fish will keep hot for a few minutes, just enough time to brown the chips.
Keeping the oil very hot, fry chips a second time. Since they're already fully cooked, you only need to brown them and crisp them up. It should take about 5 minutes.
Once chips are crispy, take them out and drain on a rack and season.
Serve fish and chips with the tartar sauce and mushy peas on the side.
Greggs-style Pasties
Greggs is a bakery chain in the UK popular for pasties, savory puff pastry pockets similar to turnovers and empanadas. Two of my favorite flavors are the Steak Bake and Ham and Cheese. Traditional pasties (Cornish, from Cornwall), make use of short crust pastry. Greggs uses a puff pastry type of pastry so we'll use that for this recipe.
| | | |
| --- | --- | --- |
| Serves 4 | Prep Time 30 minutes | Baking Time 30-40 minutes |
Ingredients:
8 sheets frozen puff pastry (I use a brand called Pampas. They come in square sheets, around 12×12")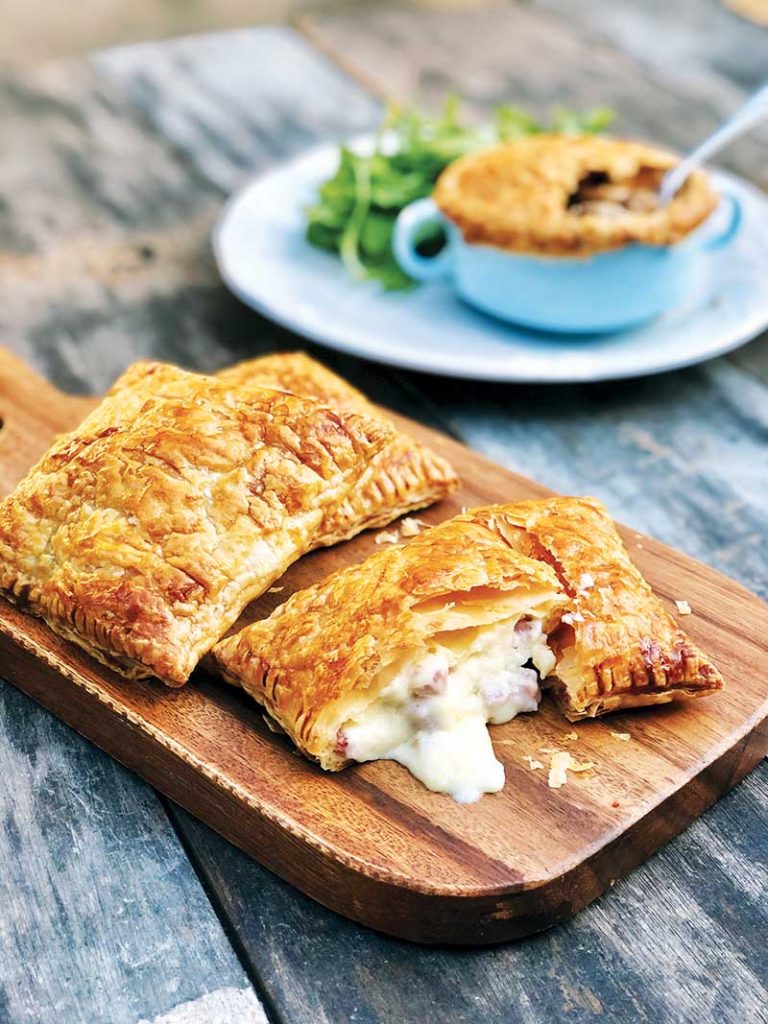 Filling for the ham and cheese:
100g Gruyere cheese
150g ham, cubed
1 cup milk
1 tbsp flour
1 tbsp butter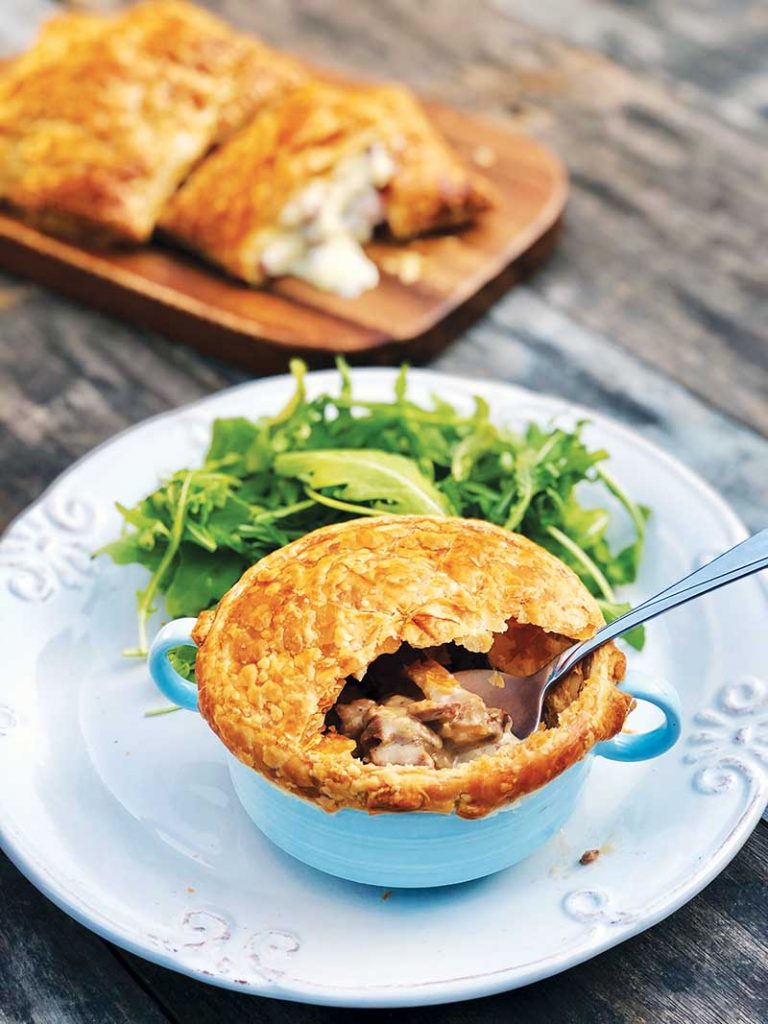 Filling for the Steak Bake:
200g finely sliced cooked steak or shredded leftover beef
2 cups beef stock
2 tbsp flour
2 tbsp butter
2 tbsp soy sauce
1 tsp pepper
Procedure:
Make the fillings first. You need to chill them for a bit before you start filling and baking.
For the ham and cheese, heat butter in a pan and add flour. Whisk until it becomes a paste and add milk. Keep whisking until smooth and thick. Add grated Gruyere and ham and keep whisking until cheese has melted into the white sauce. Place in a bowl and chill to stiffen the filling.
In another pan, make the steak bake filling.
Melt butter and stir in flour. Add stock and whisk until smooth.
Add soy sauce, pepper then lastly the beef to the pan and whisk until the beef is mixed well.
Place in a bowl and chill to stiffen.
Preheat oven to 200˚C.
Take puff pastry out of the freezer and let it thaw until pliable.
Slice the pastry in half, and fill each rectangle with about 2 spoons of filling. Fold and crimp the edges. Brush the surface with eggwash, then place in baking tray.
Bake pies in the oven until golden brown, about 30 mins.
Alternatively, you can also serve the steak bake in a bowl, topped with pastry.