The Pleasure Of Entertaining…At Home
---

---
Planning a special occasion? Your home can be a party place. Surely there are birthdays, anniversaries, and other days special to you that might be made all the more special if you do the cooking.
Your choice of dishes should depend on the occasion and who's coming over. Make a list of the dishes you cook well, especially the one's that have garnered oohs and aahs! For close friends, I ask beforehand what they feel like eating. Plan on having interesting hors d'oeuvres, salad, pasta, entrée, and something sweet for the finale. Think about variety, contrast in taste, color, and texture. It can be simple or elaborate, and most foods can be prepared in advance so you can relax just before your guests arrive.
Happy Anniversary to COOK Magazine!
Being a columnist of COOK Magazine has been one of my most fulfilling endeavors over the past 15 years, and to celebrate this milestone, I'd like to share party foods the Filipinos love.
PARTY FOODS
Party foods include canapés, dips, hors d'oeuvres, nibbles, relishes, spreads, wraps, skewers, fruits and pastries. It provides a creative cook an outlet to create a juxtaposition to delight the eye as well as to satisfy and amuse the palate because of its pleasing contrast in flavor and texture. In French, the term hors d'oeuvre can be literally interpreted as "outside the work", but to get the definition connected to its use, you will need to divide the term into two—hors, meaning before or outside and oeuvre, meaning the main dishes of a meal. The French have another more charming term for party food, which is amuse-bouche or amuse the mouth. The implication is that sustenance takes second place and these are treats purely for pleasure.
It is usually served as a complimentary pre-appetizer.
Feel free to travel the globe from classic American appetizers or Graze and Mexican Antojitos or little whims, to Scandinavian Smorgasbord, the Italian Antipasto or before the meal. Samozas of India, Spanish cuisine offers Tapas or 'lids', after the bread slices that were once laid on top of wine glasses to discourage flies. Greek, Turkish and Middle Eastern cuisine offers Meze or Mezethes with a wide array that includes humus, baba ghanoush (roasted eggplant dip) and dips eaten on triangles of pita bread. And, dumplings are a fine example of Dimsum, literally translated from Cantonese, means "dot-hearts", small treats that touch the heart.
Canapés:
A French word meaning 'a couch'. Canapés are served on bread, crackers or a pastry base. It may be very simple consisting of a spread with canapé butter and decorated with a little meat, fish, egg or cheese, a sprig of parsley or watercress, or a slice of pimiento, pickle, olive or lemon.
DIPS And DUNKS:
These savory mixtures are soft enough to be scooped up with crackers, potato chips, corn chips, cooked shrimps, cocktail frankfurters, crudités (vegetable sticks), and pretzels. They can be built on endless flavor combinations using sour cream, cheese, yogurt, crème fraiche, salsa, vegetables or bean base.
Hors D'oeuvre:
Hot or cold appetizers, and unlike canapés, hors d'oeuvre do not have bread or crackers as the base for other foods. It is usually eaten at the table with a knife and fork before the main dish. Among these are aspics, caviar, seared chicken or goose liver, seafood, artichokes, asparagus and salads that are not sweet.
Cocktails:
They are served at the table with a sauce or dressing and are not to be confused with the alcoholic or non-alcoholic drinks. Seafood, fruits and vegetables are the ingredients frequently used. Shrimp cocktail with a tangy sauce is probably the favorite cocktail especially before a steak dinner. Cocktails are always served cold and mostly well chilled.
Relishes:
Cold and crisp vegetables, and other foods such as cottage cheese and preserves are relishes. Cherry Tomato Wine Jam is a relish.
Spreads:
These are mixtures that are more firm than dips and to be spread on crackers, bread or toast with a knife or teaspoon.
Nibbles or Tidbits:
These colloquial expressions are often used for appetizers that can be picked up with fingers or with cocktail forks or wooden picks. Nuts, some of relishes, cheese platter, are often referred to in this way.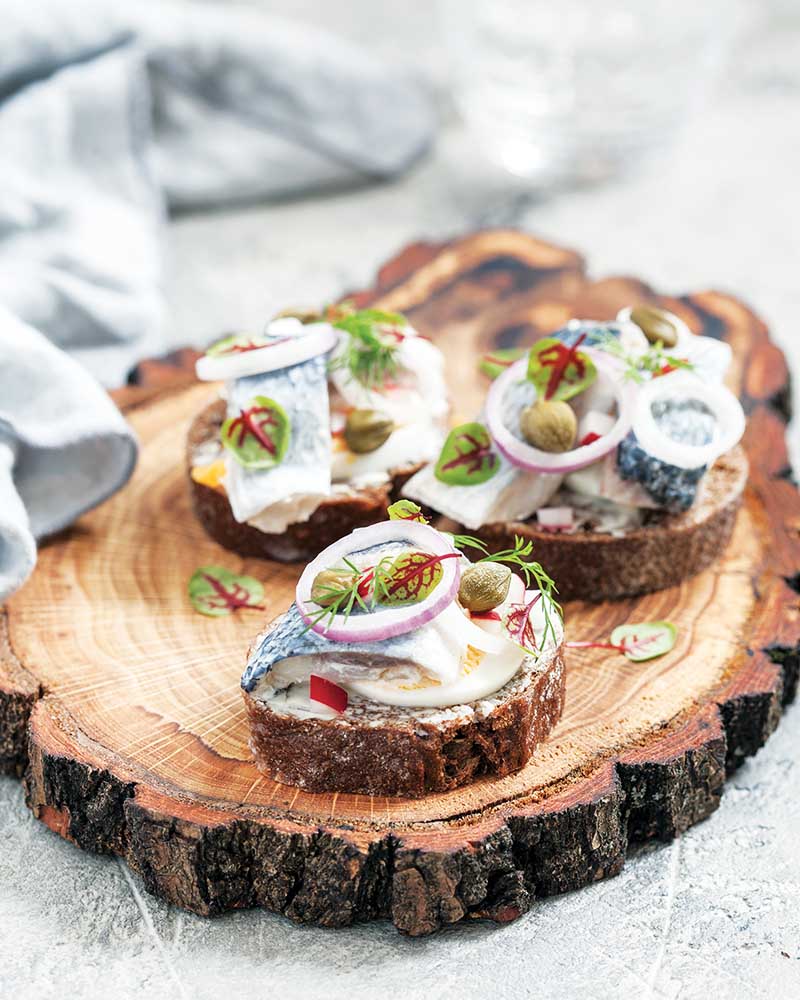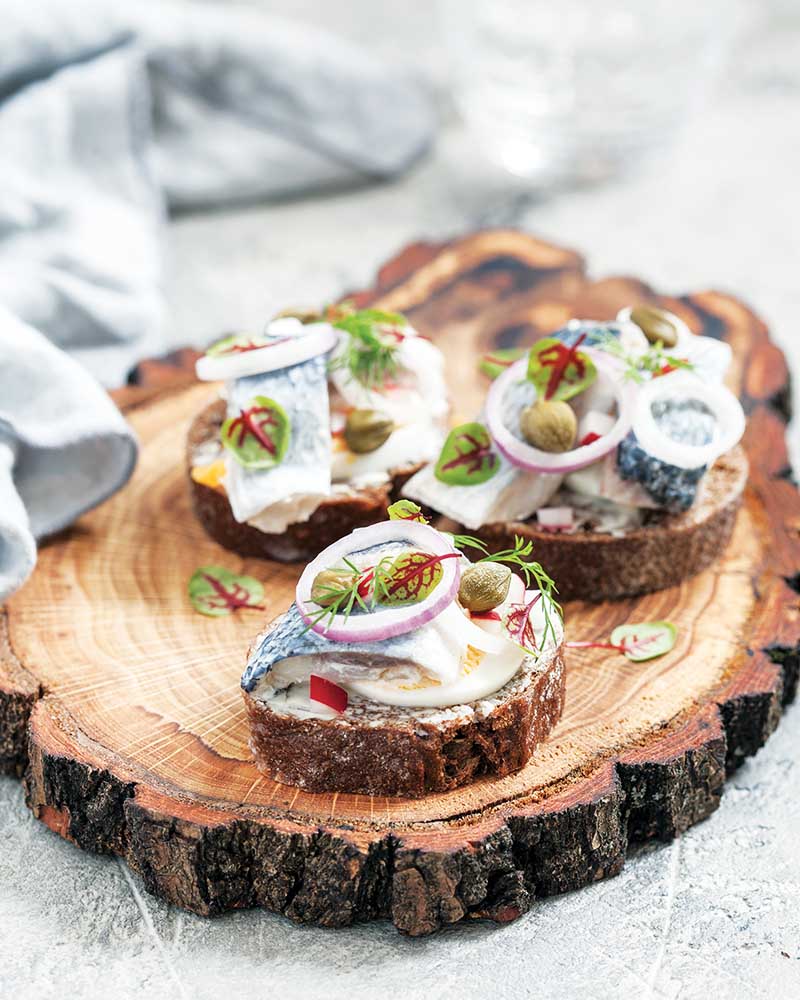 Canapé Butter
Cream 1/4 cup butter with any of the following:
Anchovy Butter:
2 tsp mashed anchovy fillets and 1 tsp lemon juice. Good with a slice of hard cooked egg.
Caper Butter:
1 tbsp minced drained capers
Chili Butter:
1 to 2 tbsp chili sauce
Curry Butter:
1/2 tsp curry paste or powder. Good with fish.
Parmesan Butter:
2 tbsp grated Parmesan or Romano cheese. Good with egg and meat.
Wasabi Butter:
1 to 2 tsp wasabi
Sardine Butter:
2 tbsp mashed sardines, 1/2 tsp lemon juice, 1/2 tsp minced onion
Shrimp Butter:
2 tbsp chopped cooked shrimp, 1/2 tsp lemon juice. Serve with additional shrimp or a slice of egg.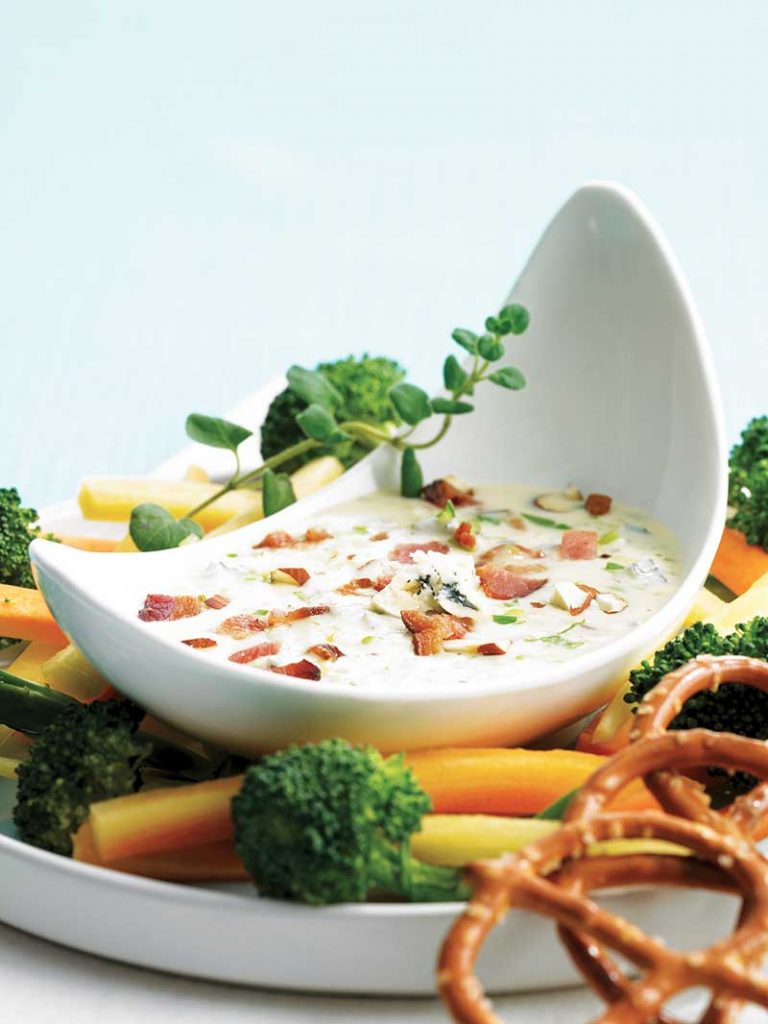 Cheese and Bacon Dip
Ingredients:
1/3 cup cream
1/3 cup grated cheddar cheese
2 tbsp chopped rendered bacon
1 tbsp chopped onion
Procedure:
Mix ingredients thoroughly. Cover and store in the refrigerator until needed. Best served with potato chips, tortillas or crackers.
Cheese and Pineapple Dip
Ingredients:
1/3 cup cream
1/4 cup canned crushed pineapple, well-drained
1/2 cup grated cheddar cheese
salt to taste
chili sauce
Procedure:
Mix ingredients thoroughly. Cover and store in the refrigerator until needed. Best served with potato chips, tortillas or crackers.
Cheese and Onion Dip
Ingredients:
1/3 cup cream
1/3 cup grated cheddar cheese
1 tsp chopped green onions
1 tbsp pared and chopped cucumber, drained
1/4 tsp salt or to taste
Procedure:
Mix ingredients thoroughly and keep refrigerated until ready to be served. Best served with potato or corn chips, or crackers.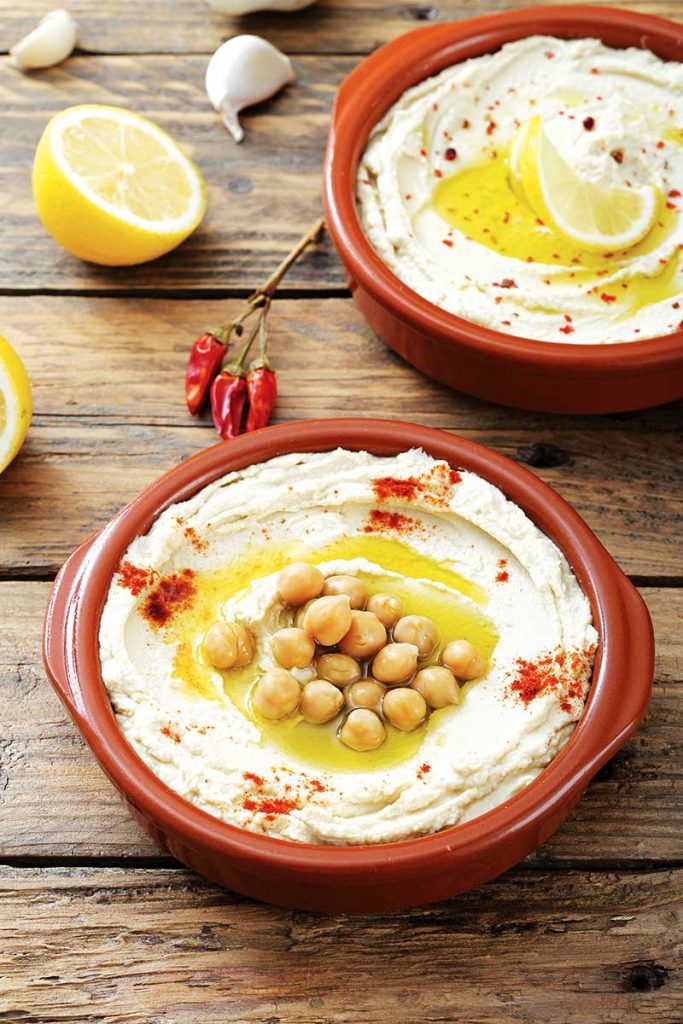 Hummus
Ingredients:
2 cups canned garbanzos, rinsed and drained
1/3 cup lemon juice
1/3 cup tahini or blended toasted sesame seeds
1/3 cup + 1 tbsp extra-virgin olive oil
2 cloves garlic, minced
1/2 tsp cumin
1/4 tsp ground coriander
1/2 tsp salt, or to taste
freshly ground pepper
finely chopped parsley
paprika
Procedure:
Place the first 9 ingredients in a blender or food processor. Puree until smooth. Add 2 to 3 tablespoons of water as needed to obtain soft, creamy consistency. Correct seasoning. Transfer to a shallow serving dish. Chill and just before serving, drizzle surface with 1 tablespoon olive oil. Garnish with parsley and a sprinkling of paprika. Serve with warm pita bread triangles.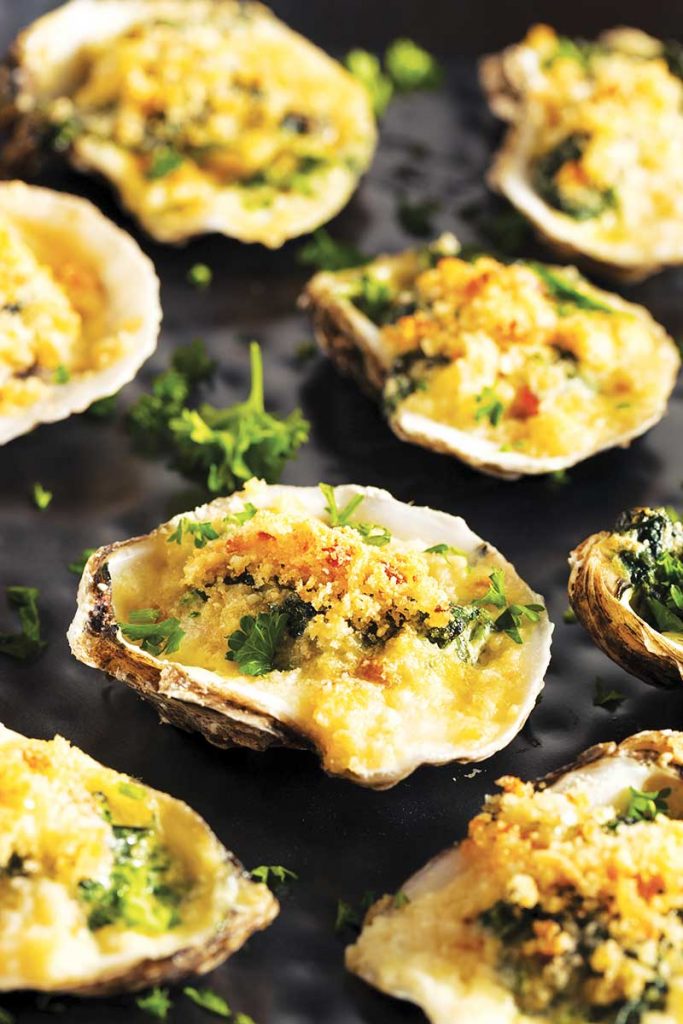 Rockefeller Oysters
Ingredients:
4kg oysters, steamed
1/2 cup minced cooked spinach (well-drained)
1 tsp minced garlic
1 tbsp soft butter
Hollandaise sauce*
parmesan cheese
mozzarella cheese
cayenne pepper 
Procedure:
Arrange oysters on the half shell in a baking pan. Mix spinach with garlic and butter. Dot each oyster with spinach mixture and cover with Hollandaise sauce. Garnish with parmesan and mozzarella cheese and a dash of cayenne. Run them under a broiler to melt the cheese.
Imbed the oysters in a plate of rock salt. Serve with lemon wedges.
*Hollandaise Sauce:
Ingredients:
1/2 cup butter
4 pcs large egg yolks
2 to 3 tbsp lemon juice
1/4 tsp salt
dash of pepper
Procedure:
Heat butter until bubbly. Meanwhile place egg yolks, lemon juice, salt and pepper in a blender. Turn blender on and off quickly then turn to high speed and slowly add butter in a very thin but steady stream.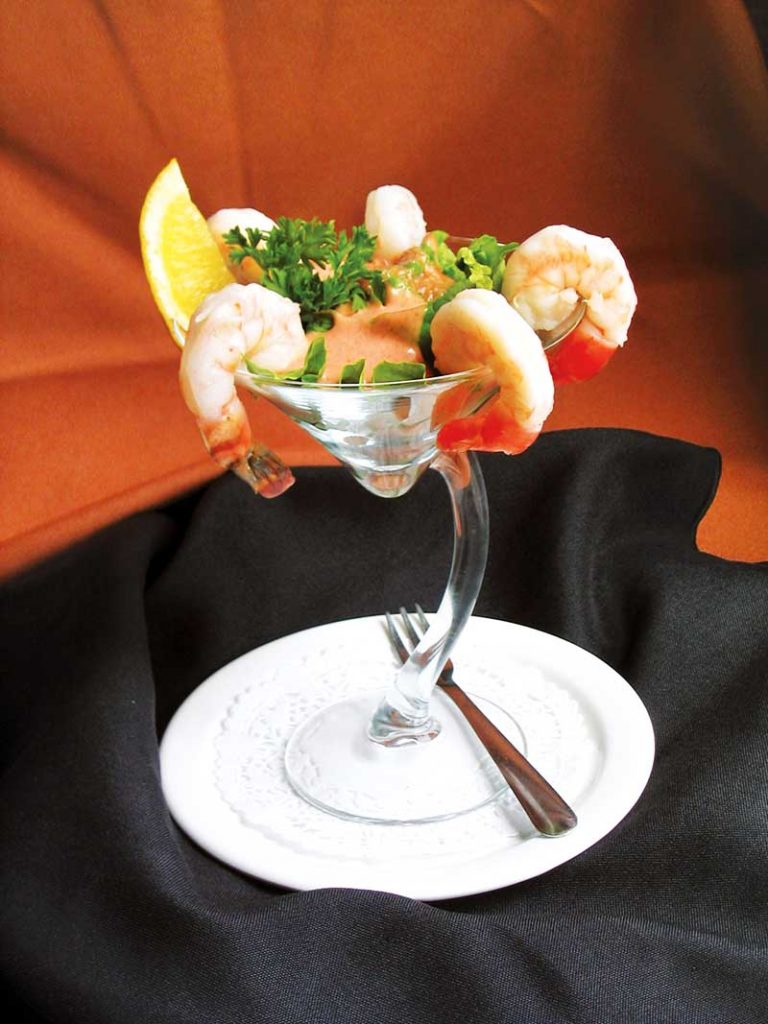 Shrimp Cocktail
Ingredients:
1kg shrimps
water
parsley or celery
salt and pepper to taste
shredded lettuce
lemon slices
Cocktail Sauce (mix all ingredients):
5 tbsp mayonnaise
1 tbsp catsup
1 tbsp Worcestershire sauce
1 tbsp lemon juice
1 tsp chopped onion
1 tsp chopped celery
sea salt
Tabasco pepper sauce
Procedure:
Cook shrimps in boiling water with parsley, salt and pepper until it turns pink. Remove the shells keeping the tail intact.
Arrange lettuce at the bottom of cocktail glasses; dunk the shrimps in Cocktail Sauce and arrange at the rim. Garnish with lemon and serve cold.
Caviar Pie
Ingredients:
olive oil for brushing
5 pcs large hard-boiled eggs, chopped
1/4 cup mayonnaise
1 cup chopped red onions, drained
2 pcs 8 oz cream cheese
2/3 cup sour cream
4 to 6 oz black and/or red lumpfish caviar, well-drained
lemon slices
Procedure:
Lightly brush with olive oil the sides and bottom of an 8-inch spring form pan.
Mix the chopped eggs with mayonnaise and place mixture on the bottom of greased pan as the first layer.
Sprinkle the chopped onion as the second layer and spread evenly over the eggs.
Blend the cream cheese and sour cream. Using a spatula, gently spread the mixture over the onion as third layer, being careful not to mix the layers together.
Cover the pie with foil or plastic wrap and refrigerate for at least three hours or up to a day.
When about to be served, delicately dot small amounts of caviar over the cream cheese/sour cream mixture. If using red and black caviars, dot alternately. Spread it evenly over the pie with the back of a teaspoon.
When ready to unmold, have a plate at hand that is at least 1 to 2 inches larger in diameter than the spring-form pan. Wipe the blade of a knife with olive oil so that it will glide gently around the pan sides to loosen the pie. You may need to clean the knife with oil twice. Put the bottom of the pan on which the pie is setting on a large plate and garnish the sides with lemon slices around to hide the spring-form bottom on which the pie sits.
Serve with lightly toasted slices of baguettes or plain crackers. Best served with ice-cold vodka or Aquavit.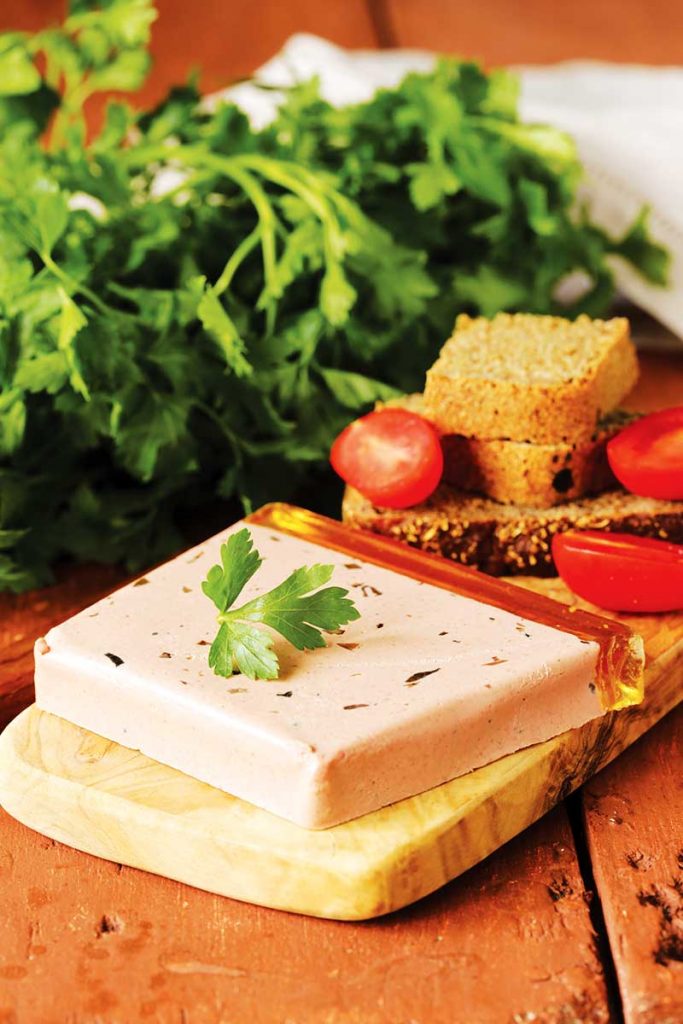 Pâté de Foie Gras de Poulet
Ingredients:
3 tbsp chopped bacon
1 tsp minced garlic
2 tbsp minced onion
1 cup chicken liver, trimmed
1/2 tsp salt, or to taste
1/4 tsp pepper
1/4 cup water
2 tbsp dry sherry wine or brandy
1/4 cup mayonnaise
1/4 cup melted butter
1/4 tsp nutmeg
1/4 tsp ground thyme
dash of ground cloves
extra-virgin olive oil or melted butter
Procedure:
In a skillet, sauté bacon with garlic and onion. Add chicken livers and season with salt and pepper. Add water and cook covered over medium heat until almost dry. Cool.
Place chicken liver mixture in a blender or food processor and add dry sherry, mayonnaise, butter, nutmeg, thyme and cloves. Process until smooth, then correct seasoning. Transfer to small crocks and seal with extra-virgin olive oil or melted butter. Chill.
Hits: 133