Mom's Immune Booster
---

---
With the onset of coronavirus disease (COVID-19), a mother's instant response is to feed the family with healthy foods to boost the immune system. The immune system needs certain vitamins, minerals, and compounds to function properly, which is why eating a broad range of foods in moderate portions is advised.
Vitamin A is needed for the immune cells to develop properly. The Nobel laureate Linus Pauling claimed in 1970 that large doses of Vitamin C reduced the likelihood of contracting colds. Keep in mind that very high doses of Vitamin C (5,000mg or more per day) can cause diarrhea, urinary tract irritation, and kidney stones. In susceptible people, supplements of Vitamin C above 200mg per day may cause dangerous excesses of iron in the body because this vitamin increases iron absorption. Vitamin C and E destroy the free radicals produced by immune cells when they attack bacteria and viruses. Further, Vitamin E is an antioxidant that protects cell membranes from free radical attack. Even when vitamins do not have a specific role to play in immune function, deficiencies will increase susceptibility to infection by compromising important functions in the body. The B vitamins—folate, B6 and B12 are also involved in supporting the immune system.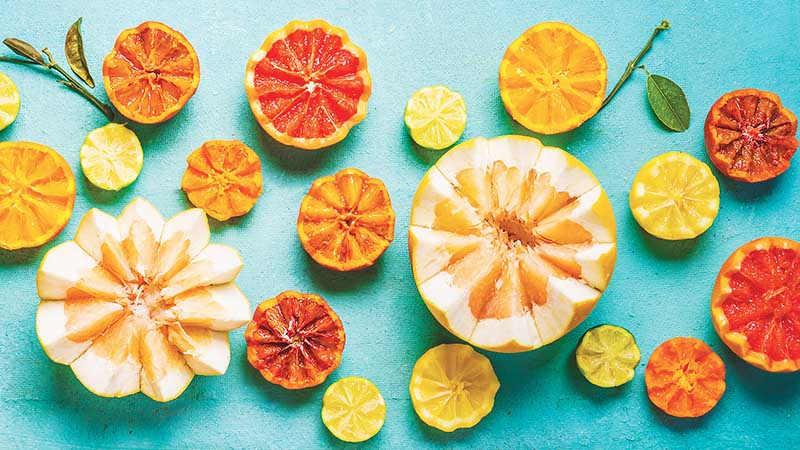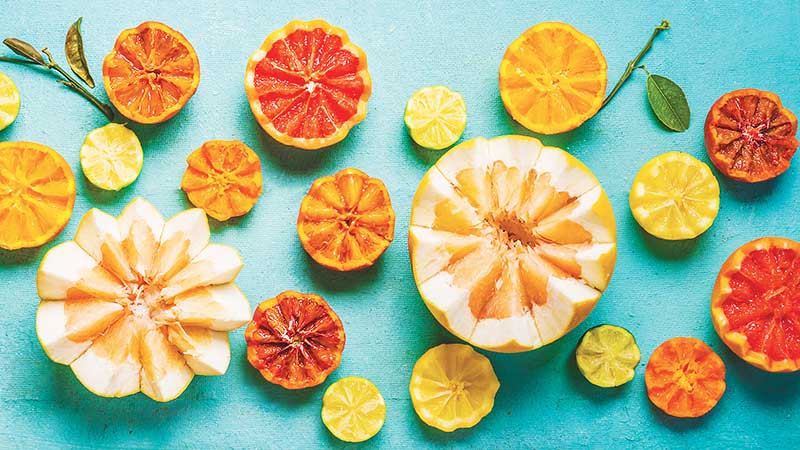 Zinc and iron also play major roles in keeping the immune system strong. Zinc supports the activity of enzymes. Iron is needed to form immune cells that travel around the body looking for things that are suspicious. Iron deficiency impairs this process and lessens the capacity of immune cells to kill bacteria and viruses. While leafy greens, such as spinach, kamote tops, kale, and Swiss chard offer the most iron per serving, in a strict vegetarian diet, it is difficult to obtain sufficient iron because iron is less easily absorbed from plant foods. Combining fresh fruits that are high in Vitamin C can improve absorption. Zinc deficiency can also lead to impaired immune function.
Garlic is considered to be a cure-all in many different cultures. The active ingredient allicin, a compound responsible for its characteristic odor, has been thought to improve your immune cells' ability to fight off colds and the flu. It is also a very good source of manganese, selenium, iron and Vitamin C.
People like me who suffer from food allergies feel the effects of an overeager immune system. I would sneeze uncontrollably followed by a skin rash and slight fever. Although it is essential for immune cells to respond quickly to outside invaders, in food allergies, the immune system treats a food particle like a germ and releases antibodies that activate inflammatory substances. Individuals who suffer from such attacks need to pinpoint the problem and remove certain foods from their diet. I highly recommend food intolerance testing.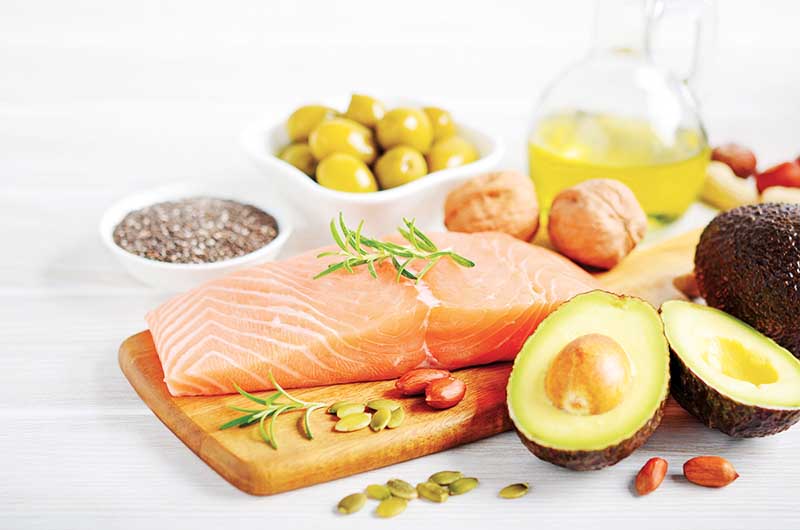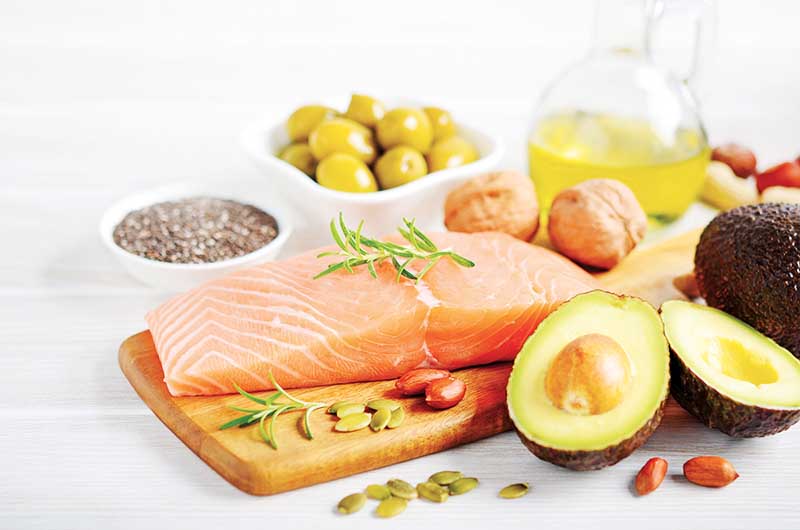 The immune system doesn't consist only of the white blood cells. Stomach acid kills the bacteria and parasites we ingest. Intestines contain friendly bacteria that destroy harmful microorganisms that get past the stomach. The liver breaks them down into waste products. Fiber-rich foods like vegetables, fruits, whole grains and legumes are needed to hasten the emptying of bowels and prevent intestines from reabsorbing the liver's waste.
Proper diet can be used to modulate the immune system and decrease symptoms of autoimmune diseases, such as rheumatoid arthritis and osteoarthritis. Several arthritis sufferers respond well, for example, to a decrease in high-fat meats. Oily fish and fish oil supplements, which contain omega-3 fatty acids, can reduce inflammation in the joints and relieve pain. Evening primrose oil has similar effects and may be useful for those who do not eat fish. Evening primrose oil and omega-3 fatty acids supplements must never be used without the supervision of a doctor. They can be dangerous in large doses. Lupus, a chronic autoimmune disease characterized by fatigue, joint pain, skin rashes and dry mouth can be worsened by sun exposure and certain foods, such as alfalfa and possibly other legumes, mushrooms, and smoked foods. Those who are sensitive to the sun should avoid celery, parsley, lemons, limes, calamansi, and parsnips, all of which heighten photosensitivity. Several lupus patients note an improvement after they decrease consumption of fatty animal foods such as meat, whole milk and cheese.
Don't forget that stress can weaken your immune system. People who lead stressful lives often neglect their diet, drink too much coffee and alcohol, and may not get the full complement of nutrients that their body needs. Find time to relax as often as possible. Regular exercise also reduces stress and promotes good health.
No Gluten Omega Smoothie
Pulses (lentils, beans, peas) are high in protein but they do not contain gluten—the protein found in wheat, rye, oat and barley.
Ingredients:
1 pc large banana (preferably lakatan), frozen
1/2 cup cooked and drained green split peas
6 pcs strawberries or 10 pcs seedless grapes, frozen
3/4 to 1 cup cold mango nectar or apple juice
3/4 to 1 cup cold orange juice
Procedure:
The best way to freeze bananas is to peel them, slice into 1-inch pieces and freeze in a plastic bag.
Toss all the ingredients in a blender and whiz. For a thick smoothie, adjust the fruit juices accordingly. You may use coconut milk as well and other fruit combinations.
NOTE: Home-made juices are simple to make and provide an easy way to boost your immune system. Good combinations include broccoli and apple; tomato, carrot and lemon; apple and pear; and pineapple and mango.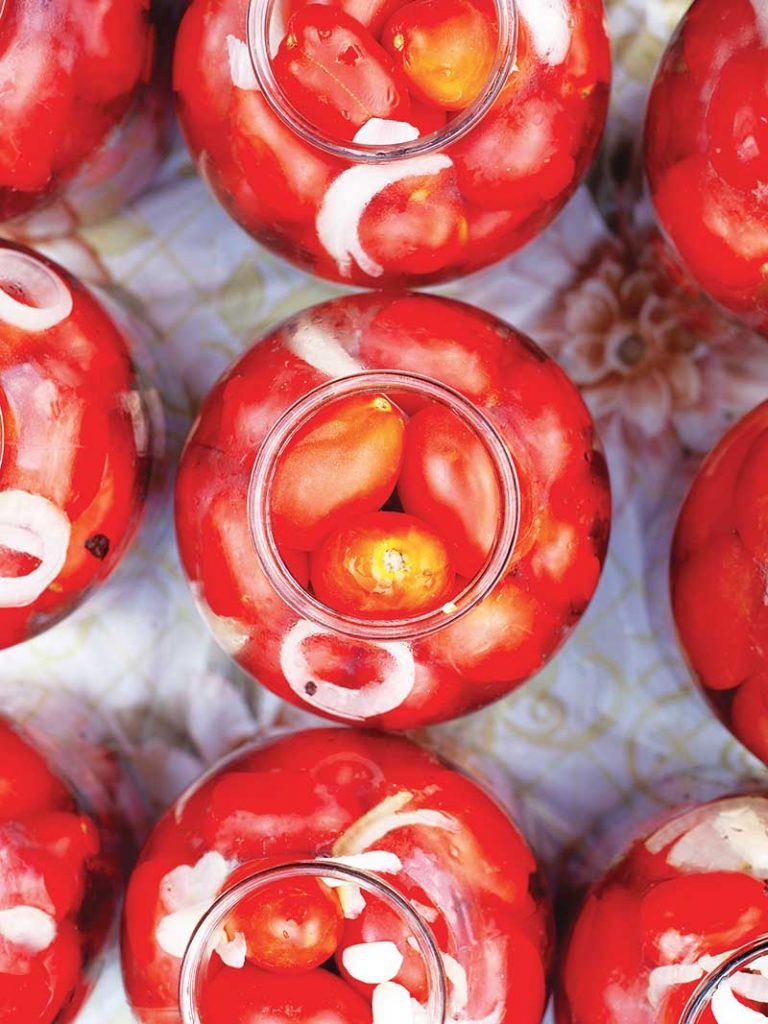 Pickled Tomatoes
Ingredients:
1kg small, firm and ripe tomatoes
2 cups sugar
1 tsp salt
1 cup cane vinegar
4 pcs kiamoy
Procedure:
Blanch the tomatoes in boiling water to remove the skin easily then shock tomatoes in iced water. Peel.
Boil sugar, salt and vinegar until sugar melts. Cool.
Arrange tomatoes in a jar and pour syrup. Add kiamoy for a twist in flavor. Keep refrigerated.
Chicken Tetrazzini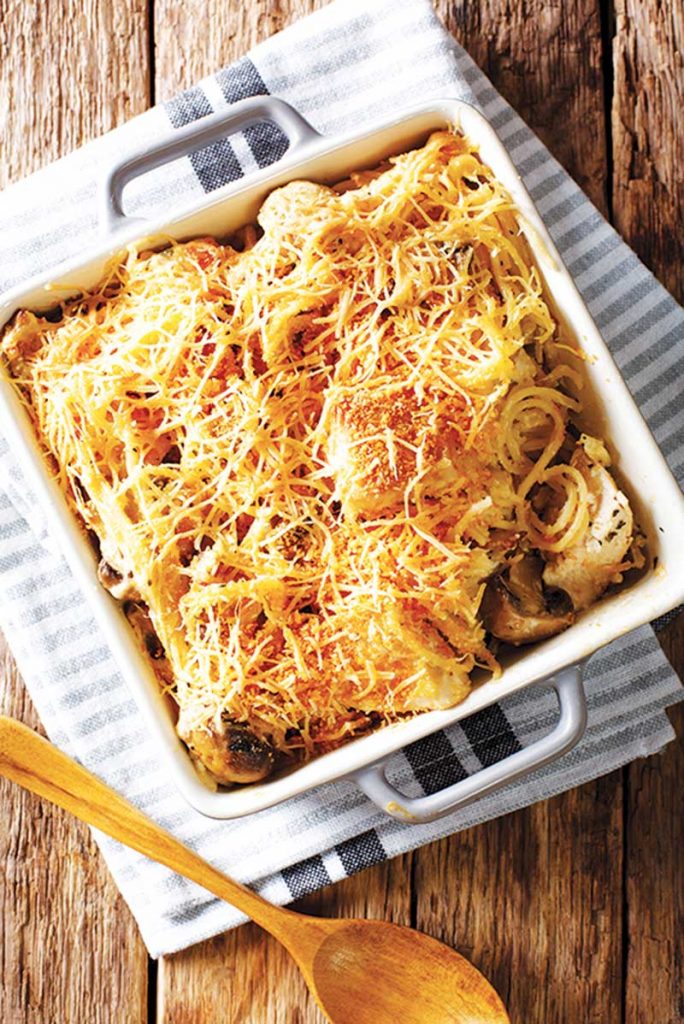 Ingredients:
1 can (200g) button mushrooms, sliced
6 tbsp butter
3 tbsp all-purpose flour
1 pc chicken broth cube
1 cup hot water
1 cup full-cream evaporated milk or cooking cream
1 cup deboned and shredded left-over fried or roast chicken
liquid seasoning
2 cups macaroni or penne
sea salt and freshly ground pepper, to taste
1/4 cup grated parmesan cheese
paprika 
Procedure:
Sauté mushrooms in 2 tablespoons butter. Remove the mushrooms and heat 4 tablespoons butter in the same skillet. Blend in flour then gradually stir in chicken broth cube mixed with water. Add the milk. Continue stirring until thickened and smooth. Put back the mushrooms and chicken. Season with liquid seasoning.
Cook pasta al dente. Drain. Don't wash pasta in running water for the sauce won't stick and it spoils easily.
Mix cooked pasta with sauce. Season with salt and pepper to taste. Transfer into a 2 1/2 quart baking dish. Sprinkle cheese and paprika. Broil until cheese is golden.
Ossobuco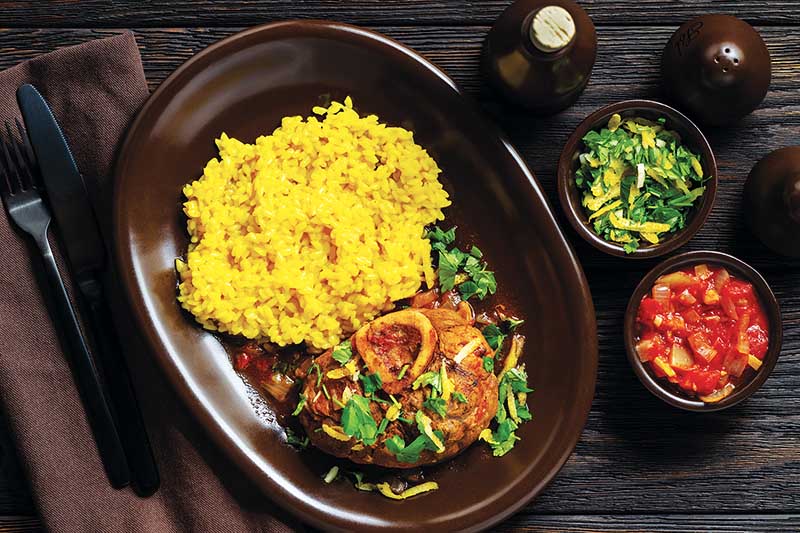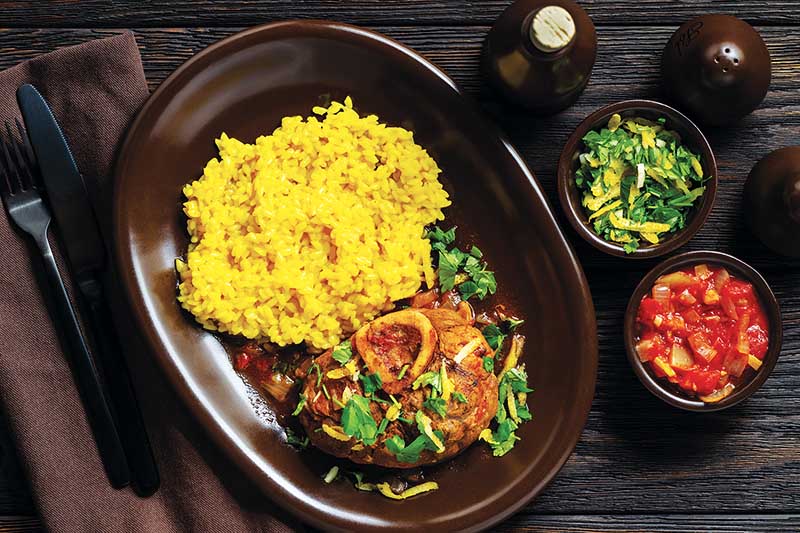 The well-known Milanese fare Ossobuco meaning 'bone with a hole' is a braised dish. Before it is served, a mixture of chopped parsley, garlic and grated citrus zest called Gremolata is sprinkled on top. The dish is traditionally accompanied by Risotto alla Milanese or Saffron Risotto. It's the only dish in Italy to be served with rice or pasta.
Ingredients:
1/4 cup olive oil
1.2kg sliced beef shank with bone marrow
2 tbsp butter
1/2 cup chopped onions
1 tbsp minced garlic
1 cup peeled, seeded and chopped tomatoes
1/2 cup chopped carrots
1/2 cup chopped celery
1/2 cup chopped red pepper
1 cup dry white or red wine
1/2 tsp dried thyme
2 pcs bay leaves
3 sprigs parsley, minced
6 pcs basil leaves, tear to pieces
freshly ground pepper
dash of cayenne pepper
2 tsp salt, or to taste
2 tbsp capers, drained
Gremolata
Orzo Pasta or other pasta cooked 'al dente'
Procedure:
In a heavy casserole, heat olive oil. Sear beef shanks one at a time until brown on all sides. Remove and set aside on a plate.
In the same casserole heat butter. Stir in the onions, garlic, tomatoes, carrots, celery and red pepper. Cook over medium heat stirring occasionally until vegetables are limp. Stir in the wine, thyme, basil and peppers.
Return the beef shanks to the casserole and slow-cook for 2 hours or until almost tender.
Add salt and capers; correct seasoning. Cook further until meat is very tender.
Keep warm on a platter and sprinkle with brilliantly colored Gremolata. Serve with Orzo Pasta.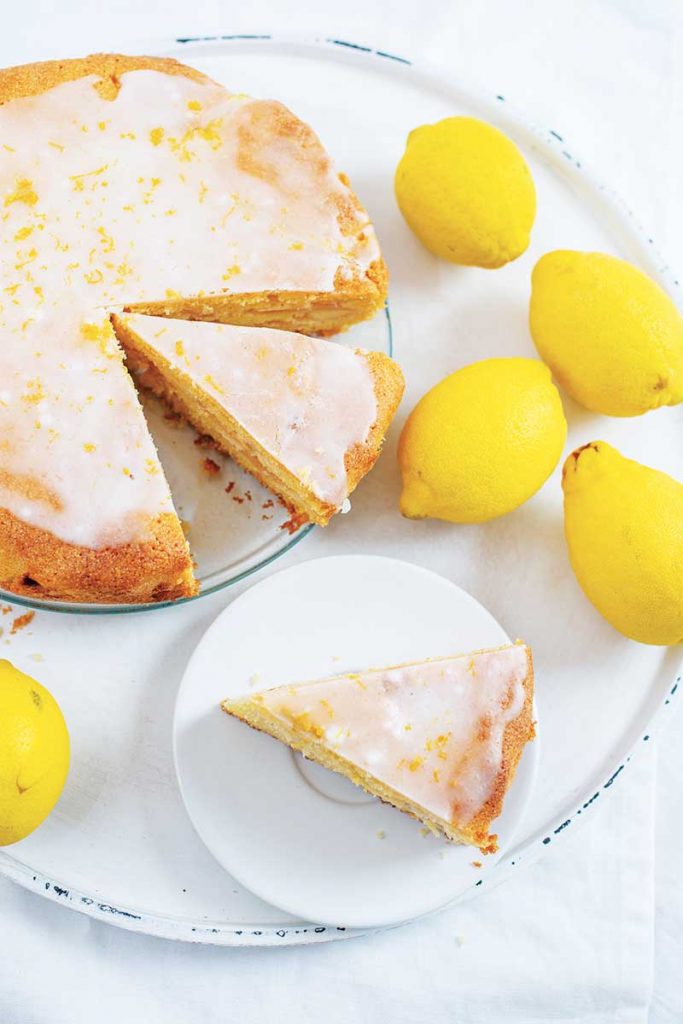 Garbanzos Lemon Torte
Ingredients:
CRUST:
Mix 1/2 cup butter, 1/4 cup confectioners' sugar and 1 cup all-purpose flour. Rest the dough in the refrigerator for 30 minutes.
TORTE:
1 can (450g) garbanzos, peeled
2 tbsp lemon juice
1/4 cup extra-virgin olive oil
1/2 cup canola or corn oil
2 tsp grated lemon zest
2/3 cup all-purpose flour
2 tsp baking powder
1/2 tsp salt
3 pcs large egg yolks
2 tbsp black or white sesame seeds
2 pcs large egg whites
1/8 tsp cream of tartar
1/2 cup sugar
Procedure:
Preheat oven to 350˚F. Grease and lightly flour a 9-inch round pan with removable bottom. Pat crust at the bottom only of prepared pan.
In a blender, puree garbanzos with lemon juice, olive oil and canola oil. Mix in the lemon zest. Set aside.
In a bowl, make a well with sifted dry ingredients. Pour in the center the garbanzos mixture, egg yolks and sesame seeds. Blend well and set aside.
In another bowl, beat egg whites with cream of tartar until frothy. Gradually add sugar; beat until stiff. Fold in the garbanzos mixture into the beaten egg whites. Pour batter in prepared pan. Bake for 30 ot 35 minutes. Let cool. Remove from pan and transfer to a cake platter. Drizzle Glaze* over the torte.
*Glaze:
Ingredients:
1/4 cup butter
2 tsp lemon juice
1/3 cup sugar
2 tbsp rum
Procedure:
Melt butter in saucepan. Stir in lemon juice and sugar. Boil and stir until the sugar melts. Remove from heat and stir in rum.
More recipes in my cookbook available at National Bookstore: SWEET TEMPTATIONS – Cakes, Pastries And Other Bakes