East, West, and the Pacific
Homare at The Bellevue
You know the quality of the food will be excellent when the hors-d'oeuvres are already good. I can't count how many of the eggplant, radish mille-feuille with spicy tuna, and traditional tamagomaki I ate before Homare was officially open. I had never been to Hatsune, the Japanese Restaurant at Bellevue Hotel Manila, so I can't really say what major changes have been made as it rebrands to Homare Japanese Restaurant and Grill. However, as I was told, a major renovation is that it now includes a section with Yakiniku grills, where people can enjoy grilling their own meat. While Yakiniku has long been a part of our experience with Japanese restaurants, the food arrives grilled for you. Due in part to the samgyeopsal craze, no doubt, Homare offers a more high-end experience using premium Angus beef. Patrick Chan, Managing Director of the Bellevue Manila, said he did his own research before incorporating it in Homare. Old favorites will remain, such as Gindara Teriyaki, Tempura, Chicken Yakitori, Tsukune (a ground chicken meatball yakitori), UnagiKabayaki, Tokyo Sliders, Gyudon, andKatsuoTataki Salad, as they include new specials like an impressive Homare Roll. The interiors are as soothing and as chill, as it gets, with soft lighting and wooden accents. You don't get that at your neighborhood samgyeopsal place.
Australia's Navel Oranges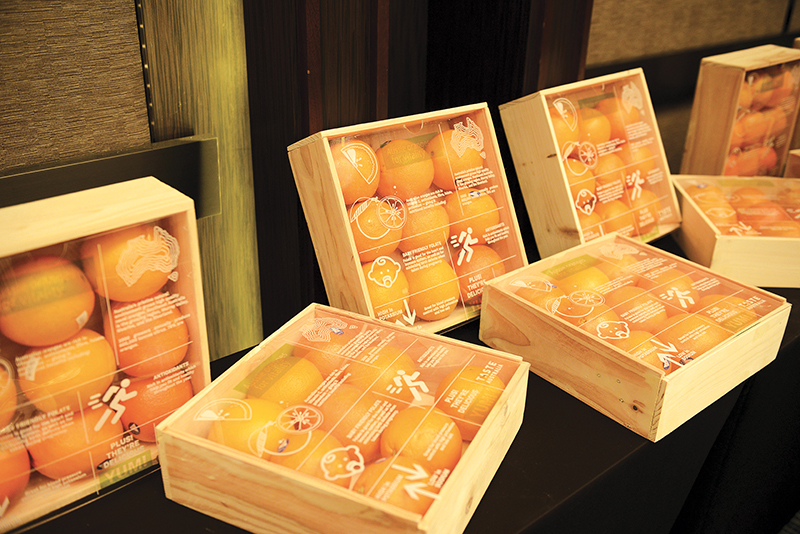 Australia's Naval Orange Trees experience hot summers and cold winters, so the trees are constantly stressed, and all their energy is concentrated on producing fruit. This is a mild orange that peels like a rambutan, the tuklapan variety. It's seedless, which makes for an easy hydrating snack. From when I tasted it at its launch last July, where it really stood out is in the Smoked Duck Breast with a Candied Orange Rind. On the whole, I feel that this orange is better for eating rather than cooking because it has none of the aggressiveness of other varieties. It also came in a beautiful wooden box, that you'd wish all fruits were packaged this way.
Maruyoshi is Oishi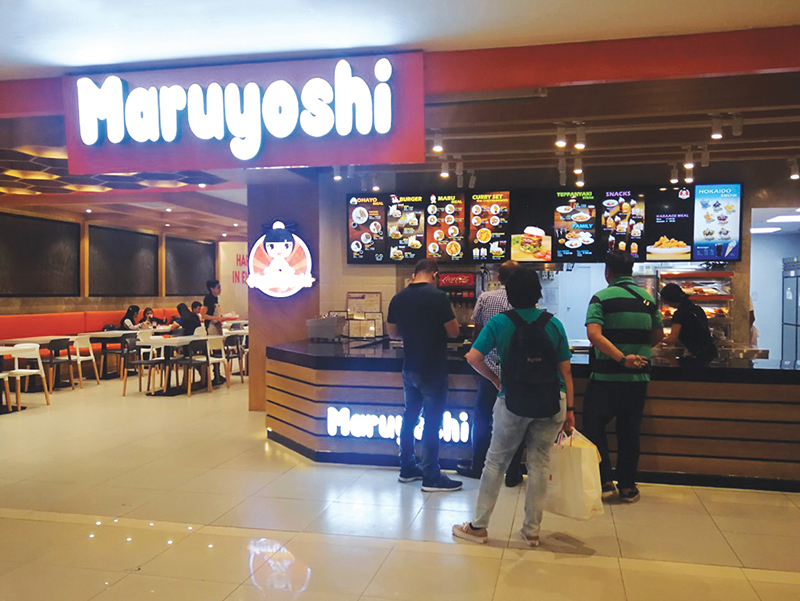 Maruyoshi is my current favorite fast food restaurant. It's the only store I can afford to eat at based on the standards of food reviewers at the New York Times and other esteemed publications, which means visiting a restaurant thee times at your expense (well, at the publication's expense, but that is not a practice done here).
I didn't know anything about this burger and fried chicken chain, apart from the fact that it's really from Japan (as opposed to merely Japanese-themed) because I remember seeing a branch at Dotonbori in Osaka, Japan, which we ignored because you don't go to Japan to eat chicken nuggets and burgers, although part of me wanted to try it. Having tried the Maruyoshi branch at Starmall, Alabang, we really should have eaten at this homegrown chain instead of the giant conglomerate one, because Maruyoshi is infinitely better than the said chain in oh so many ways, which isn't really a surprise because even fast-food chains in Japan are pretty high quality.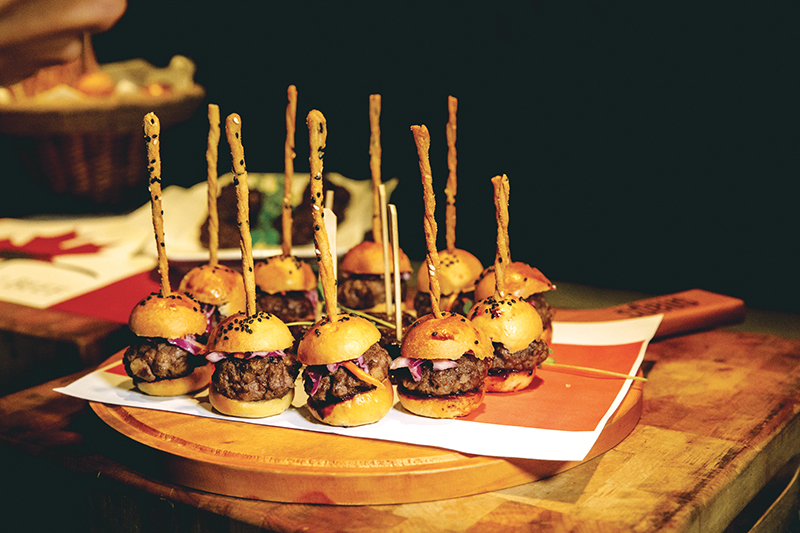 Burgers start at P35, and even that basic burger just tastes good. Even the bigger ones, a Mega Burger at P120 and the Mt. Fuji at P180 à la carte seems like a steal. It becomes P200 to P250 with the requisite coke and fries. My favorite is the chicken karaage and the chicken katsu, which you can choose to be dusted with curry powder, and I always do. What sets it apart from other chains is that it is actual chicken, cut into pieces, breaded, and fried. It doesn't use the pink slime—that amalgamation of chicken and what can only be best described as "other stuff"—that most other fast-food chains use, as well as the ones you buy at the supermarket. 
They even go the extra mile of using dark meat, which makes for a more tender, flavorful, and juicier nugget. I remember sitting there alone in the store, and thinking, 'I hope you don't close'.
The only thing I didn't like was the sundae called "snow", which didn't have the smooth creamy texture, that Japanese ice-creams are known for. I haven't tried the spaghetti or even the actual fried chicken itself, which might sound weird, but the fact that I chose either the fillet or the karaage tells you much about the quality of those nuggets.
Even the interiors are pleasant blonde wood, subway tile, orange, and gray. There is a weird beehive-like wooden accent that reaches the ceiling, which is very pleasant to my eyes.
Canada Beef: Meat and Potatoes
It seems Canadian beef event gets bigger every year, and this year included more premium cuts as well. Slowly but surely, they are making tiny inroads in the premium beef market dominated by the U.S. and Australia (and maybe even Japan, which is very premium). The "Beefing It Up with Canadian Gastronomy" event also gets the other iconic Canadian products front and center as well. The welcome drink, for instance, combined the Philippines' and Canada's most prized products, maple and mango. The maple added a smokiness and depth that I quite liked. It's also not as sweet as you would imagine, although if you've ever tasted 100% maple syrup, you know that it's really not sweet; it's quite complex, and even a little runny.
Chef Mathieu Parè, Executive Director, Canada Beef Center of Excellence, who flew in for the event, explained that the Canadian System of rating beef is more demanding than that of the United States and that the genetics of Canadian Cattle is more consistent owing to the cold. This is significant because the breeds of cattle that are known to produce the best beef are acclimatized to temperate regions. A unique trait of Canadian beef is that the cattle are grass-fed and finished with grain and barley, which gives it a unique flavor.
The Chef's Table event is a wonderful showcase of Canadian beef. The Japanese Cowboy Tataki made use of calamansi instead of yuzu, and flax instead of sesame seeds, and introduced one of the more premium beef grades. The Grand Maman'sTourtière Slider, my favorite of the appetizers, is a dish Chef Mathieu based on his grandmother's recipe of tourtière, which is a traditional  French-Canadian meat pie. The Canadian Surf and Turf Mac and Cheese, which Chef Mathieu said was something he executed for the first time, is an elevated dish without losing its homestyle origins. I preferred the lobster in this dish and was surprised that it was tender and had good flavor because I've had many imported dry lobsters in my day. It's a real representation of Canada and Chef Mathieu explained that the lobster is from the Atlantic and the braised chuck, the Canadian prairie. The main course is a huge chunk of Canadian Rib Roast. It's roasted on charcoal and seasoned with a centennial rub, from a recipe in Canadian Gastronomique in 1967. It is named as such because 1967 was the centennial of the Canadian Confederation. It is comprised of rosemary, celery seed, and marjoram, among others. They also used the beef fat or tallow in the mignardises (blondies, brownies, and nanaimo bar), which gave it a rich and salty undertone. It's accompanied by a 2013 Pillitteri Reserve Vidal icewine. It is acknowledged that Canada produces the best icewines in the world.
The event also introduced us to multi-awarded wines from the Pillitteri Estates Winery, located on Niagara on the Lake in Ontario, Canada. The Pillitteri Gewurztraminer Riesling VQA 2017 and a Pillitteri VQA Exclamation Reserve Merlot 2015. The Gewurztraminer is well-rounded with bright acidity and the Merlot is a light red suitable for a warm climate such as ours. VQA stands for Vintner's Quality Assurance, which is the Canadian wine regulatory system.
Crista McInnis, Senior Trade Commissioner and Counsellor of the Embassy of Canada, talked about the Potato Sustainability Initiative where they introduced seeds sourced from Nova Scotia and Prince Edward Island,  where Canada's best potatoes are grown. The project has been introduced in Benguet, Bukidnon, and Davao del Norte.  She reports that the potato yield is already 10 to 50 times what it used to be, which benefits our local farmers. These potatoes are sold at Robinson's Supermarkets and S&R.
Canadian Beef is available through the following suppliers: Hightower Inc., Alternatives Food Corporation, and Mayon Consolidated. Pillitteri Estates Winery is distributed by Global Noble International Corp. Canadian Lobster is distributed by Mida Food.
Hits: 233