The Master is at Work at Minami Saki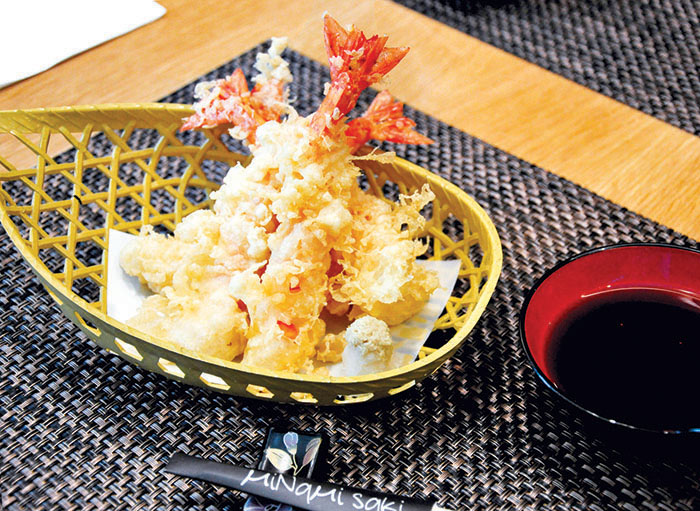 On a very hot summer's day, we were invited to try the offerings at Minami Saki by Astoria.
The thought of sushi on scorching hot day made the trip all the more exciting. I must admit, I am very critical of Japanese restaurants. There are so many of them around, not counting those that specialize in ramen or katsu. Sadly, the quality of food varies greatly even if their prices don't seem to be too far off. I wouldn't consider myself as an authority, but from the sheer amount of Japanese food I've consumed, I think I'd know good from bad, acceptable from great.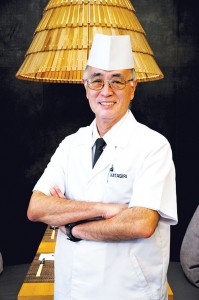 Even before we were served, just being seated and observing the interiors, you get the sense of understated elegance. While most Japanese restaurants bombard you with banners, posters, masks and statues in the hopes of exuding a sense of "authenticity", Minami Saki goes beyond the superficial and embraces the essence of Japanese design, beauty in minimalism. Textures replace bright colors, wood grain and pattern replace tacky décor. Everything in the restaurant's interiors promote tranquility and harmony. Designers Ivy and Cynthia Almario have seamlessly mixed materials like bamboo, stone and steel that give a feel of traditional Japanese eateries but is at the same time contemporary.
A trip to Minami Saki is, of course, about the food, and their kitchen is headed by none other than Chef Kimito Katagiri. Affectionately teased as Manila's Nobu, Chef Katagiri's more than three decades of experience in the metro's top hotels place him above the rest, considered an icon in the local Japanese restaurant scene. Like many great leaders, Katagiri-san is humble and generous with his talents. And like any great teacher, Chef Katagiri continues to learn and evolve. Two of his specialty dishes—Aburi Sushi and Kaki Papaya Yaki, are not traditional Japanese dishes. But in Katagiri-san's expert hands, these "new" dishes remain familiar, as if they've been on the Japanese menus all this time. I have to admit, just a few weeks before our trip to Minami Saki, I already tried these two dishes at another Japanese restaurant — one of Chef Katagiri's previous domains. And while I enjoyed those dishes too, it was when I tasted them at Minami Saki that I realized how a true master can never be replicated. The said dishes, though similar in looks and general flavors, are miles apart.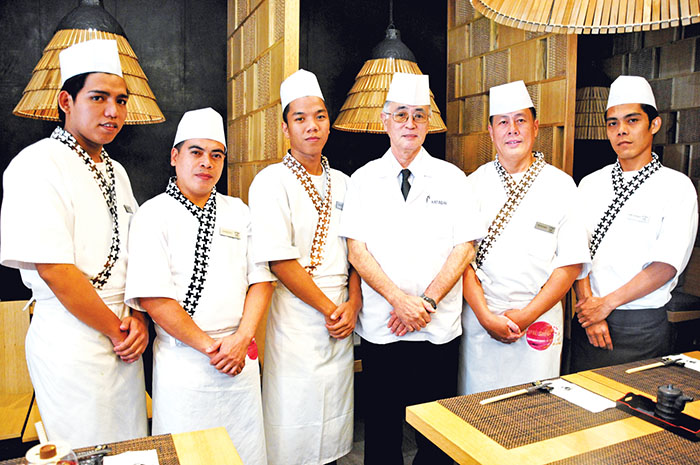 The egg-based sauce used in both the Aburi Sushi and Kaki Papaya Yaki was more refined, clearly superior in Chef Katagiri's hands. The flavors, though subtle are more distinct and deeper, the egg giving richness without being egg-ey, a sign that it was cooked through and at the right temperature. I realized that masters may share what they know, but their skill and attention to detail cannot be easily be replicated and it will always come out in the food they serve. We may have been served similar dishes before but only at Minami Saki were we able to experience how these dishes were meant to taste like.
Of course, other Japanese favorites are also available at Minami Saki. Classics like tempura, the freshest sashimi and meltingly tender Angus tenderloin. The desserts were presented in an elegant tableau. Their most famous dessert, the wasabi crème brulee, just had that hint of bite but was no means overwhelming. If you didn't know wasabi was an ingredient in there, you'd go, 'that's a nice twist, I wonder what that is.' We capped the meal with a cappuccino, which was just as excellent as anything we were served. You can see the cream and the coffee in neat layers for a visual treat.
Minami Saki is open daily from 11:00am-2:30pm and from 6:00pm-10:30pm and is located at the ground floor of Astoria Plaza, 15 J. Escriva Drive, Ortigas Business District, Pasig City. For reservations, please call 6871111.