Sweet 16 Tea Party and You Are Invited!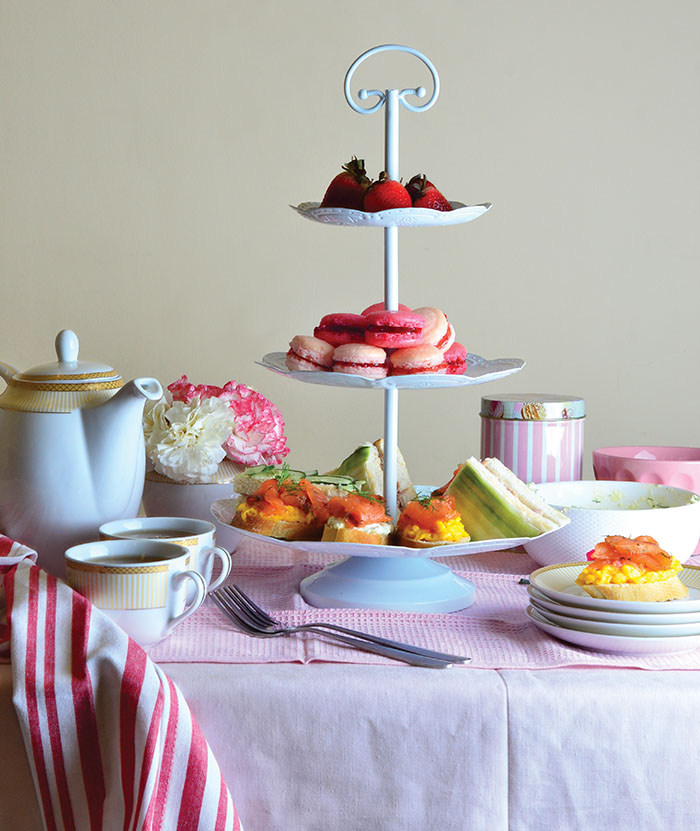 Sweet 16! We're 16 now, creeping up on two decades and it's really been the sweetest of times. Back in December, as we were in the thick of planning for 2016, we were thinking of what theme we'd have for our anniversary issue. The Cook team's "baby girl", Michael Pituc, being his usual teeny, girly self thought of Sweet 16 as our theme. Of course, in his mind, it would be awash in pink, in all its shades, with everything cute and cuddly and pretty and nice.
The girliest thing I can think of when it comes to food and drink are tea parties. Little sandwiches, dainty desserts, pretty cups, saucers and teapots. While conceptualizing the cover, I imagined a mostly pink layout. French macarons, salmon and cucumber sandwiches, things that are high tea mainstays surrounded in pink fabric and flowers. The only worry I had was that I hardly bake, and I was set on having French macarons on the cover. The macarons I made aren't perfectly shaped but they taste great and with a few more attempts, I'll probably get it looking good enough to sell. I also saw a really cute cucumber sandwich on Pinterest (which our Managing Editor Maggie insisted I need to have on my phone, so she installed the app herself). My usual photo shoots involve savory dishes, plated simply and with one or two props on the side. This time, for our Sweet 16, I needed to be on full teeny girl mode and even went as far as shopping for flowers and cutesy props.
Fortunately, high tea isn't all about sweets. Cured salmon is one of the easiest and most rewarding things you can make. Gravlax or gravadlax is almost exactly like smoked salmon, without the smoke. I also think it has better texture and retains more of salmon's oily goodness. Paired with dill cream cheese and creamy scrambled eggs, these bread-toppers are as good as they get. The cucumber wrapped sandwiches don't just look good either. Typically used inside the sandwich, shaved ribbons cucumber are even better on the outside.
You can customize your tea party with whatever you want. Scones and jam are a classic but you can also pick different pastries, fruits and sandwiches. Tea sets aren't just for little girls to play with. Put yours to good use and have a bit of fun! ■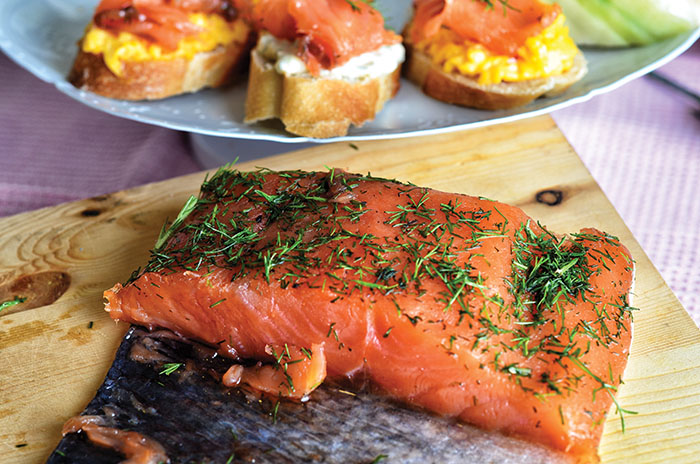 Cured Salmon
Ingredients:
1 kg salmon fillet
1 cup rock salt
1 cup light brown sugar (washed sugar)
1 tbsp pepper
2 tbsp chopped fresh dill
Procedure:
In a bowl, mix salt, sugar, pepper and dill.
Generously coat all sides of the salmon, completely covering the salmon.
Wrap in a few layers of cling wrap and place in a tray or platter.
Place something a little heavy on top, like a plate and place 2 cans on top for added weight.
Keep in the fridge for 2 whole days.
After 2 days, remove salmon from packaging and rinse off curing solution.
Dry cured salmon with paper towels and slice thinly or wrap and keep in the fridge till ready for use.
Serve with dill cream cheese or scrambled egg on bread.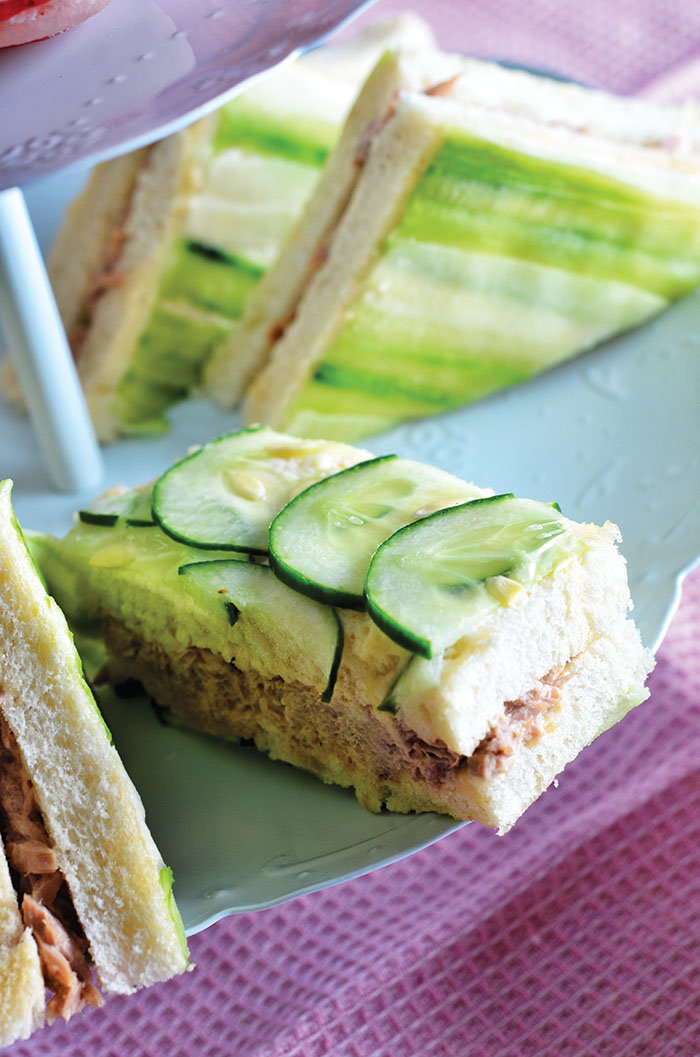 Cucumber-Tuna Sandwiches
Ingredients:
2 large cucumbers
2 cans tuna in brine
6 slices white bread
3 tbsp mayonnaise
1 small minced shallot
1 tbsp pickle relish
Procedure:
Mix tuna, 3 tbsp mayo and shallots and pickles in a bowl. Keep chilled.
Peel cucumbers. Continue peeling away to create long ribbons.
Lay ribbons on a paper towel, overlapping to form a square the size of a bread slice. Dry cucumber strips by dabbing with paper towel.
Slice crusts off bread, spread with a thin layer of mayo and place on top of sliced cucumbers, mayo-side down.
Slice excess cucumber off and repeat the same with remaining bread.
Make sandwiches by filling two slices of bread with tuna mixture. Keep chilled until ready to serve.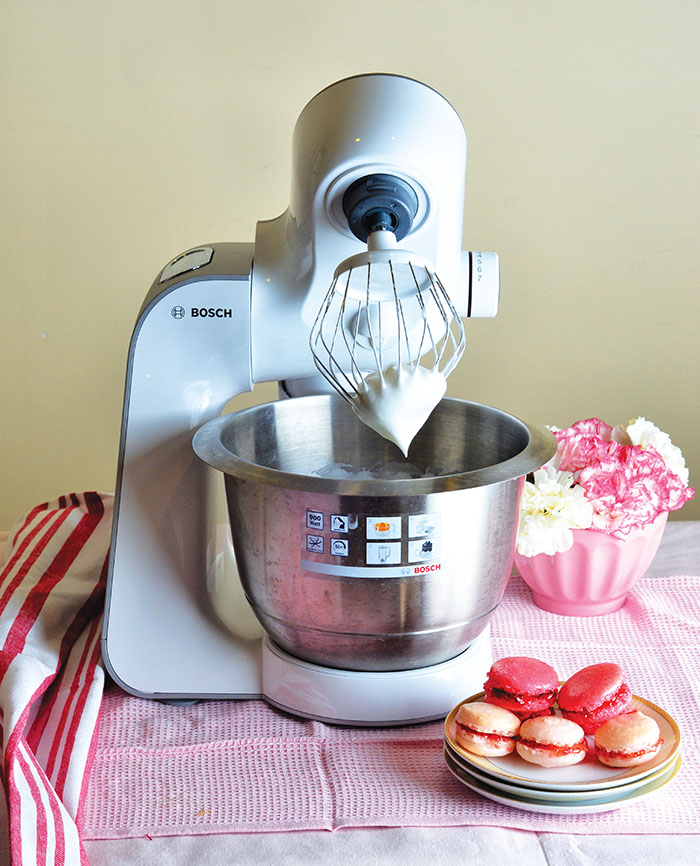 Basic Strawberry Macarons
Ingredients:
1 cup ground almonds
1 1/2 cups powdered sugar
3 egg whites
1/2 cup granulated sugar
for color
2 drops red or pink food color
for the filling
Procedure:
Sift almond flour and powdered sugar together in a bowl. Set aside.
In a mixer or with a bowl and whisk, beat egg whites until foamy.
Slowly add sugar while beating until whites form stiff peaks and are shiny.
Pour almond/sugar mixture into egg whites. Fold gently until almost completely combined. Add food color, a drop at first then fold some more until well combined.
Place mixture in a piping bag and pipe onto silicone mat place on top of a baking tray.
Pipe 1-inch circles, forming domes at the start and let the mixture flatten and spread out a bit.
Let macarons dry out for at least an hour to form a dry and brittle outer surface.
Bake in a preheated oven at 150°C for 10 minutes.
Let cool and dry completely before attempting to handle.
Take a piece and spread some jam on the flat side. Top with another piece of macaron.
Hits: 187