63rd Nutritionist-Dietitians' Association of the Philippines Annual Convention happening February 21-24
The country's largest accredited organization of healthcare professionals in the nutrition and dietetics fields, the Nutritionist-Dietitians Association of the Philippines (NDAP), will again lead another series of scientific sessions that aims to address the most pressing issues impacting the profession in the upcoming 63rd NDAP Annual Convention set February 21-24, 2018 at the SMX Lanang Premier Convention Center, Davao City.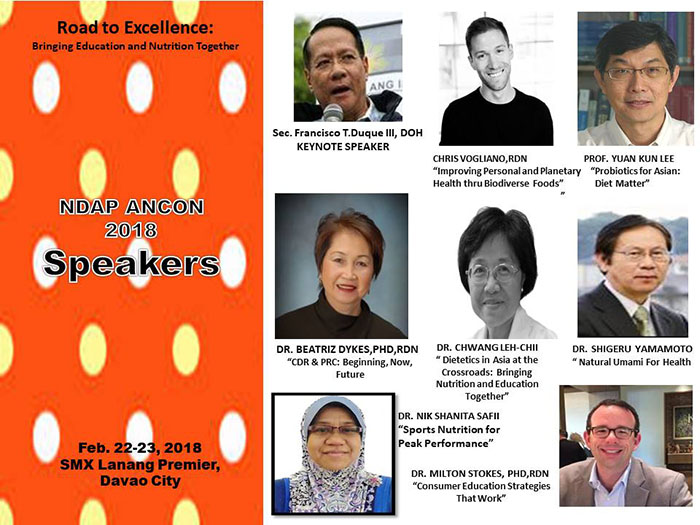 Battling misinformation
Celebrating this year's theme, "Road to Excellence: Bringing Education and Nutrition Together," the event reinforces NDAP's steadfast mission to reach out to its community of practitioners and various stakeholders, this time also focusing on communicating the timely relevance of disseminating factual, reliable information on the latest health and wellness practices and products in this time of misinformation and rampant "fake news".
According to Ms. Eloisa E. Villaraza, Vice-President of NDAP, the organization is adamant in using digital technology to fight off false and misleading online content by spreading truthful, science-backed published information on health, wellness and nutrition.
"Apart from the publication of position statement in our website/ social media page and having a pool of reviewers for published content, NDAP is very active in offering seminars with speakers who are the best in their field of expertise and bringing these seminars to provinces so more RNDs can be reached and updated. Also, available soon are articles that will be authored by well recognized health care practitioners in their field," said Ms. Nives C. Serra, Chairperson, Continuing Professional Development.
The three-day congress aims to engage and benefit registered Nutritionist-Dietitians from all over the Philippines, including the hospital sector from both private and DOH-assisted hospitals, local government hospitals, the food and food service industry, academia from various universities and colleges with nutrition courses, hotel and restaurant business, various government offices involved in nutrition researches, food regulation and drug companies.
As with the previous years, this year's convention will feature dynamic analyses led by a powerhouse line-up of resource persons, in particular seven foreign speakers from the Academy of Nutrition and Dietetics and the Asian Federation of Dietetic Associations who will shed light on key topics and emerging trends that are shaping the health and wellness profession.
Offering valuable insights on critical issues and the role of nutrition and dietetics professionals in today's fast-paced and technology-driven world, among the invited key speakers are Dr. Esther F. Myers (PhD, RDN, FAND), Dr. Chwang Leh-chii (President of the Asian Federation of Dietetic Association, Taiwan), Dr. Milton Stokes (Registered Dietitian / Nutritionist and former owner of One Source Nutrition, LLC), Beatriz Dykes (PhD, RDN, LD, FADA, FAND), Chris Vogliano (MS, RD/ sustainability consultant, speaker, faculty and researcher of Massey University, Kent State University), Dr. Nik Shanita Safii (Associate Professor  Dietetics Program, Faculty of Health Sciences, National University of Malaysia), Professor Yuan Kun Lee (Associate Professor, Department of Microbiology, Yong Loo Lin School of Medicine, National University of Singapore), Shigeru Yamamoto, Ph.D., R.D (Professor of Jumonji University, Director of Asian Nutrition and Food Culture Research Center), and Prof. Allan B. de Guzman, PhD (Dean, College of Education, University of Santo Tomas).
Apart from plenary sessions on hot issues in nutrition and dietetics, this year's gathering will also serve as a platform for camaraderie as attendees get to interact with the guest speakers, as well as connect with key personalities and top enterprises that can help them leverage their profession.
Other highlights include simultaneous sessions where participants can choose to attend a session interesting and relevant to their field of practice; network with foreign Nutritionist-Dietitians experts; a fellowship night, lunch symposiums, treasure hunt with exhibitors (freebies, prizes, informational materials), as well as technical/ sight-seeing tours in Davao, among many other activities.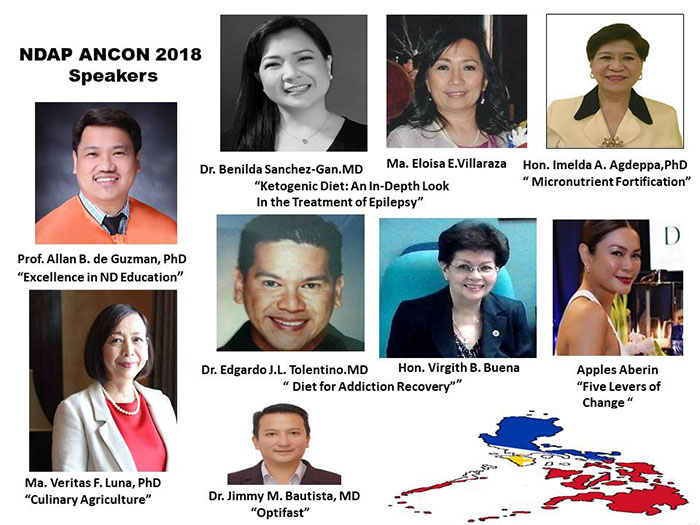 One in passion
In pursuance of its commitment to serve and inspire its growing network of professionals, NDAP has been actively promoting and organizing various activities to serve their members and stakeholders. In recent months, NDAP's efforts include the activation of an official social media page on FB and a website wherein members can interact, discuss, and get the latest reliable updates on the nutrition and dietetics world. The website is currently undergoing update to be more user friendly and accessible not only to RND members but to the general public as well.
In the countryside, NDAP has also been providing relevant and current Continuing Professional Development Seminar in Manila and key provinces and reaching out to members affected by calamities, specifically the Marawi Feeding program organized by NDAP CDO-MisOr . It has also re-organized the NDAP Chapters and clustering them so they can now organize regional conventions.
NDAP is also reaching out to many GO and NGO's like conducting nutrition, health and wellness programs for the Supreme Court of the Philippines, DILG-NCR, PNP, Philippine Olympic Committee for the SEA Games 2017 where NDAP President Zenaida F. Velasco was part of the Nutrition Team, PRC, Yakult Philippines, etc.  The NDAP was also involved in the IRR of the ND Bill RA 10862, code of ethics, operational guidelines for the BOND.
"These efforts and more demonstrate the core mission and advocacies of the NDAP upto present. The essence of relevance is that it focuses on results – the NDAP is known for what it does to serve the profession to the fullest. This Board's theme is #OnePassion#OneNDAP," concluded Ms. Zenaida F. Velasco, NDAP President.
The 63rd NDAP Annual Convention and General Membership Meeting is made possible with the support of The Academy of Nutrition and Dietetics, Asian Federation of Dietetic Associations and major sponsors Abbott International Laboratories, Otsuka Pharmaceutical, Nestle Health Science, Monsanto, Optifast, Coca-Cola, Unilever Philippines and Fresenius Kabi, the Chapter's Night Sponsor. THE NDAP 2018 Annual Convention Organizing Committee is composed of Prof. Zenaida F. Velasco (Honorary Chair), Eloisa Villaraza (Overall Chair), Guillerma Apigo (Co-Chair) and Nieves Serra (Scientific Program Chair).
For more information on the upcoming NDAP Annual Convention and to know more about the complete event lineup and conference registration details, e-mail: secretariat@ndap.org.ph or call (632) 845-1651.
Hits: 188