Häfele Philippines
Passion and Vision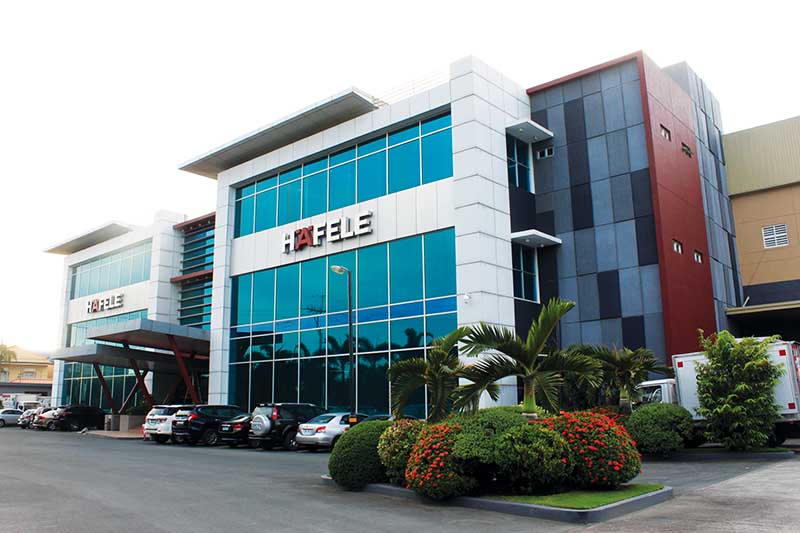 Häfele started in 1923 when Adolf Häfele and Hermann Funk set up a store for furniture joinery in Württemberg, Germany. They then moved the business to the town of Nagold in Southwestern Germany, where they established a network with the furniture manufacturers in the region. The company also added accessories and carpentry tools to their assortment of products.
Häfele began expanding outside Germany in the 1960s and continued well into the 1990s. They added more items as its clientele developed to include engineers, architects, and interior designers—door hardware, bathroom accessories, kitchen storage solutions, and kitchen appliances. Thus, Häfele became well-known for its top German-quality products which are preferred by the leading commercial developers in Europe.
In the Philippines, Häfele started to serve the local furniture industry as a small sales office in Manila and Cebu under Häfele Singapore. In 1996, Häfele Philippines became a subsidiary and had a small office/showroom and a warehouse in Pasig. From there, HPI expanded its DIY business by joining top home improvement stores and local hardware stores all over the country. With the construction boom in full swing, the company acquired major projects with hotels, airports, and malls. In 2009 HPI established their new offices in Taguig with a spacious warehouse to accommodate customer demand, a state-of-the-art showroom, and a DIY retail shop.
In the furniture and construction industries, Häfele is most known for its architectural hardware and furniture fittings: door hardware (knobs, hinges, sliding door mechanisms), bathroom fittings (showers, faucets, sinks), and furniture handles, legs, and joinery but they have since developed modern home solutions—storage systems (wire baskets, electronic shelves), and home appliances.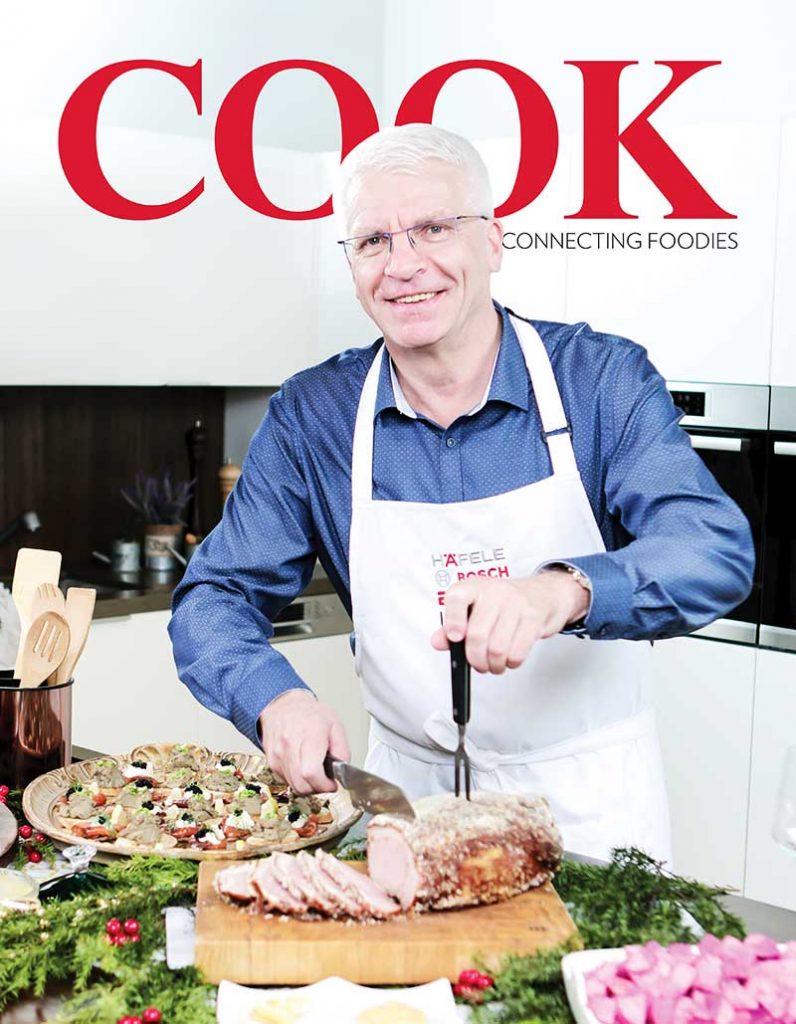 In 15 years, Häfele Philippines Inc. (HPI) has grown 20 times in revenue and employs close to 700 people. The HPI portfolio from pure construction and furniture hardware has expanded to four brands of appliances, sanitary, hospitality solutions, kitchen, and wardrobe cabinets etc. Häfele covers the full range of items from the very basic functional items up to the very high-end luxurious brands. Häfele cover all bases and full scale enterprises; from suppliers, developers and of course consumers, furniture companies small contractors. Häfele is also committed to the future with new wireless solutions for the hospitality industry and home appliances for Smart Home solutions.
Häfele Philippines now has 18 own showrooms nationwide, with three regional offices in Cebu, Iloilo, and Davao. Häfele has partnered with over 250 retailers all over the country.Häfele's brand identity is based on their core values – passionately customer-focused and a visionary entrepreneurial spirit.
Häfele Philippines, Inc. is located at Pedro Cayetano Avenue, Barangay Ususan, Taguig City 1638 Metro Manila, Philippines. For inquiries, call them at +632 842 3353 (phone) or +632 571 3203 (fax), or visit their website at www.Häfele.com.ph.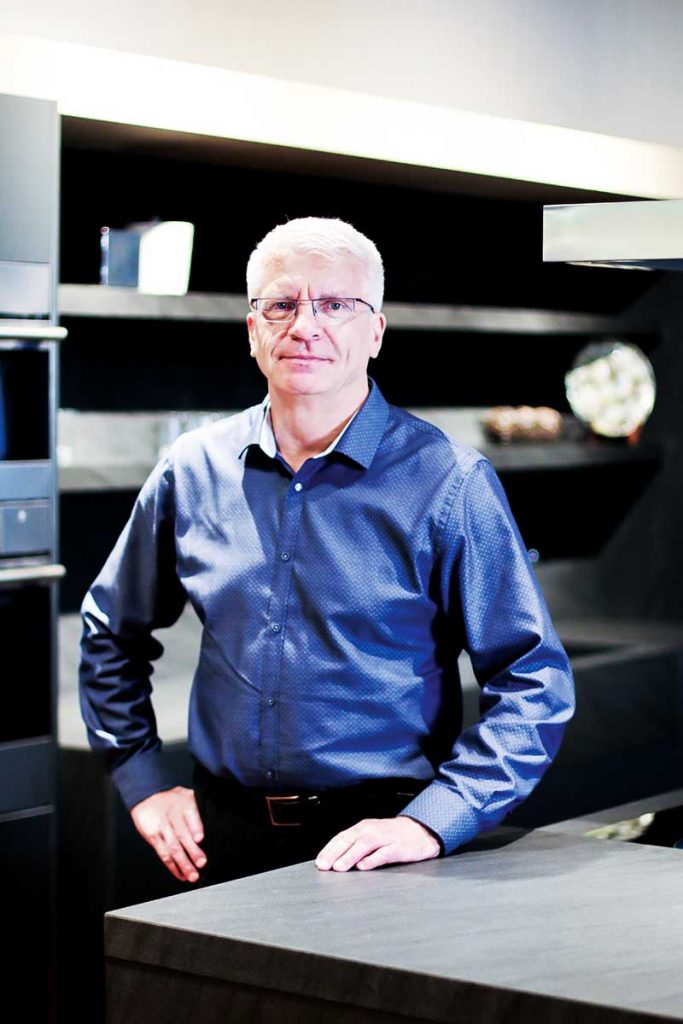 Veli-matti Kaikkonen: Steering Häfele to Greater Heights
When Veli-Matti Kaikkonen first joined Häfele—the German company, most famous for its architectural hardware and furniture fittings—in the Philippines in 2003, he started small. "I selected a small group of people who until today are still with me. It's the backbone of the company." Häfele back then was a very basic "b to b" (also known as b2b) company, supplying the goods needed for manufacturing. A "b to b" business involves manufacturers, wholesalers, and retailers doing business with each other. When a consumer comes into the picture, it is then referred to as a "b to c" business.
Häfele, which was established in 1923 remains a "b to b" business in its native country Germany to this day, but in the Philippines, Kaikkonen knew he had to expand the brand. "We approached the "b to c" business through third-party companies like home decor companies. This was done to make our name more known. When you're a "b to b" business you're known by very few. We wanted us to be more known as a household brand."
When it comes to appliances and kitchen fixtures, name recall in the consumer market is vital. Once people know the brand, you can move into the higher levels of the market. "You reach another segment, new developers and new consumers and customers," Kaikkonen explained. "Now we are there and it's been extremely interesting, you meet a new segment of people who have bigger demands, very high demands on quality and design." Judging by the sparkling new and luxe Häfele showrooms, which were recently renovated and opened in July of this year, those demands are soundly being met. "I like design a lot," said Kaikkonen. "This is something very close to my heart."
While kitchens, in particular, are a huge part of the company's portfolio, Kaikkonen acquired distribution rights to Bosch, ASKO, La Cornue, Eggersmann Kitchen, Schmalenbach Design, and KFF Furniture expanding the redefining the scope of Häfele Philippines Inc (HPI). Kaikkonen personally curated and hand-picked all the brands transforming Häfele into a lifestyle brand, a task he admitted wasn't easy. "It always takes time. It took two years to negotiate the Bosch line (then still known as Siemens) to make the deal. It takes time to develop opportunities, and you have to do your own research and judgment before you talk to the brands."
Häfele invested a lot in the showroom, but they are growing with the market demand.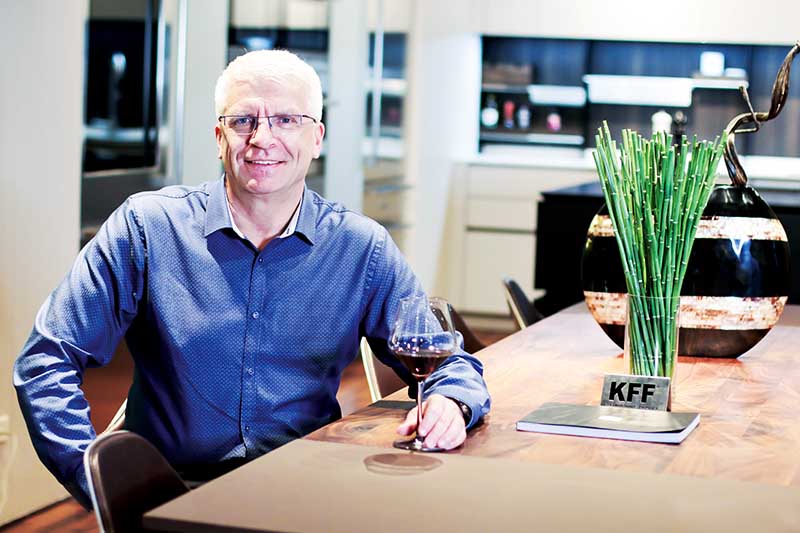 "The level of how you show your product grows," said Kaikkonen. "The level you go with higher items and the hardware items, you also need to show in a nice atmosphere with nice visual aids." The brand made available the kind of sleek, modern and minimalist designed kitchens and dining rooms, the kind of modern European and Scandinavian aesthetic you don't see much in this country.
Veli-Matti Kaikkonen was able to see a gap in the market and his persistence has paid off. "The ultra luxe condos being built now, even ten years ago you didn't have that. The kind of very, very high-end category where the kitchen must be imported."
While Filipino consumers automatically see Häfele and other European brands as a high-end product, Kaikkonen believes there is a huge potential for HPI brands to reach a large swathe of the market from basic to luxe. "I think we are in the ladders (of pricing). Even in hardware, we cover two or three levels of pricing. For some, the standard is fine, and others want finishing that is more expensive, or a special design. We want to satisfy different levels of consumers."
Kaikkonen only sees good things about being in an emerging market like the Philippines mainly because there is a lot of room for innovation. "The business climate in the Philippines is always upwards; there's still so much to do. It's not like in Europe where everything is thousands of years old already. This (Asia) is so much more open. Things are not established." He is bullish about Mindanao and the business prospects there. "You could really hear the optimism and the spirit of, 'Now we are somebody, and we are coming'. They don't want, anymore, to be the backyard. Every year it's good growth. The business climate is good, even with some disturbances like peso depreciation and interest rates, and the global price of oil we cannot do anything about."
Häfele goes where the big players go "vertical". This means big developers start to build commercial and business spaces along with residential ones in what was once a previously undeveloped area. When the developers develop the provinces, Kaikkonen said, the positive effect reverberates. "Local contractors will start to make their own hotels. The spirit is positive. They see people are coming, so they see that they need restaurants; they need more hotels."
Even after 16 years, Kaikkonen has not lost his competitive drive to bring Häfele to places it has never been before. The answer may partly lie in a positive clichè as Kaikkonen—a Finn—is also an avid racer. If there's anything the rest of the world associates with Finland, it would probably be saunas and race car drivers. The most world-famous Finns were (or are) in the highest echelons of motorsports like Formula 1 and Rally Car: Mika Häkkinen, Kimi Räikkönen, Jari-Matti Latvala, Tommi Mäkinen, Keke and Nico Rosberg are just some.
For Kaikkonen, who races rally cars and GT (Grand Tour, or more familiar in Italian parlance, Gran Turismo) cars as a hobby and has won races and championships along the way, the experience is something transformative. "For me, it's one of the most challenging sports. In rally, things constantly change, and when you come to a certain level, you start to overcome your fears. Same in motorsports and in business. There are things you need to learn: never panic, control your fear and emotion.
It includes some elements of danger and challenges, and you have to control them all, so they don't become too big in your mind. You have to find solutions. It's a mental game."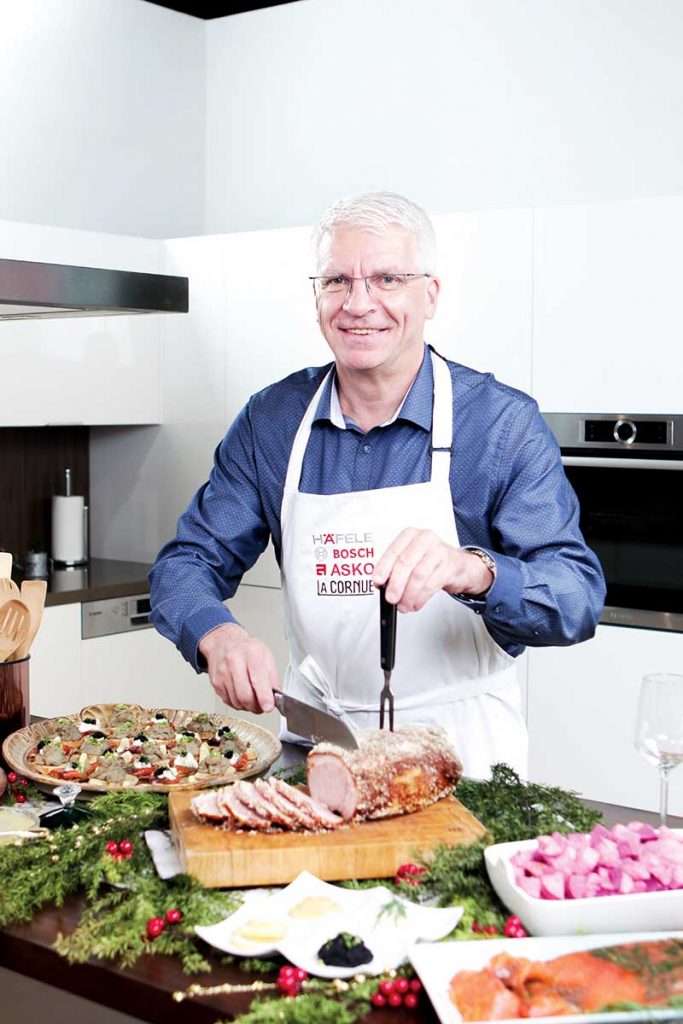 Kaikkonen said he doesn't often like to wax philosophical about the metaphors of racing and leading a corporation, after all, the reason he races is to get his mind off work among other mundane concerns, but it crosses his mind. "There are some elements I can correlate to the business life; overcoming challenges, the happiness of succeeding, and also team play. You have a co-driver and without the perfect cooperation, it wouldn't happen. It needs many elements, like the team who takes care of the car and the individual. It's like a company, you have to know to steer it individually, but you need the team to be successful."
As the captain responsible for steering Häfele's progress and growth in the region, Kaikkonen takes stock of the journey so far, "It's been extremely interesting years, still are, and I'm still looking forward to the rest."
Bosch Series 8: Coffee Machine
Imagine having your perfect cup of coffee, or the perk of that shot of espresso at the push of a button. Now imagine enjoying your perfect brew anytime, every time. The Bosch Series 8 Coffee Machine offers the ease and convenience of having your favorite cup of coffee no matter how you like it. All you really need to do is pick among the built-in coffee creations or customize up to 8 different coffee concoctions of your own. It's literally a matter of placing your cup, pushing a button and your drink will be ready in a few seconds.
Bosch Home Appliances prides itself in having innovative technology that is reliable and easy to use, all in a sleek, modern design that would be at home in any kitchen. It's like having your own barista at home, ready and waiting. Bosch Series 8 Coffee Machines handle everything from grinding the beans to heating and frothing the milk, to finding the perfect balance for whatever coffee creation you desire. Known for reliability and durability, the same engineering goes to each and every Bosch Series 8 Coffee Machine to ensure years and years of worry-free coffee enjoyment.
The engineers and designers behind the Bosch Series 8 Coffee Machine have thought of everything to make your coffee experience as indulgent as possible. From ample coffee bean storage, to grinding fineness, to providing the perfect brewing temperature and pressure, each and every cup is pure perfection. Speaking of cups, they even made the coffee outlet and milk frother height-adjustable, making sure your favorite cup, mug or glass fits perfectly. Even on those dark early mornings or late at night when you want a nice aromatic cup of coffee, the illuminated coffee outlet ensures that you can make that drink without turning the lights on and waking everyone up. Every little detail has been designed and engineered for maximum coffee pleasure with minimum effort.
Features:
One-touch preparation: Ristretto, Espresso, Espresso Macchiato, Coffee, Cappuccino, Latte Macchiato, Caffe Latte at the touch of a button.
My Coffee feature: Save eight favourite beverages with individual names and adjustable mixing ratio of milk and espresso.
Individual Cup Volume: Cup sizes adjustable individually, to ensure your cup gets filled just as far as you would like it to.
Coffee outlet and milk frother height-adjustable up to 15cm high; Latte Macchiato glasses fit underneath.
OneTouch DoubleCup: Prepare two cups simultaneously for all coffee and milk specialties.
Unique SensoFlow heating System which guarantees highest espresso indulgence with every cup, thanks to its ideal, constant brewing temperature.
AromaDouble Shot prepares extra-strong coffee with less bitterness and full aroma.
Innovative brewing technology with "AromaPro Concept."
High-value ceramic grinding unit "SilentCeram Drive."
Grinding fineness adjustable (multi-level).
CoffeeSensor Pro: The grinding unit automatically adjust to bean variety.
One-touch coffee milk specialities with especially fine-pored milk froth thanks to an innovative milk frother.
TFT display with interactive menu; programmable languages.
Water tank removable for easy refilling (2.4L volume).
Early warning if water tank or bean container is almost empty.
Flexible milk solution: Decide for yourself if you prefer connecting the provided milk container or using any other container, e.g. a milk carton.
Child safety lock.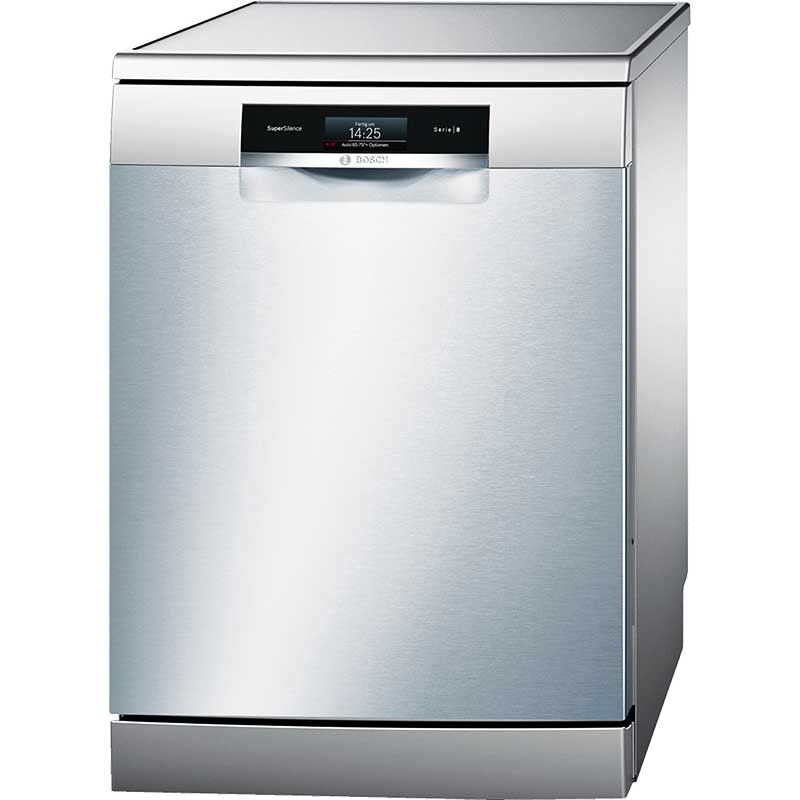 Bosch Series 8: Dishwasher
In today's food-centric world, meals have become a huge part of our personal and social lives. Sharing a good meal is indeed, one of life's greatest pleasures. With all that cooking and eating, there is one thing that is often overlooked after our plates have been emptied—who's washing the dishes? As the "World's Number 1 Dishwasher Brand", Bosch Dishwashers have time and again proven themselves as an essential part every kitchen.
Like the models that came before, the Bosch Series 8 Dishwasher is a showcase of unique innovation and dependable engineering. Built to withstand the toughest of dishwashing jobs, the Bosch Series 8 Dishwasher has been designed, tested and perfected to provide years of worry-free use.
Knowing the need to preserve precious resources, the engineers at Bosch have designed each dishwasher with the Bosch ActiveWater™ Technology.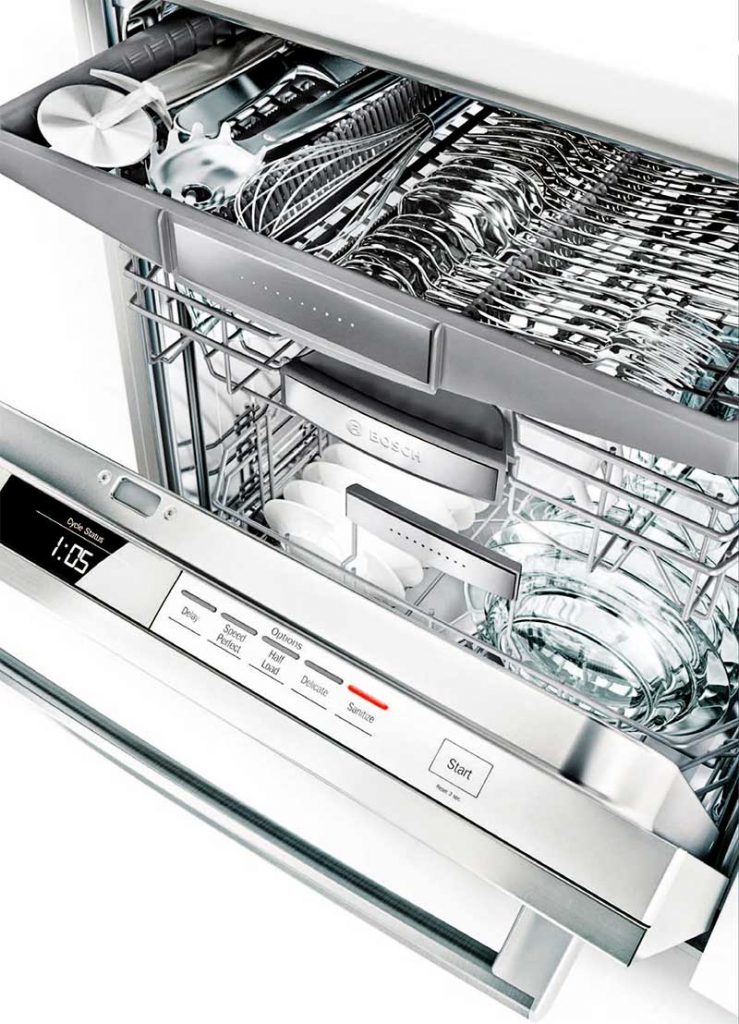 By making efficient use of every single drop of water, Bosch ActiveWater™ technology eliminates the potential wastage of precious water. Bosch engineers didn't stop at just saving you water. Zeolite™ technology, a world first, dries the dishes by transforming the damp air inside the machine into energy, saving you electricity—another important resource. Every detail was thought of, designed and engineered to give you every convenience possible. Even the noise that dishwashers make was significantly reduced, with Bosch's SuperSilence™ technology making the Series 8 Dishwasher the quietest in its class.
All these and more have made Bosch the World's Number 1 Dishwasher Brand. The Bosch Series 8 Dishwasher is a testament to the company's mission to provide the best home appliances with the most advanced technologies all for the convenience and peace of mind of its loyal users.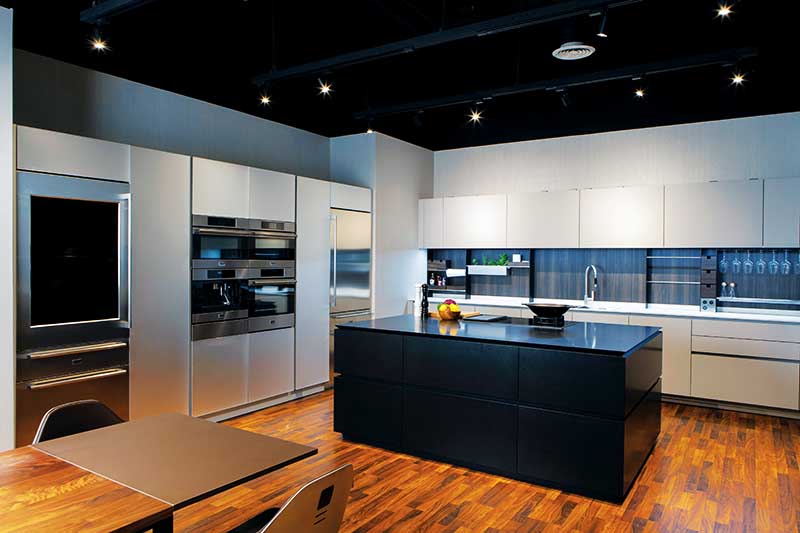 Asko Kitchen
The Scandinavian philosophy of minimalism is behind each ASKO appliance—timeless designs that would fit in any modern kitchen. ASKO offers a full range of kitchen appliances that feature the clean lines of Scandinavian design paired with quality, precision and durability.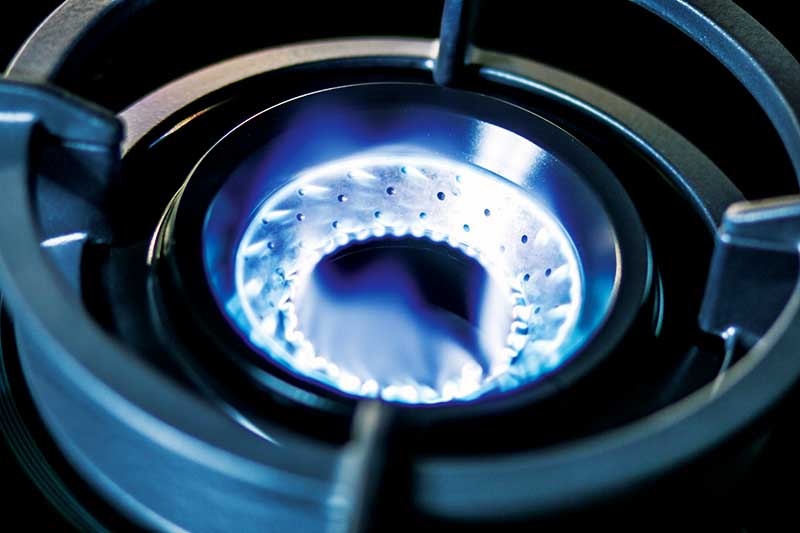 With modern kitchens placing a premium on minimalism, practicality and timeless design, ASKO appliances are a perfect fit. From cooktops to ovens to refrigeration, ASKO delivers premium quality appliances that feature innovation, attention to detail and craftsmanship in a sleek, contemporary design.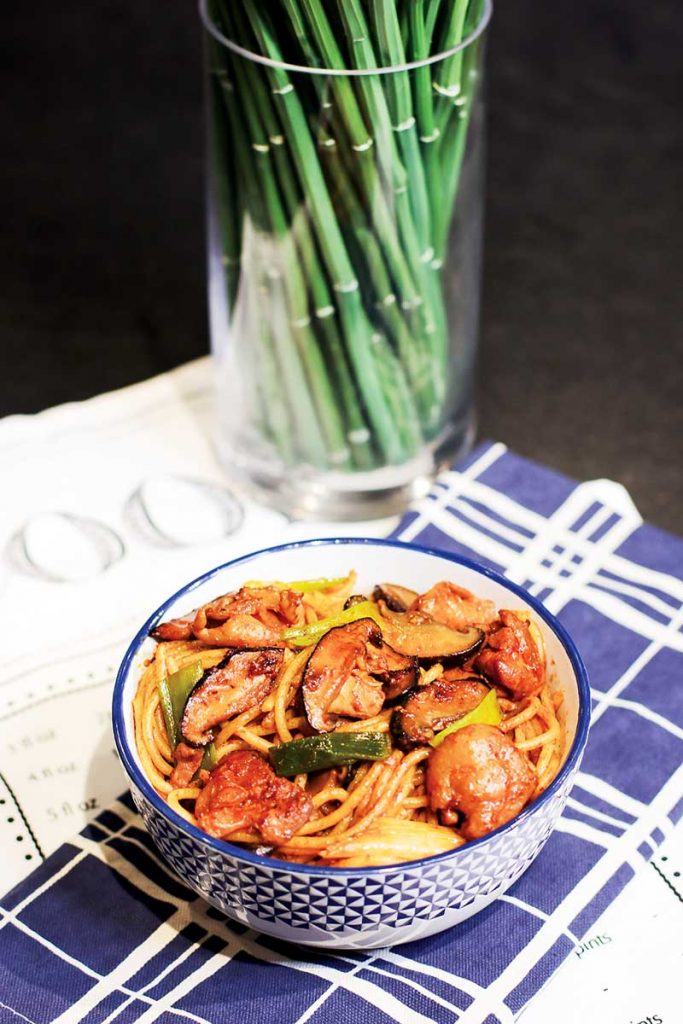 Korean Spicy Chicken Pasta
Ingredients:
500g boneless chicken thighs
2 tbsp Korean beanpaste (Ssamjang)
3 stalks leeks, sliced into segments
8 pcs fresh shiitake mushrooms, sliced into four
1 pc onion, peeled and sliced thinly
6 cloves garlic, minced
3 tbsp Korean chili paste (Gochujang)
2 tbsp honey
1 cup water
2 tbsp oil
300g cooked spaghetti
Procedure:
Slice chicken thighs into bite-sized pieces.
Place chicken in a bowl and mix with Ssamjang paste. Refrigerate for 3 hours.
Heat ASKO Volcano Burner with Wok and add oil.
Sauté marinated chicken and add onions and garlic.
Add mushroom pieces and leeks and continue to sauté for 4 minutes.
Add Gochujang paste, honey and water to the wok and simmer for another 2 minutes.
Place cooked spaghetti into the wok and toss with the chicken and chili mixture. Ensure that the pasta is coated with the sauce.
Transfer pasta to a plate or bowl and arrange chicken, mushroom and leeks on top.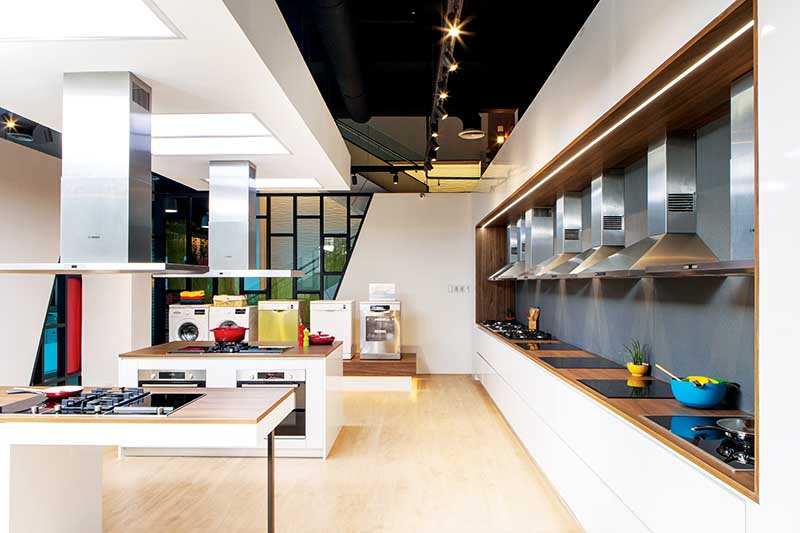 Bosch Kitchen
Cooking and keeping a household is no easy task, just ask any homemaker. From keeping a tight watch on the budget to being creative with dishes you serve to maintaining a spotless kitchen, it takes organization, imagination and determination—just like being in any profession. While doing house chores can sometimes be repetitive and exhausting, having the right equipment to make things a little easier definitely helps.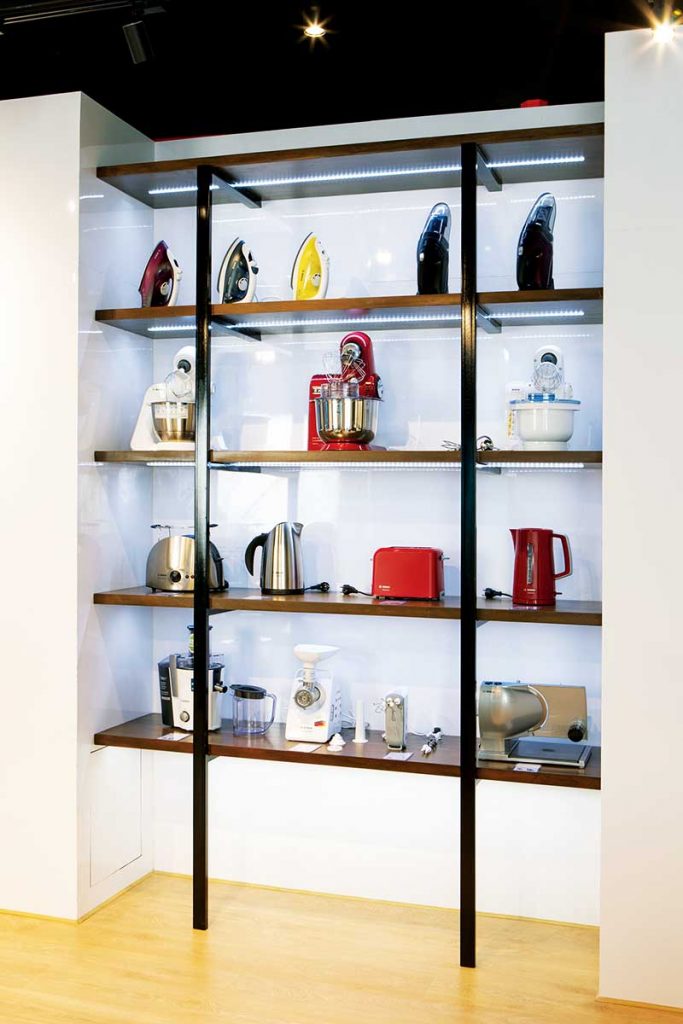 Häfele Philippines, distributors of Bosch Home Appliances in the country recently redesigned their showroom kitchen at their Taguig Headquarters. Recognized for their innovative technology and modern but timeless designs, Bosch Home Appliances are better known for their reliability and sturdiness. Even in the busiest of homes, having reliable appliances ensures that every task is accomplished with ease.
To highlight Bosch Home Appliances in a setting familiar to its potential and existing users, the Bosch Kitchen Showroom is equipped with all the latest and best appliances. From cookers to ovens, seeing the appliances in a kitchen setting allows visitors to imagine how their dream kitchens can be like. Of course, having an actual kitchen in the Häfele offices also means that product demonstrations can be easily organized. Done in a minimalist and sleek design, the Bosch Kitchen Showroom demonstrates how Bosch Home Appliances can be both the workhorse and the highlight of any kitchen.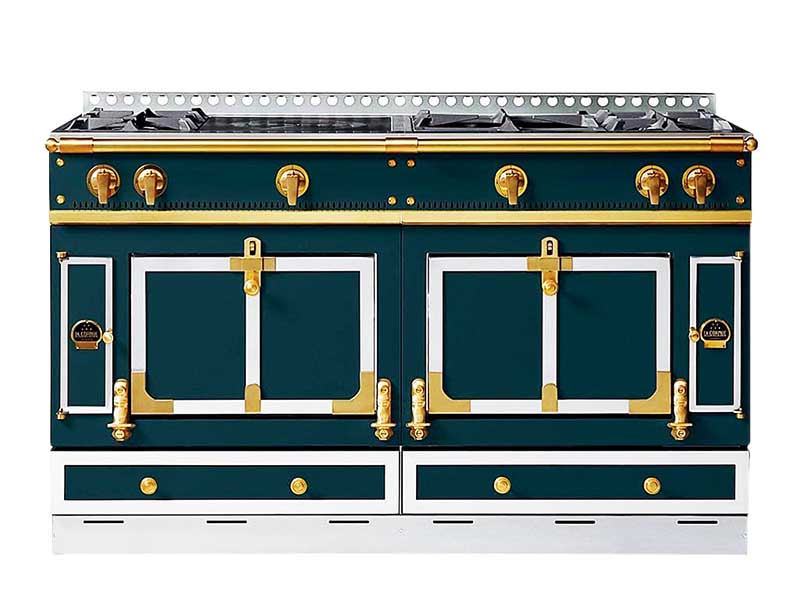 La Cornue
Since 1908, La Cornue has been the epitome of craftsmanship, luxury and French haute cuisine.
The very best cookers, handcrafted in France by skilled artisans with classic designs that feature the very latest technology—this has always been the La Cornue trademark. For 110 years, only the very best materials and the most skilled artisans and engineers have created a luxury line of handcrafted cooking ranges that meet the scrutiny of the most demanding chefs and home cooks.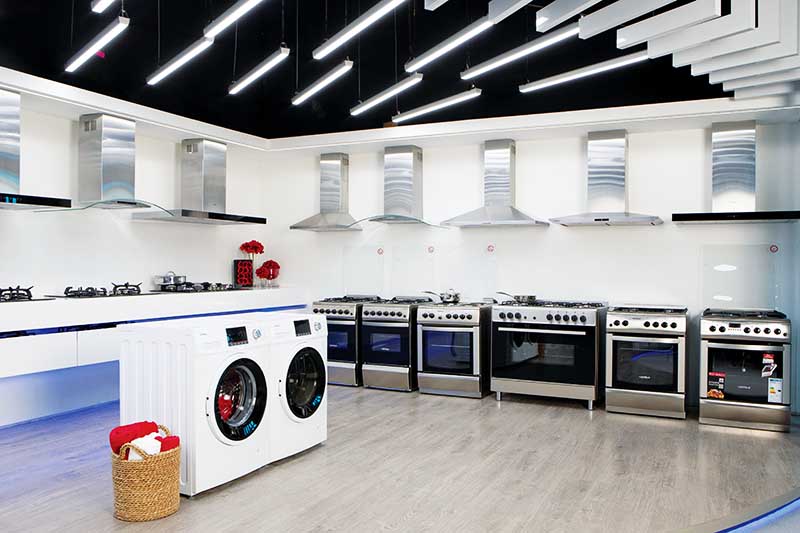 Häfele Home Appliances
Home is where lasting bonds and memories are made. With Häfele Home Appliances making housework easier, faster and more efficient, you can spend less time on chores and more time for the more important things.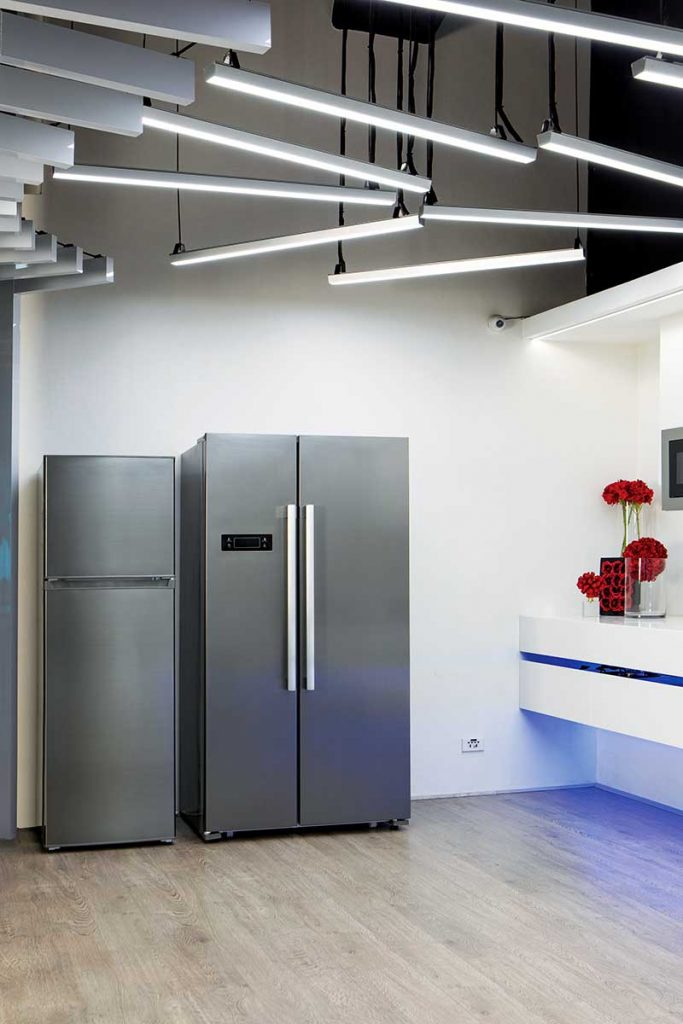 Häfele Home Appliances are known for their reliability and efficiency. With innovative technologies developed and engineered into each appliance, you are assured of convenience and years of worry-free use. Build quality, practicality and technology, all in clean modern designs make Häfele Home Appliances the top choice in homes all over the world.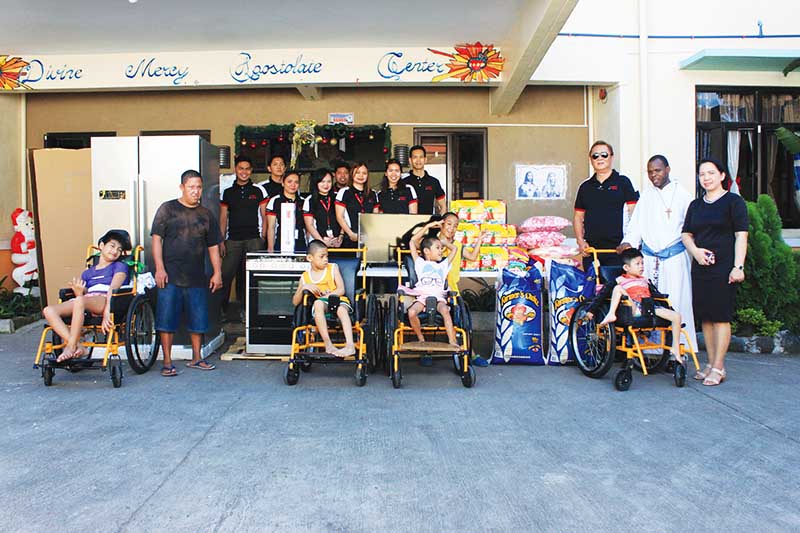 Häfele's Commitment to Society
Big revenues, top ranks, satisfied customers and happy employees—these are some of the most common and important measures that determines a successful business. However, a company is not just about successful business. Profits and returns aside, a more admirable attribute of a successful company is how it gives back to the society, and that is exactly what Häfele Philippines is.
With 25 years of personal experience in conducting charity missions, Häfele Philippines Division Manager Efren Reyes initiated the Corporate Social Responsibility (CSR) campaign of the company. He wanted to spread awareness to more people, and therefore, brought his passion of helping the underprivileged to Häfele.
"The Philippine market has supported us very well, and it's only fitting that we give something back to the Filipino society," Reyes stated.
Just having recently conducted its very first CSR campaign, Häfele Philippines extended its helping hands to the children and elders of the Missionaries of the Poor (MOP) Divine Mercy Monastery and Apostolate Center in San Andres, Bukid, Manila. Häfele donated some home appliances and consumable goods that could help make these people's lives a little easier and happier.
MOP, founded in 1981 in Jamaica by Catholic Jamaican priest Fr. Richard Ho Lung, is a religious order and organization that aims to build family and foster community for the poor and underprivileged brothers and sisters of society. Founder Fr. Richard Ho Lung saw the need to reach out and be stewards to people who are struggling and have nowhere else to go. To this day, there are over 500 religious brothers and priests from MOP that are dispersed internationally to continue and spread the mission of building community, and one of its locations is in Manila, Philippines.
The Divine Mercy Monastery and Apostolate Center in San Andres, Bukid is home to children afflicted with cerebral palsy and lolos who were abandoned and are sick. "These children will never walk, run nor stand, and there is no known cure for cerebral palsy. Meanwhile, there are also about 20 abandoned old men with no friends or family—just the Jamaican missionaries in this community. The only little thing we can do is to make their lives a bit happier and easier every time we can," said Reyes about choosing the organization for Häfele's first CSR activity.
Häfele Philippines is just one of the many subsidiaries of Häfele International that conducts CSR campaigns. And with its first successful campaign, Reyes is hopeful that this is just the start of Häfele Philippines' commitment to continuing the mission of service, and that they will be conducting more social activities in the near future. "We just hope that more companies become aware of the needs of missions like this, and I hope that we will continue on doing this for as long as we can," Reyes concluded.
Häfele Philippines proves to be a company with integrity as they were included in the Top 100 Taxpayers of 2017 by the Bureau of Internal Revenue's Makati Regional Office. Furthermore, it has already reached a 100-billion turnover as early as November of 2018.
Hits: 275