Peppy, Smoky Paprika
For a lot of people, the spice section in groceries is just a place to get some salt and pepper, maybe a few pieces of bouillon cubes. I understand that those tiny glass bottles with all kinds of powders and dried flakes can be overwhelming. Where do you use things like nutmeg and dried marjoram? What recipes make use of Old Bay seasoning? Do I go for individual spices or the mixes like Cajun Spice, Italian Seasoning or Steak Rub?
While each spice has its own purpose, I have a few basic must-haves. Some spices, like black pepper, just goes well with most dishes. One such spice is paprika. Made from dried and powdered peppers, paprika can be used as a main flavoring ingredient in stews, to give color and flavor to cured meat such as chorizo, or sprinkled on top of soups to serve. Personally, I am not a spicy food fan. My tolerance for heat is quite low and I like things warmly spiced as opposed to fiery hot. This is probably another reason why paprika is one of my favorite spices. It provides flavor and aroma more than it does heat.
This month, I am using paprika both in its powdered form as well as the color and flavor it gives to chorizo sausages. The recipes I did are quite simple, both dishes Spanish-inspired.
The first recipe was inspired by a dish our family had last Christmas—lechon stuffed with Paella Negra. This elaborate preparation that my brother-in-law makes and has perfected is a great way of mixing meat and seafood in one dish. The perfectly roasted lechon, skin glistening and crispy, is stuffed with Paella Negra, a seafood paella with squid and its ink as main ingredients. For my simplified version, I reversed the roles of the pork and the squid. This time, I am stuffing the squid with some pork (chorizo). While it is nowhere near as yummy or as pretty, you can make it in a fraction of the time and cost.
The inspiration for my second dish came while watching a Youtube video on clam chowder. Some chowders were thick enough that you could stand a spoon in the chowder. I thought to myself: "Why not make the chowder even thicker? So thick that you could mold it, bread it, and fry it!" Since most Croquetas are made from a Bechamel base, any thick, creamy liquid that is thickened further could be made into a Croqueta.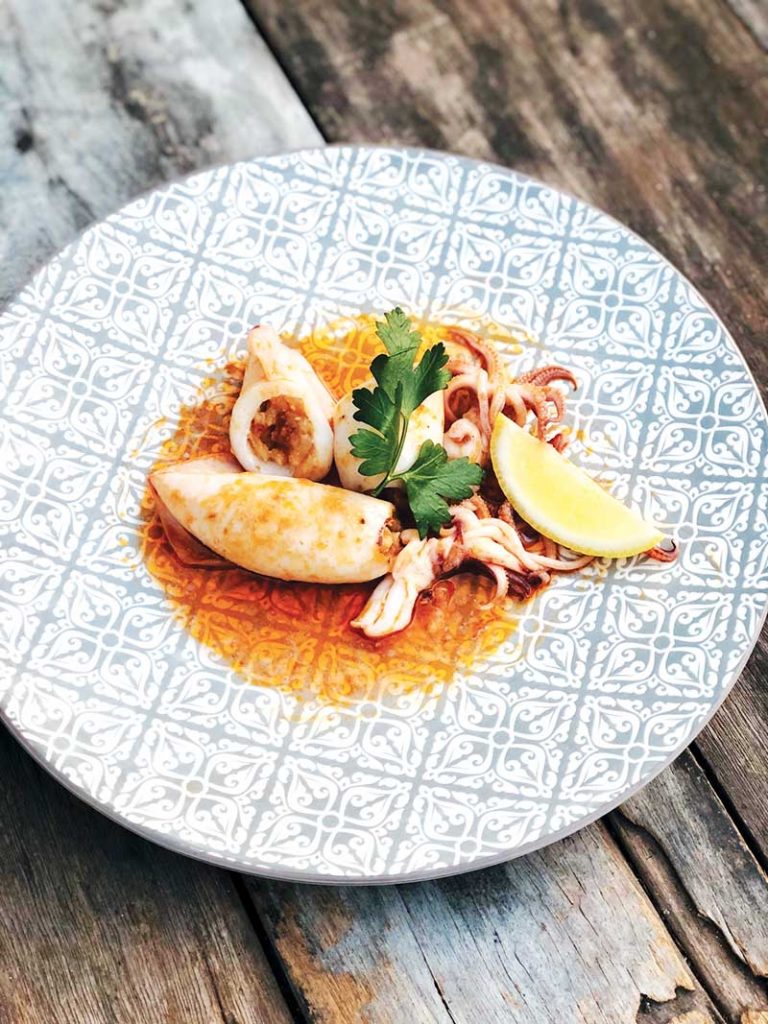 Paella-stuffed Squid
Ingredients:
4 pcs medium-sized squid, cleaned
2 pcs Spanish chorizo, sliced into small cubes
2 tbsp olive oil
1 pc red bell pepper, sliced into small cubes
1/2 pc white onion, finely chopped
2 cloves garlic, minced
1 tbsp Spanish paprika
1/2 cup stewed or diced tomato (in can)
1 cup uncooked rice
3 cups fish or shellfish stock
salt to taste
1 tbsp olive oil for frying
Procedure:
In a Paella pan or any shallow pan, heat olive oil.
Sauté cubed chorizo, bell pepper cubes, onion, garlic and paprika for 3 minutes.
Add tomato and fish stock and let boil.
Sprinkle uncooked rice all over the pan, give it a good shake and stir, then lower the heat and leave it alone.
Once all the liquid is absorbed, the rice should be cooked. Let cool to room temperature.
Stuff squid with paella and secure the ends with a toothpick.
Season outside of the squid with some salt and then fry the squid in some oil. If you have some chorizo left, add a few slices to the oil while frying the squid.
Serve hot with some lemon wedges.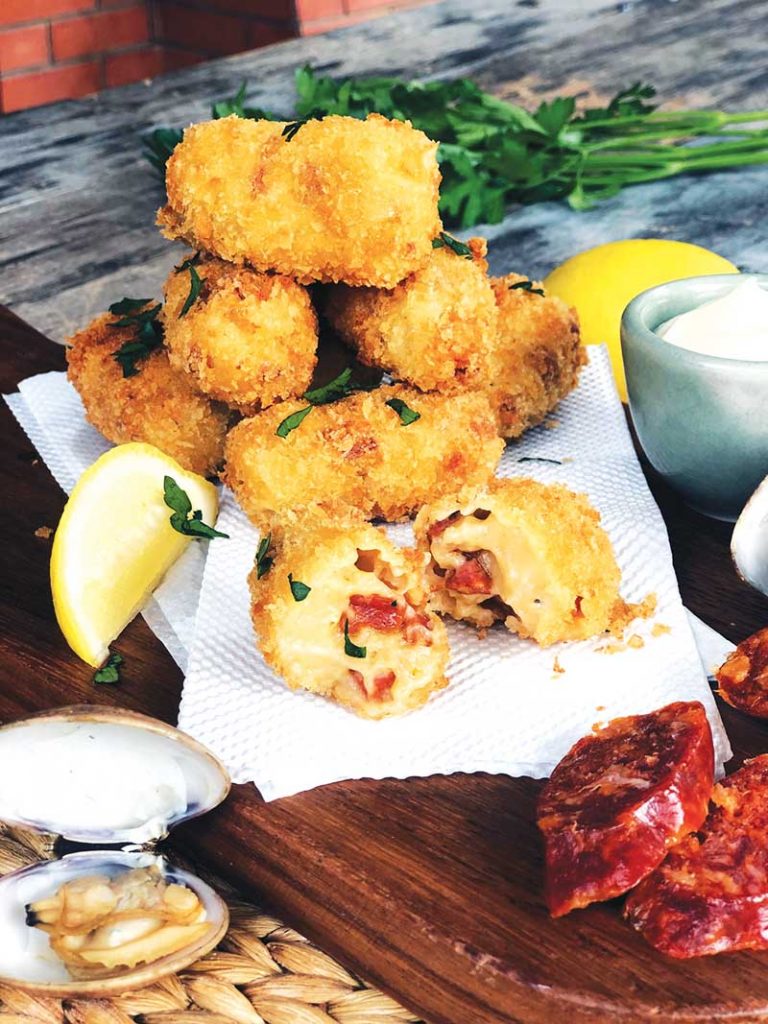 Chorizo and Clam Croquetas (a.k.a. Fried Clam Chowder)
Ingredients:
For the Stock:
1kg clams
1/2 pc onion
2 cloves garlic
3 cups water
1 tbsp butter
1 cup milk or cream
To thicken:
1 pc chorizo, sliced into cubes
2 tbsp butter
2 tbsp olive oil
5 tbsp flour
For the breading:
1 cup flour
2 pcs eggs, beaten
2 cups Japanese breadcrumbs
oil for deep frying
Procedure:
To make the stock, sauté chopped onion and garlic in butter in a saucepan.
Add clams, water and milk or cream and let simmer just until the clams open up. Turn the heat off and pick the clam meat out and set aside.
Strain the liquid and set aside.
In another saucepan, sauté chorizo in oil and butter. Once the oil turns orange, remove the chorizo cubes.
Add flour to the oil and whisk till you get a paste (roux).
Add clam stock, one cup at a time while continuously whisking until you get a smooth thick "gravy".
Add chorizo cubes and clams back into the "gravy" and stir.
Place the mixture into a bowl and once cool, refrigerate for a few hours or even overnight.
Make sure to place cling wrap directly over the mixture to prevent a "skin" from forming on the surface. The mixture will stiffen further when chilled.
Once firm, scoop a spoonful of the mixture out and form into a ball or a cylinder. Dust with flour, coat with egg wash and then roll in breadcrumbs. Chill the breaded Croquetas for an hour or two to re-stiffen.
Once firm enough to handle, deep fry Croquetas in oil until golden brown. Serve with garlic mayonnaise and lemon wedges.
Hits: 136